Sports
Hima Das Clinches Her 5th Consecutive Gold In Just 18 Days, Twitter Hails The "Dhing Express"
The young Indian female sprinter Hima Das has created a history by winning 5 gold medals in just 18 days. Hima Das is the first Indian athlete to win a gold medal in a track event in IAAF World U20 Championship.
On Saturday the Dhing Express won her fifth gold medal in the 400-meter race in Prague, Czech Republic. The Indian sprinter recorded 50.9 seconds to complete her race and registered her second-best timing.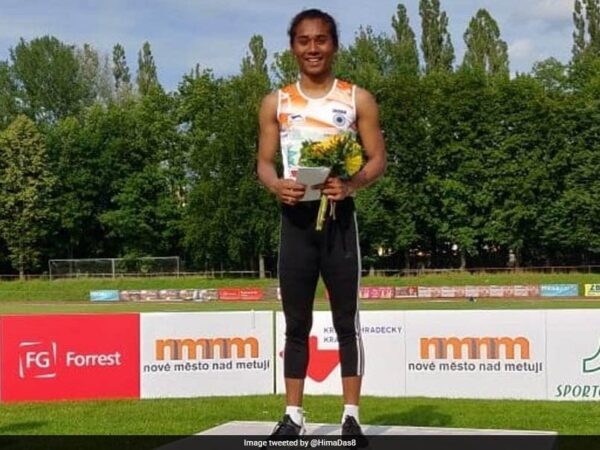 As her personal best timing is 50.79 seconds which Hima clocked in the Asian Games last year in Jakarta.
Golden moment for all Indian..
Record breaking run..
400m gold 🏃🏻‍♀️💪#HimaDas #India #athelets Gold #gold pic.twitter.com/jyNEeM41t2

— Rohit kumar (@rohit__kr) July 21, 2019

The 19-year-old Hima continues to make the nation proud. She is on roll and now nothing can stop the Dhing Express. Hima is earning plaudits online after clinching 5 consecutive gold medals. Hima has donated her half month salary to Assam Flood Relief Fund.
Read here what the proud netizens have to say:
#1
Golden girl #HimaDas proud of you Jai Hind pic.twitter.com/ClT1g9VtoT

— Shivam Jaiswal (@shivamj1998) July 21, 2019
#2
The unstoppable #HimaDas
5 Gold Medals 🥇 in 18 Days💪
Hima won gold in the 400m race at Nove Mesto, Czech Republic with a season best timing of 52.09s. Congrats @HimaDas8 🌺🙏 Very proud of you. You are an inspiration to the entire nation🇮🇳. pic.twitter.com/SvUmI6aRrt

— Major Surendra Poonia (@MajorPoonia) July 21, 2019
#3
There is no stopping for the golden girl of India, #HimaDas as she wins the 5th gold medal of the month! Congratulations to @HimaDas8 for such a spectacular performance & wish her continued success in the coming times!#HimaDasourPride pic.twitter.com/10ELuQtMtj

— Capt.Amarinder Singh (@capt_amarinder) July 21, 2019
#4
#HimaDas
From running barefoot to having her name in Adidas shoes,Hima Das has come a long way!
👌💐
May she achieve more & more.. pic.twitter.com/6bBp5Vvv6c

— Piyali Majumdar (@PiyaliBMajumda1) July 21, 2019
#5
Remember the name…

HIMA DAS!!

5 golds🥇 in 19 days!! Unreal!!

We're so so proud of you..#HimaDasourPride #himadas pic.twitter.com/1eAaivbSEZ

— 𝑺𝒉𝒊𝒗𝒂𝒎 𝑺𝒊𝒏𝒈𝒉🇮🇳 (@ShivamS54901499) July 21, 2019
#6
Congratulations to our Golden Girl #HimaDas on winning her fifth gold medal within a month, this time in 400 metres in Prague, Czech Republic. You have made all of us proud. @HimaDas8

— Rajat Sharma (@RajatSharmaLive) July 21, 2019
#7
Running has win India 5 Gold in 5 Days..!!

Reaction Of Cricket today : 👇 pic.twitter.com/BR7wL8g8Oe

— Mohit (@JIILCK85) July 21, 2019
#8
4 Gold medals in 15 days. 🥇🥇🥇🥇
Donated half month salary to Assam Flood Relief Fund. ⛈️ 🌎
What a legend you are Hima Das ❤️🙏 The unstoppable Hima Das #HimaDas pic.twitter.com/Rng0vKQi7a

— Coaching Bihar (@coachingbihar) July 21, 2019
#9
✅Klado Athletic Meet🥇
✅Kunto Athletic Meet🥇
✅Poznan Athletics Grand Prix🥇
✅Tabor Athletics Meet🥇
✅Nove Metro nad Metuji Grand Prix🥇

Hima Das wins her 5th consecutive Gold🥇 in just 19 days. Our Golden Girl is simply unstoppable. Congrats #HimaDas 👏🙏🇮🇳 pic.twitter.com/0dszHpJETY

— Sir Jadeja fan (@SirJadeja) July 20, 2019
#10
#HimaDas #Athletics @HimaDas8 returns to 400m run, grabs 5th gold in this month! You go girl!! We are proud of you.. pic.twitter.com/q6lDvY17ge

— Priyanka Bhatt (@iPriyankaBhatt) July 21, 2019
Go Dhing Express we are rooting for you!
Share Your Views In Comments Below