Lifestyle
The Hottest New Trends in Home Decor
The latest new ideas in home decor may be on your mind if you're planning to refurbish your house. Is it solely comprised of plain white walls and simple furnishings? Or is there something more intriguing you may discover?
The latest new ideas in home decor may be on your mind if you're planning to refurbish your house. Is it solely comprised of plain white walls and simple furnishings? Or is there something more intriguing you may discover?
The good news is that there are many fascinating trends in home decor currently, ranging from strong colour palettes to natural materials, statement lighting to mix-and-match, sustainable design to maximalism, and earth tones to vintage accents. We'll look at 10 of the hottest new home decor trends in this post and show you how to apply them to your own living area.
1- Understanding Bold Color Palettes
If you're looking to add some life to your home, bold colour palettes are a great way to do just that. Vibrant hues can bring energy and personality into your space and liven up rooms. Whether you're an experienced interior designer or just starting out, understanding the basics of using bold colours in your home decor is key to success.
When it comes to creating a vibrant palette, striking the right balance is key. Choosing one main colour as your anchor and then accenting it with additional accents can make a room pop without overpowering it. Start by finding inspiration from art, fashion or nature and select colours that match the atmosphere you wish to evoke in your space. Remember to think about complimentary colours: blues and greens, oranges and yellows for example. Finally, don't be afraid to take risks; adding subtle pops of bold colours here and there can bring unexpected depth and visual interest to a room.
With the right combination of vivid hues, beautiful texture and unique accents, you too can put together a stunning look that's sure to wow any guest who walks into your home!
2- Incorporating Natural Materials Into Your Design
If you want to give your property a classic look and feel, the answer is typically found in nature. Natural materials can add depth to your design and create a warm atmosphere.
Think about how you can use materials like wood, marble, stone, clay, cotton, bamboo, and jute to adorn your home. For instance, hardwood flooring adds warmth and character to any room.
To add the same natural feel while maintaining a modern style, you may use wooden furniture items. Bamboo light fixtures are ideal for modern interior design while marble exhibits sophistication and class. Any room may seem cosy by adding texture to the walls with a cotton tapestry or jute rug.
One of the hottest trends this season is adding natural materials to your home decor, whether you're striving for subtle accents or full-on natural wonderland feelings!
3- Choosing the Right Statement Lighting
Nothing breathes life into a room quite like statement lighting. From glamorous chandeliers to dramatic pendant lights, lighting is one of the easiest ways to change up your home decor in a big way.
It's all about making the right choice for your space:
Chandeliers
Any room can benefit from a chandelier's brilliance. You can choose one that matches practically every style of design, from traditional to modern, and everything in between, because they come in so many different forms and sizes. Additionally, a big statement may be made with only a few crystals without having to completely redesign the space.
Pendant Lights
Pendant lights are tough to beat when it comes to making a bold impression. They are an excellent accent if you want to create an eye-catching design because of their distinctive forms and colours. Additionally, you'll be sure to find something that matches your style and exhibits your individuality with the variety of possibilities available.
Wall Sconces
Wall sconces are great for helping set a cosy mood — think ambient lighting for reading or watching TV. Designers are also using wall sconces more and more as accent pieces, like above mantels and entryways. The beauty of these is that they don't require any additional floor or table space — perfect for small spaces!
No matter what type of statement lighting you choose — from crystal chandeliers to industrial wall sconces — it's all about finding the piece that speaks to you (and makes you smile).
4- Why Mix and Match Is Essential to Interior Design
One of the hottest new trends in home decor is mix and match. This basically means mixing high and low pieces, vintage and contemporary, textures for visual interest — it's not about matching everything up. In fact, mixing and matching make your home look intentional and custom.
It's easy to create a unique space by mixing different materials, shapes, colours and textures. Here are a few tips to keep in mind when mixing and matching:
Consider patterns—small prints can be used sparingly with larger prints to create an engaging look. Just make sure they complement each other!

Go monochromatic—choosing different shades of the same colour will give you a cohesive yet dynamic design.

Be balanced—make sure there's an equal balance of weighted elements like

furniture

so the eye moves smoothly around your room instead of being drawn to one specific piece.

Pay attention to scale—just because you love something doesn't always mean it needs to go in your space; make sure it fits properly with other pieces nearby so your decor looks natural.
Mixing and matching elements is the key to creating a custom home that stands out from the rest — it's all about being creative so don't be afraid to experiment with different combinations!
5- Sustainable Design for a Greener Home
Sustainability is one of the hottest topics in interior design. The goal is to build a greener house that not only has a nice appearance and is comfortable to live in, but also contributes to the environment.
Making environmentally responsible decisions is essential when it comes to sustainable design. Here are some suggestions to get you going:
Renewable or Recycled Materials
Try to find furniture produced from sustainable or recycled materials, like bamboo or wood that has received Forest Stewardship Council certification. As an alternative, you can choose vintage furniture and accessories or purchase used items to breathe new life into them!
Non-Toxic Paint
A preferable option for indoor air quality is low VOC (volatile organic compound) paint, which contains fewer chemicals than standard paint.
Energy Efficient Light Bulbs
Invest in energy-efficient light bulbs for a greener home. Not only will they last longer, but they'll save you money in the long run too!
Low Flow Fixtures
Replace your outdated fixtures with low-flow fixtures — this simple switch will reduce your water consumption and can save you money on your utility bill.
With these tips in mind, you'll be well on your way to creating a sustainable design scheme that you can feel good about — and one that adds style and personality to your space.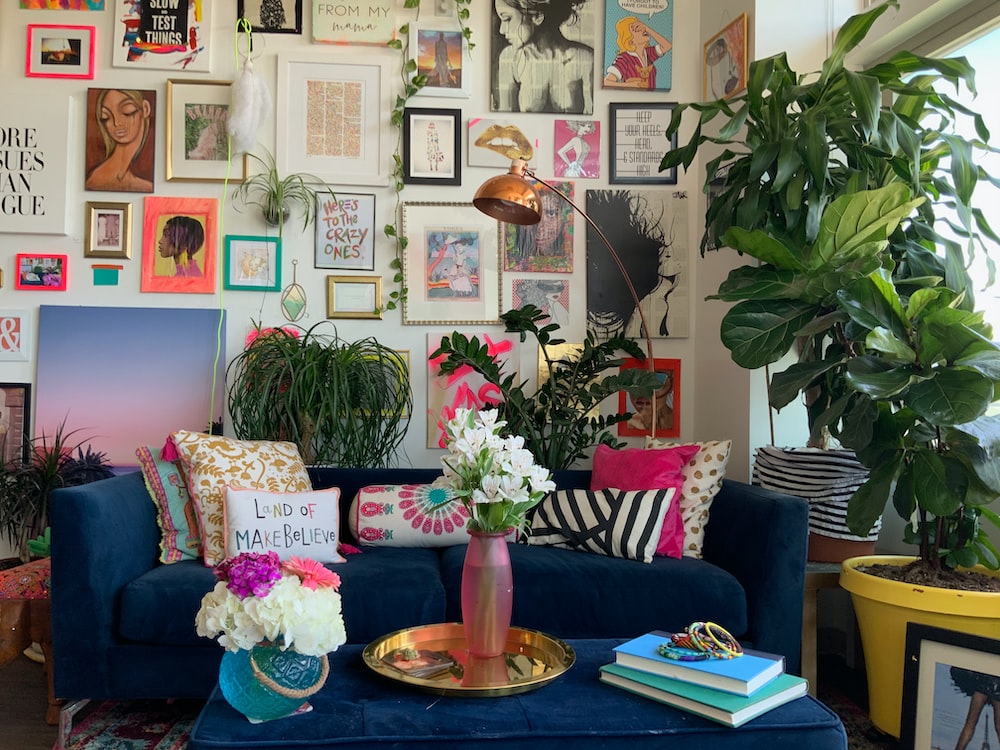 6- Why Maximalism Is Making a Comeback
Maximalism is back in a big way, and it's no surprise! It's a trend that encourages you to bring colour and personality into your home in a whole new way.
Here are a few reasons why maximalism is back on the map:
Variety: Maximalism encourages you to break out of the "less is more" way of decorating and add variety to your space. Mix different colours, textures and materials together in exciting combinations!

Comfort: A maximalist room can be cosy and inviting, with plenty of pillows, paintings, and other comfy accents that make you feel at home.

Fun: Maximalism is all about embracing harmony through contrast — blending different elements to create something unique that speaks to your own aesthetic. You can have fun mixing up bold prints, unexpected shapes and unusual materials for eye-catching results!

Versatility: Because maximalism embraces all sorts of different styles, it's a great way to decorate any room in any home — from traditional farmhouse living rooms to modern chic bedrooms — there are endless possibilities when it comes to maximalist decorating!
7- Curved Furniture for Comfort and Style
Organic, curved furniture is quickly becoming the trend in home décor. Not only is it incredibly stylish, but it's also way more comfortable than traditional, straight furniture. Plus, the curves add an interesting touch to any room.
Curved furniture not only looks good but can also be used to highlight certain areas of a room. For example, if you want your living room to have a cosy corner for family movie night, curved seating and a velvet couch are the perfect match!
The great thing about this trend is that you can incorporate it into any style of design. Whether you like minimalistic designs or maximalist ones (which we'll talk about next), curved furniture adds an extra layer of visual interest and appeal to your home.
Here are some tips on how to make curved furniture work:
Incorporate statement pieces like armchairs or sofa sections into your overall design theme

Use curves in unexpected places by adding ottomans or benches

Keep the palette light with neutral shades like whites, greys and earth tones so that your curved pieces stand out

Choose fabrics that have texture and personality – velvet is always a great choice!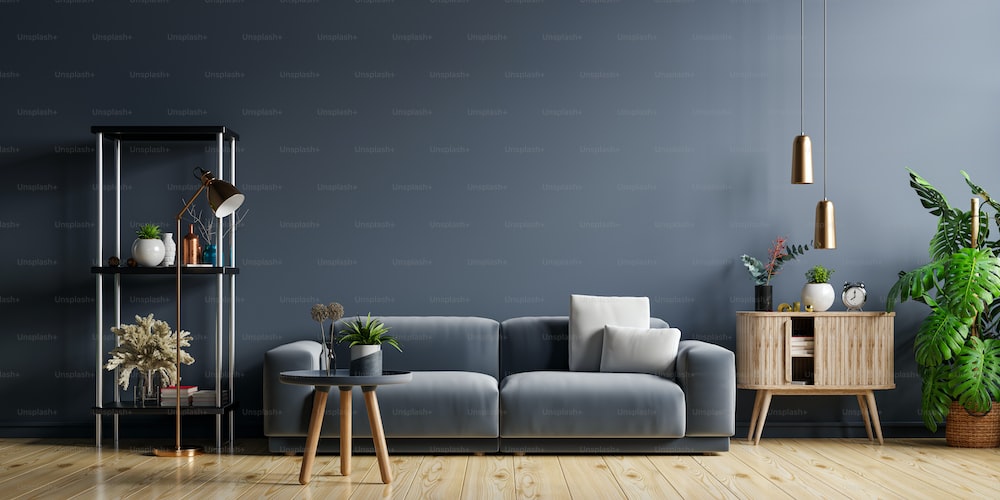 8- Bringing Earth Tones Into Your Home
Earth tones are one of the hottest new trends in home decor, and for good reason: they bring a calming vibe to your space, and you can use a combination of earth tones throughout your interior. And best of all, it's easy to transition earth tones between seasons and years.
Versatility
Earth tones are versatile—you can mix and match with different shades to easily achieve any desired look. And if you want to change something up later on? Earth tones also transition nicely into different styles without clashing.
Soothing Vibes
Bold is great, but sometimes our homes need a more soothing atmosphere. Earth tones create an atmosphere that's calming and inviting—the perfect environment for relaxing after work, or simply enjoying time at home with friends and family. And because there are so many options, you can find the right shade to meet your decor needs.
From warm browns like terracotta or walnut to cool blues like sage or sea foam, there's no shortage of earth tones that you can use any time of the year. Whether you go for a cohesive palette or experiment with some playfulness and boldness, incorporating earth tones into your home decor is sure to create an inviting environment that won't be going out of style anytime soon!
9- Creative Uses for Textured Walls
Textured walls are another popular way to bring life and personality into your home. Whether it's a subtle, textured wallpaper, fun 3D shapes, or abstract wooden patterns, this trend can add depth, contrast and personality to any room. Accents with texture can be a terrific method to give texture to objects other than walls, such as furniture, the ceiling, and works of art.
The use of innovative textures and finishes, such as Faux Concrete Wallpapers and BrickWall Designers, will produce a posh and contemporary ambience.
The texture is great for making any space look interesting without too much effort or resources. As an added bonus, textured walls can also help with acoustics and can visually hide uneven surfaces or flaws in the wall.
The most popular textures used in today's homes are:
Exposed brick

Wood-panelling

Metal

Plastic laminates

Natural materials like cork or bamboo

Grasscloth

Leather panelling

Stencilled designs
10- Adding Vintage Accents for an Authentic Look
Are you looking for a way to make your home decor truly unique and one-of-a-kind? Adding vintage accents could be just what you need! Incorporating vintage pieces into your decor gives it an individualized touch and a certain authenticity that many modern homes are missing.
Many people think that vintage means boring and dated, but it doesn't have to be! With the right combination, you can create something timeless. The secret is subtlety—you don't want to go overboard, as that might look cluttered.
Here are some tips for finding the perfect vintage accents:
Shop around; you can find vintage décor, artwork, and furniture both offline and online.
Despite the fact that many vintage items date from earlier decades, they are not always antiques.
Look for unusual items; a piece's individuality and character are what defines it as "vintage," so choose something stylish!
Combine the old and the new because doing so results in a fascinating contrast that cannot be found anywhere else.
Adding vintage accents is an easy and affordable way to add personality to your home decor—and make it stand out from the rest!
Conclusion
Each person can find something they like with these new trends. There are countless alternatives, whether you're a strong maximalist or an earthy-tone minimalist. Natural materials and antique furniture can be combined, statement lighting can be added to make a big statement, or textured walls and curved furniture can be chosen to offer a softer touch. To spruce up your house, you don't have to spend a fortune; sustainable design is a terrific method to ensure that your design decisions have a favourable effect on the environment.
Therefore, if you're looking for fresh home décor inspiration, research current trends and choose the one that speaks to you. Both the environment and your bank account will thank you!
AlsoRead: Simple Home Improvements To Make All The Difference