Bollywood & TV
Hrithik Roshan Lauds Fan Who Writes Storyline Of "Krrish 4" & Includes Time Travel & Aliens
Hrithik Roshan is undoubtedly one of the most loved actors of Bollywood and his fans are eagerly waiting for the fourth installment of the "Krrish" series. Recently, he also made a post on his Instagram account on the occasion of 15 years of "Krrish" and gave a hint to his followers about the fourth movie of the series.
Many times we have seen fans make teasers and trailers of the upcoming movies of their favourite actors but an online user has gone one level ahead and written the storyline of "Krrish 4".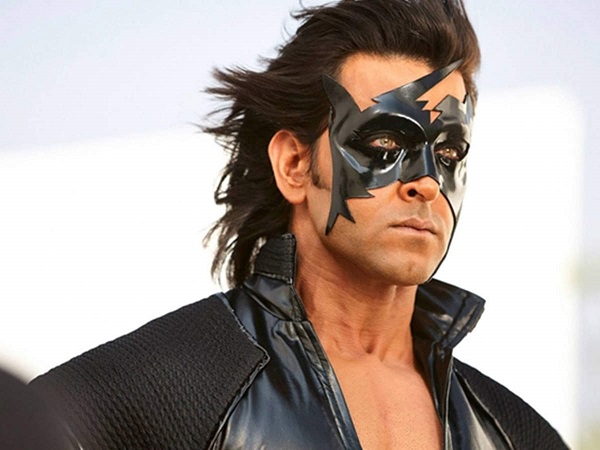 A Twitter user whose id is Sambit (@Luciferlite) took to the micro-blogging site and posted the storyline of "Krrish" with the caption, "I wrote a #Krrish4 wattpad storyline in 5 minutes Rakesh Roshan could never."
Take a look at his storyline: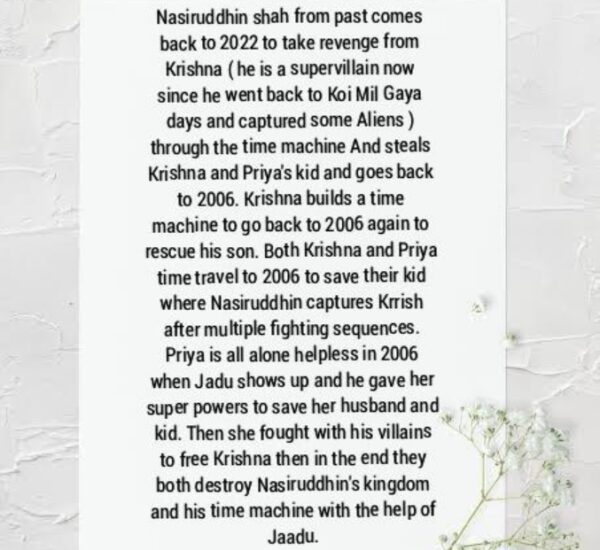 Sambit not only brought Jaadu back in the series but he also gave superpowers to Priyanka Chopra in order to fight Naseeruddin Shah who returned as a super-villain. Moreover, time travel is an integral part of this plot.
Here is the tweet:
I wrote a #Krrish4 wattpad storyline in 5 minutes Rakesh Roshan could never. 😂 pic.twitter.com/TtKonzOBjq

— ᏚᎪᎷᏴᏆᎢ (@LuciferIite) June 24, 2021
Soon many online users started commenting on the storyline, while some praised Sambit's imagination, few others made comparisons with the "Avengers" series but the comment which garnered the maximum attention was made by none other than the "Krrish" actor Hrithik Roshan himself who gave Sambit 100 marks for his imagination.
Check out Hrithik Roshan's reply:
Imagination 💯

— Hrithik Roshan (@iHrithik) June 28, 2021
This is how other Twitter users reacted over the storyline:
#1
Ok this is genuinely cool. Except u would need nolan for this

— TREVOR (@TREVOR61827043) June 28, 2021
#2
and bollywood got superwoman😭

— Ansh (@ianshuraj_) June 24, 2021
#3
Christopher Nolan wants to know your location

— ThatAwkwardPause (@bobbybirje) June 25, 2021
#4
Story somewhat similar to South Actor Surya film on time machine can't get the film name.

— umesh (@umme1982) June 28, 2021
#5
Nice imagination…Hopes Krishna's son will be featured in the story and someone else shld play the part.Haha. However,FYI priya/priyanka chopra wont return in krrish 4….story can be altered, Keep it in mind, the leading lady will keep changing to fit younger generation

— Black-White ☯️ (@KemJYB_HR010610) June 29, 2021
#6
People from past cannot come to the future if there was no time machine in their time.

If he had built the time machine before he died, he would have used it in 'Krish' itselft when krishna was coming for him.

— Ashtonish (@abhishekrock070) June 29, 2021
#7
Kudos to ur thinking. Though looks lyk Avengers plotgame.

Bt don think it anyhow suited for Krrish…

— রনজয় পাল (@ranajoypaul01) June 29, 2021
#8
Similar to avengers endgame, their infinity stones here priya and kid 👍😅

— Shreyas Vignesh (@shreyas_vignesh) June 28, 2021
#9
Fantastic, the whole Rohan family together for years together could not put up a script

— Beebusy (@danceridah) June 28, 2021
#10
Hey can u have Nisha @realpreityzinta as well if story is travelling back.
Let's go 2003

— Jibin Jose Mathew (@urstruly_jibin) June 28, 2021
#11
And after they get stuck in the past due to time match get broke there were 2 Krrish and 2 priya in 2006 😂

— Jordan K👑 (@IamJordan4U) June 28, 2021
#12
U should be the script writer but what if u wrote turns true. Spoilers!!!!!!😭😭😭😭😭😭

— BHATIANI_RV (@RvBhatiani) June 25, 2021
#13
Lmaooooooo that's some next level imagination

— ✨ (@BarunFanSays) June 24, 2021
#14
Not bad if something like this happens then we might just get first ever time travel superhero movie of bollywood

— JOKER TWEETS (@Dest_D) June 29, 2021
#15
I totally want this to be a movie. It would be amazing

— Supratik Mukherjee (Jeet) (@j3tm315t3r) June 28, 2021
The first movie of the series was "Koi… Mil Gaya" which hit the theatres in 2003 and starred Preity Zinta opposite Hrithik Roshan.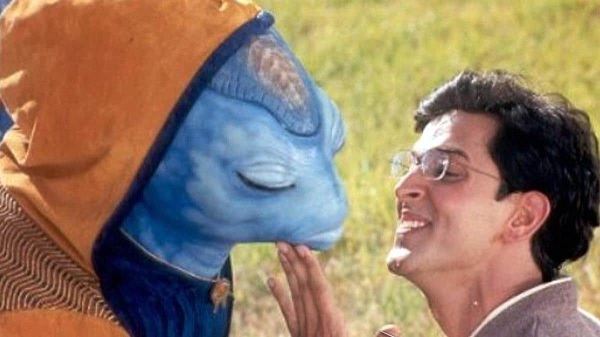 The second flick of the series "Krrish" released in 2006 and in this movie, Priyanka Chopra was casted opposite Hrithik Roshan. "Krrish" was followed by "Krrish 3" that hit the screens in 2013 and also starred Vivek Oberoi and Kanagana Ranaut in important roles.
How did you find the storyline suggested by the Twitter user? Did you like it? Let us know your views.
Share Your Views In Comments Below