Humour
Husband Is Confused As His Wife Calls Him Sandeep While Making Love. Twitter Had Funny Replies
Internet is an interesting place to be on.
If you have a lot of friends you can have fun tagging them in memes, if you are forever alone then you can still post those cheesy messages as comments and earn likes. Basically, it's a world where everyone gets their fair share of attention, love and even trolling.
Being on Internet, you can enjoy the fresh stuff, old stuff with fresh packing, weird things, beautiful ones and what not. And if the there's nothing available, there are other media like newspapers which contribute to its awesomeness.
Take an example of this enquiry which is going viral recently. This enquiry of a guy taking asking a weird question from the newspaper sexpert is cracking up the social media ever since it first hit the online world especially Twitter.
Does anyone know a good lawyer? I want to change my name to 'Sandeep'.

Or maybe she is saying "Suno! Go deep!"

Hahahahaha.. pic.twitter.com/SKCOPmkAt2

— Atul Khatri (@one_by_two) December 28, 2017
You can also check the picture below-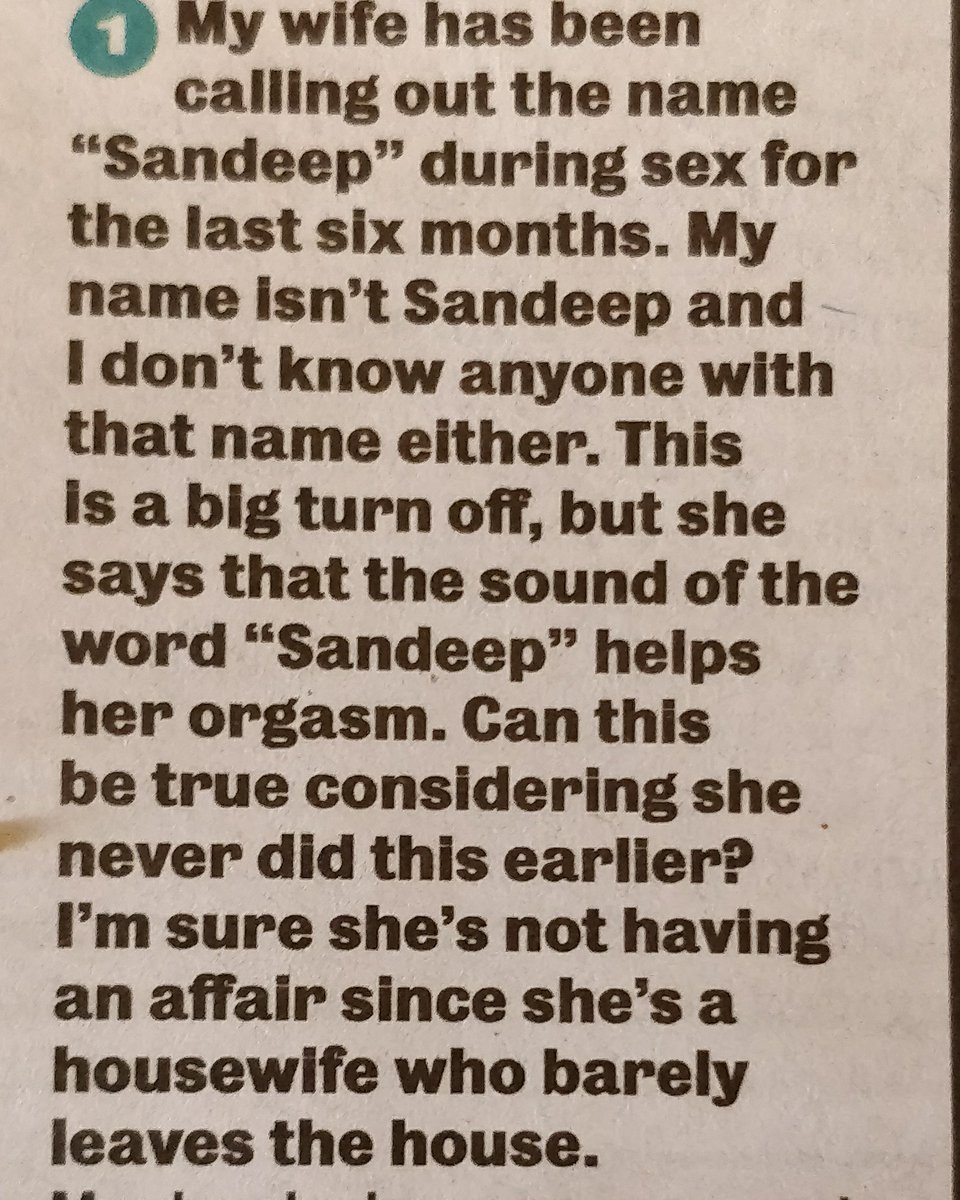 The Twitter world is going absolutely crazy about it and is busy giving some amazingly funny reactions. Have a look-
1
Advice him also to take some random name while sex…pooja or something..and that taking that name makes him orgasm…#EQUALITY..

— udayanchabukswar (@udayan10) December 28, 2017
2
Right swiping Sundeeps, from now on.

— Rachna Srivastava (@SPIN_occhio) December 28, 2017
3
Sun Deep
sun Deep
sun Deep
Don't you get it
It's a prayer

— Pratul Kapoor (@pratulcapur) December 28, 2017
4
Actually she wants to say "Send deep" 👀.

— Aadarniya (@Deb_Pinak15) December 29, 2017
5
Sandeep is their doodhwaala😜😜

— SHASHANK BARANWAL (@followshashank1) December 28, 2017
6
I think there's a link between Sonam Gupta and Sandeep. …Why don't u call ACP praduyman @SonyTV ….

— OBAID BAKSH (@Obibaksh) December 31, 2017
7
Tinder bio: Hi I'm SANDEEP.
Girl: *orgasm*

— Imagination Junkie (@Jia1303) December 28, 2017
8
he shld probably chk aadhaar of his watchman, driver and house keepers 😝😂 https://t.co/qmt35tjAsL

— Tanmay Goyal (@tanmaygoyal90) December 28, 2017
Haha, would you like to be sexpert and suggest this husband what should he do in this scenario?
Share Your Views In Comments Below