Sports
ICC's Funny Tweet About Pakistani Bowler Divided The Internet Into Two Groups
The online world is full of memes and jokes. Being a memer is cool job nowadays but when an organization like ICC decides to give memers rest, it grabs far more attention. The official Twitter handle of ICC posted a funny tweet about a Pakistani bowler.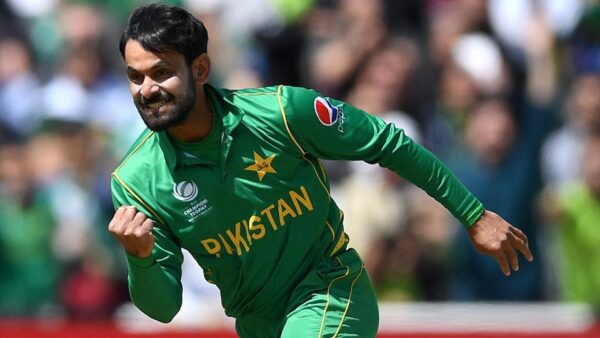 During the match between Pakistan and Bangladesh, at The Lord's, Mohammad Hafeez delivered a very rare but hilariously loose ball to Bangladesh's batsman Soumya Sarkar in the third over. The ball slipped from Hafeez's hand and went so high that even the camera couldn't film it.
However, the batsman hit the ball out of the boundary by Hafeez's delivery caught a lot of attention on social media. Starting with ICC, who posted a video showing the ball leaving Hafeez's hand, and traveling to space, moon and then coming back, everyone made fun of it.
When your bowling coach tells you to "give it some flight" 😂@MHafeez22 🙈 #CWC19 pic.twitter.com/85QDLoaLCb

— ICC (@ICC) July 5, 2019
But ICC's tweet divided the internet into two groups. Some laughed with ICC while there were some, mostly Pakistani fans who called ICC partial and asked if it is "Indian cricket council". People are wondering if an Indian is handling ICC's twitter, as no one hates Pakistan more than an Indian.
#1
ICC's got no chill😂😂 https://t.co/4UT84kRczf

— I N N E R V O I C E (@dvn_0708) July 6, 2019
#2
ICC is making memes like Pakistani fans made for Imran Tahir. 😂 https://t.co/DBbDYqxIaP

— Haider Abbas Jaffri 🇵🇰 (@HayderA313) July 6, 2019
#3
Which indian is running this account. Itna bura humor sirf unka hai

— Aamna (@Aamna_000) July 5, 2019
#4
Indian Admin In Action Today 🤣🤣

— বাংলার ছেলে 🇧🇩 (@iSoumikSaheb) July 5, 2019
#5
Hey, @BCCI , Pls Tweet from your own handle.😀😀👍

— Ashish Mishra 🇮🇳 (@Dear_AMishra) July 5, 2019
#6
You should've added @ImranTahirSA running in space too 😂👌

— Ümesh (@Umemesh) July 5, 2019
#7
ICC 😂😂😂😂😂😂 pic.twitter.com/V7pZ76G9gK

— Amit Choudhary (@jat_boy_mukesh_) July 6, 2019
#8
Sequence of events😭😭😂😂😂 pic.twitter.com/3rStJDiLvr

— ᵐʳ• BAUVA (@BadmashBauva) July 5, 2019
#9
Once upon a time ICC was a good mate and then… pic.twitter.com/X6rJj8YvFN

— Khan (@being_Khan__) July 5, 2019
#10
— Hassib Haidar (@hassib_haidar) July 5, 2019
#11
ICC ne apna account @SirJadeja Ko de rakha hai kya 😂😂
Bas karo yaar 😂😂

— Gaurav Kumar (@gauravalmora) July 5, 2019
#12
— InGenious (@Bees_Kut) July 5, 2019
#13
Its act of rubbish by @ICC .You are an organization,you should encouraged the players not to discouraged them.I am very sad about this process that you have also done. https://t.co/IGqjcI0iMi

— Mohammad Imran (@ImranPTI313) July 6, 2019
#14
I'll really enjoy this Video if its Shared by any Troll / Sarcastic Account. But its not ethical that you make fun holding such office.
Shame on SOCIAL TEAM OF @ICC https://t.co/Nqbd6fhKCn

— MOHSIN WAHID 🇵🇰 (@IamMohsinwahid) July 6, 2019
#15
https://t.co/AisFvsMSbD pic.twitter.com/eiYCT9rq7J

— V (@Vxibhav) July 6, 2019
#16
This action shows ICC is Not manageing The fare Cricket….. #ICC_Gamnling https://t.co/O25T9Pnnw2

— arslan_mj (@Arslan_5002) July 6, 2019
#17
We live in a time where mocking people is considered an art.

Shame on ICC for trolling professionalism. https://t.co/AB28INWLsO

— Mashhood Jeelani (@MashhoodJeelani) July 6, 2019
#18
So, not only ICC's board is influenced by India but their pathetic sense of humour is as well

— Rehan (@Haraam_bae) July 5, 2019
#19
At least ICC should not act this unprofessionally, this shows how much ICC is influenced in hate.

— Asad Malik 🇵🇰 (@AsadRizwanMalik) July 5, 2019
#20
This is not Int'l cricket council but indian cricket council

— /-• $• /-F®D! 🇵🇰 ♥️ (@eastwood_afridi) July 5, 2019
This is not the first time ICC has made fun of Pakistan cricket team. Before Pakistan Bangladesh match ICC posted a Jim Carrey meme and taking a jibe at the team wrote, "Pakistan needs to keep Bangladesh to 7 or below to qualify for the #CWC19 semi-finals."
Pakistan need to keep Bangladesh to 7 or below to qualify for the #CWC19 semi-finals…

Pakistan fans right now:#PAKvBAN | #WeHaveWeWIll pic.twitter.com/KuBVraJXHo

— ICC (@ICC) July 5, 2019
Share Your Views In Comments Below
Related Topics:
Cricket News, icc pak trolling tweet, icc troll mohammad hafeez, ICC World Cup, International Cricket Council, Mohammad Hafeez, mohammad hafeez loopy full toss, pak v ban, pakistan vs bangladesh, sports news, viral news