News
In A Unique Protest, MP People Turn A Huge Pothole Into A Beach & Party There, Video Goes Viral
Good infrastructure is certainly one of the most important aspects which are needed for providing a good standard of living and though the Indian government and state governments are working a lot in this regard, still a lot remains to be done. There are many areas where roads don't get repaired for long even after repeated complaints are made by citizens.
Sometimes a person finds it difficult to understand whether there are potholes on roads or there is road between potholes because they are in such a huge number. The social media platforms have given a new medium to the citizens of the country to raise their voices especially after no one in the authorities listen to them.
In one such interesting incident, some residents of Anuppur, Madhya Pradesh, have come up with a quite unique idea of protest as there is a giant pothole in the middle of the road which hasn't been repaired by the authorities and due to rains, it has now got filled with water.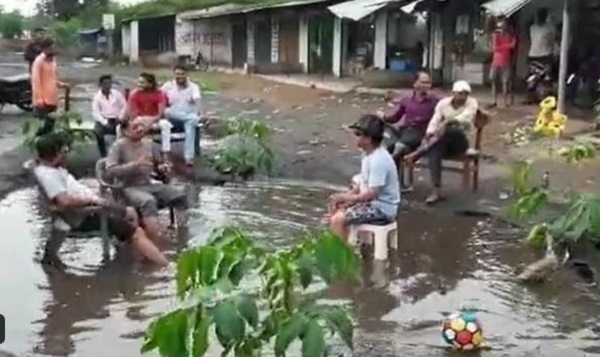 A video is going viral on the micro-blogging site Twitter in which some residents are seen having a gala time as they are using the pothole filled with water as a beach. They have decorated it with flowers and some people are sitting on the sides of the pothole while three people are sitting on chairs inside the pothole with their feet under the water and they are having soft drinks.
Here is the video:
#MadhyaPradesh में लीजिए sea beach का मज़ा 😂 https://t.co/sLmT6c5qC2 pic.twitter.com/FLPkc5Y5V7

— Ravish Pal Singh (@ReporterRavish) July 4, 2022
Click to watch this video directly on Twitter
This is certainly one of the best ways to make their voice heard as it is like a slap on the faces of those who are responsible for no action.
Soon online users also reacted on this matter and some targeted the government straight away for this mess:
#1
First time ever in the history, under the visionary leadership of (you know who), Madhya Pradesh people get to enjoy Goa on their streets. 🙂 https://t.co/jXthW1bvjM

— Immy (@droidshake) July 4, 2022
#2
They must thank their local minister for this wonderful facility by inviting him/her to the next beach party. https://t.co/7aS2JzHOJU

— Kaveri 🇮🇳 (@ikaveri) July 4, 2022
#3
The most unique protest https://t.co/UGHry7Fy4c

— Bala (@Bala__G) July 4, 2022
#4
India mei content ki koi kami nahi hai 😅 https://t.co/LJvbq5voSa

— Garv (ਗਰਵਿਤ) (@imgarvmalik) July 4, 2022
#5
Aap to Washington pahuch gaye

— Suresh Verma (@SureshV16877612) July 4, 2022
#6
And you are still sad about your cancelled Goa plan! 😅 https://t.co/ywakMobhfl

— suryanshi pandey (@UnfilteredSP) July 4, 2022
#7
Meanwhile in India we have beaches 🤪https://t.co/L4Waqgqrs7

— groovy baboon 🤔 (@lanu_i) July 4, 2022
#8
Declared as cleanest city of India in 2021
1. Bhopal 2. Indore
What a joke

— Dr.Harish (@1994_harish) July 4, 2022
#9
Strange! Isn't Madhya Pradesh the blessed one with nearly 2 decades of BJP's good governance, vikas etc etc out of which almost 10 yrs with that much trumpeted double engine?🤔

— Ved Nayak (@catcheronthesly) July 4, 2022
#10
Virodh Jatane ki ninja technic 🤣🤣 https://t.co/T198S0AaXU

— Mithilesh Maurya🇮🇳 (@Mithile53644609) July 4, 2022
#11
It's party time🤟 https://t.co/RzyNyfZtxQ

— Beyond Science (@pioneerbhatt) July 5, 2022
Well, prompt action should be taken in this regard as it may result in accidents.
Share Your Views In Comments Below