Sports
Indian Boy Found Reading A Book During Federer-Nadal Match. Twitter Can't Stop Talking About Him
Rafael Nadal and Roger Federer are certainly two living legends and both these tennis players have a huge fan following. While Rafael is presently ranked world's number 2 in the men's singles tennis, Roger is sitting at the number 3 spot. Their fans don't like to miss a single game of their favourite players and when these two come against each other, the match is definitely a big one.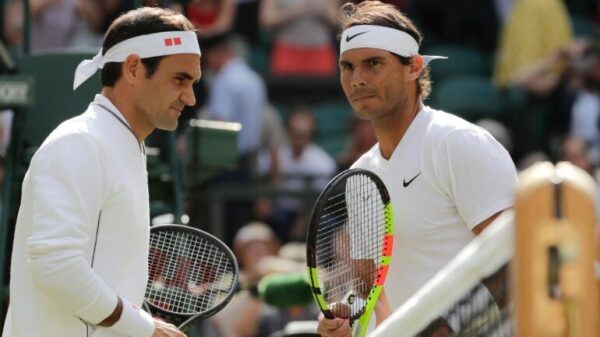 One tennis match that will be remembered for a long time is the semi-final of Wimbledon 2019 in which Rafael and Roger clashed against each other. It was a very exciting and interesting match with everyone glued to their TV screens but what if we tell you that there was one person who was present in the stadium during that match but he was not watching the match but instead reading a book.
It may be quite shocking but it is true and the social media users are going crazy over this book reader who is a little Indian boy. What surprised people more was the fact that he was so engrossed in reading the book that even a Roger Vs Federer match had no importance for him.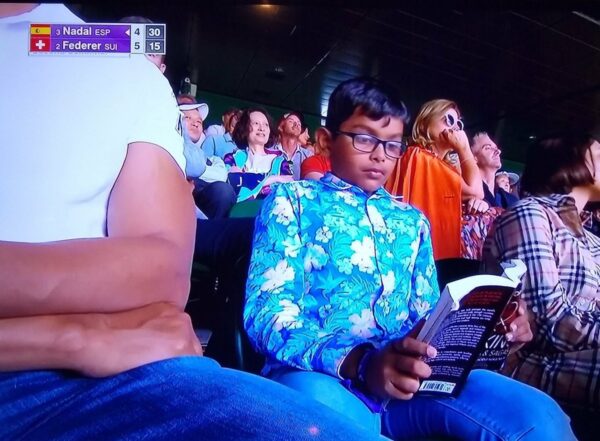 Some are praising the boy for his concentration while several others are annoyed as to how someone can waste such a big amount that has been spent on buying the ticket. However, few also praised the fact that he was reading a book and was not using an I-pad or a tablet.
Here are some of the selected reactions from social media users:
#1
2 of if not the greatest players ever and the kid is reading a damn book smh #FedererNadal #Wimbledon pic.twitter.com/0FFosabdFl

— JACK (@Jackariahtjr) July 12, 2019
#2
They say readers are leaders and all, but are you kidding me?!!?! Tickets selling for upwards of $10,000 and this kid is catching up on his reading? #Wimbledon #FedererNadal pic.twitter.com/OSnRk6q95d

— Stephen ✞ Ⓥ (@stephenKmonty) July 12, 2019
#3
When your parents take you to the stadium to watch Federer vs Nadal Wimbledon semi final but you are a Indian kid and have exams tomorrow.#Fedal #Fedex pic.twitter.com/QBmba9bcbh

— TeJaS PaTiL (@tazzpatil) July 12, 2019
#4
Who bought this child a ticket ?😂 not the time to be reading. #federervsnadal #Wimbledon19 pic.twitter.com/CyVGNYpDo1

— Salomè🍯🐝 (@SalomeRoxanne) July 12, 2019
#5
Then they say why this young generation is unable to compete with Federer. Nadal, Djokovic#Wimbledon #federervsnadal pic.twitter.com/qmmXPnUy67

— TheRealistic (@DeRealistic) July 12, 2019
#6
Kid is witnessing 2 of the greatest athletes compete and he's reading a book. At least he has good taste in clothing #Wimbledon #federervsnadal pic.twitter.com/jrYJJvJe7p

— Jeff (@The_Happy_Hive) July 12, 2019
#7
Even Roger Federer is shocked after seeing this kid in Semi Final. #Wimbledon pic.twitter.com/kDEam2uqzQ

— LetMeSpeak (@amit_twitted) July 12, 2019
#8
What is he reading? He doesn't even lose his concentration when #fedal play. Must be the most interesting book on planet. #Federer #Nadal #Wimbledon. pic.twitter.com/ahY2wobvZ7

— Sameer Deshmukh (@docsamdeshmukh) July 12, 2019
#9
Such a waste of a quality Ticket that too for a Federer Nadal match..
Get me the book he is reading I want to know whats in there ?
🤯🤯😒#Wimbledon19#Wimbledon pic.twitter.com/O6iR7DUMXF

— Abhishek (@abhi3627) July 12, 2019
#10
There is a boy reading a book at Centre Court instead of watching the match?! Can I meet his parents please, would like to have a word or two or 20. #Wimbledon

— Vinayakk (@vinayakkm) July 12, 2019
#11
The Kid: I love reading books more anything in this world.

Me: That can't be true in every case. What if you're watching Roger Federer vs Rafael Nadal in their first ever #Wimbledon semi-final?

The Kid: #Fedal #Wimbledon2019 #FedererNadal #VamosRafa #RogerFederer #GOAT pic.twitter.com/9MNOcc2HLh

— Nikhil Deshpande (@Chaseeism) July 13, 2019
#12
Peak brown kid moment. 😂 Reading during a Fedal match.#Wimbledon pic.twitter.com/g2pnC4myMx

— Ashish TV Slams (@ashishtvslams) July 12, 2019
#13
Hope everyone's #SummerReading is going well & that you're not distracted from your goals! You never know where your next favorite reading spot will be!
It's the Federer vs. Nadal semifinal and this kid is reading a book! #goals #Wimbledon @FremdEnglish @ginaenk @FrauSoto99 pic.twitter.com/ULwxX79EWN

— Srta. Ashley Soriano (@SorianoSpanish) July 12, 2019
#14
Can't believe commentators were giving a kid in the audience flack for reading a book at #Wimbledon – least it wasn't an ipad – kudos to any kid picking up a book these days……#federervsnadal pic.twitter.com/JwM4cnrMNt

— Mark A. Thomson (@MarkAlanThomson) July 13, 2019
#15
Shout out to the kid in the crowd at the Federer-Nadal match, utterly engrossed in a book

— Timothy Boudreau (@tcboudreau) July 12, 2019
What do you have to say about this kid? Let us know your views.
Share Your Views In Comments Below