News
Indian Railways Introduces 'Baby Berths' For Mothers Traveling With Kids, Twitter Is Divided
The Indian Railways is the fourth largest national railways system in the whole world and it is certainly on the path of progress at a very good rate. The Indian government is pretty serious in regard to improvisation of the Indian trains and making journey comfortable for commuters.
Travelling with kids, especially with infants, is never easy and one of the problems that parents face is how to adjust with their baby on the seat of the train. The Indian Railways has come up with the solution to this problem as it has installed foldable baby berths in lower berths (Coach No.194129/B4, berth No 12 & 60.) of the Lucknow Mail on experimentation basis.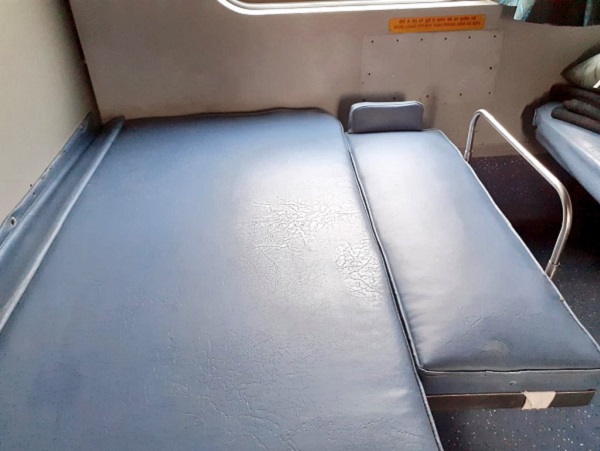 This has been done by the Lucknow Division of the Northern Railway to celebrate the occasion of the Mother's Day.
On Mother's Day, Lucknow Divn of N.Rly. introduced a baby berth on experimental basis in Coach No.194129/B4, berth No 12 & 60. This will facilitate mothers travelling with their babies.

The fitted baby seat is foldable & secured with a stopper. @AshwiniVaishnaw @RailMinIndia pic.twitter.com/4jNEtchuVh

— Northern Railway (@RailwayNorthern) May 9, 2022
The seat comes with a stopper in order to keep the baby safe and prevent from falling. Here is the video which explains how it works:
On trial basis Delhi Division has started baby berth in selected trains for facilitating mothers to comfortably sleep along with their babies. IR under the leadership of Hon MoR @AshwiniVaishnaw Sir & Hon MoSR @DarshanaJardosh ma'am is taking Service to another level pic.twitter.com/zQ8pD3V3bd

— Sanjay Kumar IRTS (@Sanjay_IRTS) May 10, 2022
Though the initiative is good considering the fact that the Indian Railways and many people have praised it yet the majority is not happy with it because they are of the opinion that a mother will never keep her baby on the outer side.
Check out some of the selected reactions:
#1
Good initiative sir. Please implement all over India. Really It will be helpful babies and mother at feeding time.

— S Venkata Ramana (@SVenkat99366291) May 10, 2022
#2
Very Good and Useful Initiative for Mothers Traveling with their kids, Please implement this baby berths in All Over India

— Shaikh Faqruddin Amjad (@SFaqruddin) May 11, 2022
#3
Wow Very Nice Initiative By Indian Railway First Time Ever.I Request You Kindly Enable It in Every Train .Thanks For This.

— Gaurav Kumar Sharma (@GauravK30334048) May 10, 2022
#4
Very nice step taken by Indian Railway ! All these reform we can see here with Modi Govt. Hope more to come in future.

— Manoj Kumar Nayak (@ManojKu14215227) May 10, 2022
#5
Amazing intention. Making railway more inclusive.
2 constructive critisism:
1) Mothers make kids sleep on the inner side & they sleep on the edge. (safety+ breast feeding)
2) the small table on the side is very very useful when we travel with kids as we need to make their feed.

— PARESH RAWAL (@Pareshrawal_kol) May 10, 2022
#6
Baby birth intiative is good, but lacks protection. Need better design to ensure safety of child

— Jayatheertha (@Jayatheertha2) May 10, 2022
#7
Initiative is great 👍🙏But the design can be improved because kids below 5 yrs can use this above 5 yrs we already take tickets. So for below 5 yrs kids this rod gap is more and may be it can be designed in a way in which it covers whole seat.

— Jaya Upadhyay (@JayaUpa15718742) May 11, 2022
#8
A seat belt kind of system can be introduced to safe kid from falling and also to avoid from any unsocial elements if try to harm/snatch the kid. 🙏🙏

— Nishant Dubey (निशांत दुबे) (@nishant1630) May 10, 2022
#9
Baby berth towards the edge ? Bad design. There is a risk of baby falling down. Seat stopper also seems useless. Design can be improved.

— Aarti (@rtprajapati) May 10, 2022
#10
The baby seat is good idea… But will the mother prefer to keep the baby on her right side… As in night it is unsafe and no mother will love to place the baby, instead she will share her half berth… But introducing this concept is ideal step for new direction

— Sriram Gopal (@SriramGopal19) May 10, 2022
#11
Yes you're idea is best but no use in baby baby dropping chances very high please modify berth style and one more suggestion Arrange the Baby Feeding Sections Sir Where in the Baby Feeding Section Trian

— shiva (@shivap123) May 13, 2022
#12
Excellent. But looks unsafe. Baby can easily trip. Please build foldable safety enclosures on all 3 sides. And build these for all lower bearths, not just for a few.

— saiprasad somayajula (@sai48) May 10, 2022
What do you think about it?
Share Your Views In Comments Below