News
Indigo Refused To Accept Indian Currency In Bangalore-Dubai Flight. Man Filed Complaint Against It
Troubles don't seem to end for IndiGo airlines soon as today (20th Nov, 2017), a complaint has been registered at Sarojini Nagar Police Station, New Delhi, against the airlines under the charge of sedition by a person known as Pramod Kumar Jain.
As per the complaint, Pramod Kumar Jain travelled from Bangalore to Dubai in an IndiGo flight number 6E95 on 10th Nov, 2017. 
He boarded the flight at 7.20 AM and he didn't have any meal till that time.
During the flight, when he ordered food, the crew members of the flight refused to provide him food as he was paying in Indian currency. As per the allegation, they stated that they are allowed to take payment only in foreign currency.
Despite repeated requests, the crew maintained that they won't take payment in Indian currency which as per the victim is a case of sedition.
How can Indian crew in Indian flight refuse to accept Indian currency which is legal tender from an Indian passenger?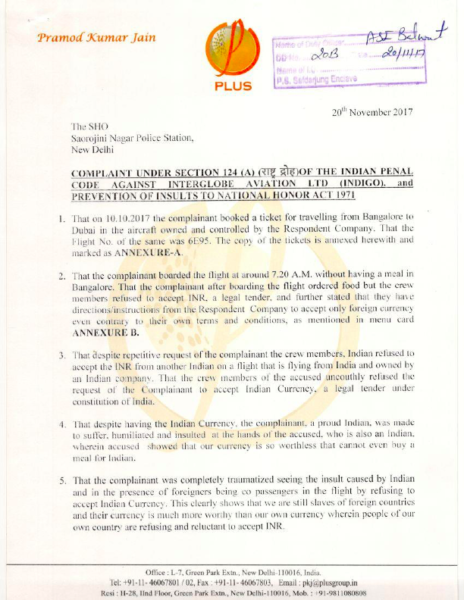 The passenger also stated that he felt humiliated and insulted as there were foreigners too in the flight and this incident, according to him, clearly shows that we are still not independent and rather slaves of foreign countries.
Few days ago, a video went viral showing IndiGo ground staff manhandling an old passenger. And now after this issue, it seems that IndiGo needs to make some drastic changes in its working style. What do you say?
Share Your Views In Comments Below