Bollywood & TV
Irrfan Khan Writes A Heartfelt Message After Comeback & Fans Can't Be Happier
Irrfan Khan is one of the most talented and versatile actors that the Hindi film industry has ever had. He has given some really great and powerful performances in not just Indian movies but also International projects.
Last year, all his fans and well-wishers were left heartbroken when the actor announced that he was suffering from a rare condition as he was diagnosed with high-grade neuroendocrine tumour and would be leaving to London for his treatment. Best wishes started pouring on the social media networks and since then, many of his fans have been praying for him daily as they desperately want their favourite actor to come back as a fighter after defeating the disease.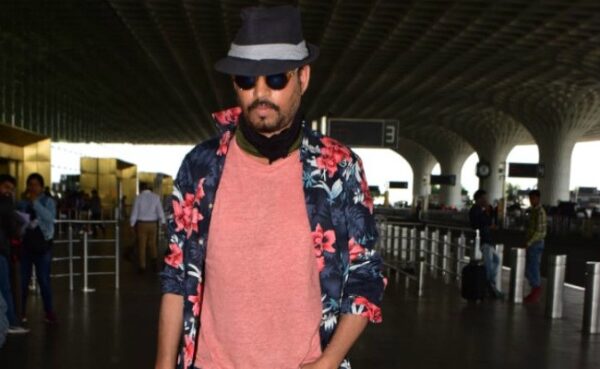 Well, we have great news for all the followers of Irrfan. Yes, you guessed it right! The actor has returned to India last month and yesterday he gave a chance to the media persons to click him at the Mumbai airport.
In recent times, he has written an emotional message for his fans on the micro-blogging site Twitter in which he has thanked them for supporting and loving him as it has helped him in the healing process.
Here is the heartfelt message from Irrfan Khan for all his fans who supported him in the tough times: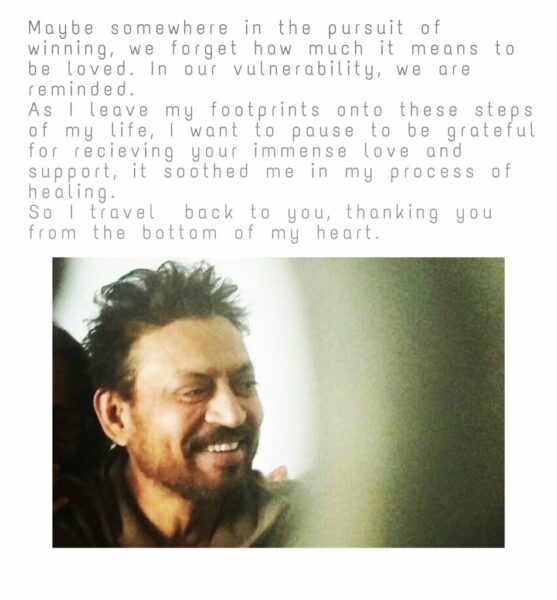 This is what the message reads:
"Maybe somewhere in the pursuit of winning, we forget how much it means to be loved. In our vulnerability, we are reminded.
As I leave my footprints onto these steps of my life, I want to pause to be grateful for receiving your immense love and support, it soothed me in my process of healing.
So I travel back to you, thanking you from the bottom of my heart."
Check out Irrfan's tweet:
— Irrfan (@irrfank) April 3, 2019
There was no limit of excitement and happiness for his ardent fans who expressed their joy on the actor's comeback. Here are some of the selected reactions:
#1
We look forward to cherish your enigmatic persona and talent on screen. can't wait for the wait to get over.

— Abhishek Jain (@cinemanabhishek) April 3, 2019
#2
God's will and blessings always on nice people like you welcome back and wishing you always pinc health and happy family life

— Sreedhar (@sreedharanath) April 3, 2019
#3
Welcome back Sir. Can't wait to see you on screen again. May God keep you healthy and happy always. ❤

— Debitara देवीतारा দেবীতারা🇮🇳 (@WhoDebitara) April 3, 2019
#4
Sooooo Happy to see you back sir. You are one of the finest actor of indian cinema and as a movie buff I missed you like anything.. seeing you performing on big screen is such an experience. I was shattered after hearing about ur health but now I am so happy that u r back ❤ 🙏

— Happy 50th Birthday Ajay Sir (@manojksharma2) April 3, 2019
#5
Welcome back to one of my favorite person ever!
You have no idea how much your comeback means to me. Thank you. 🥰

— Meghna ⭐ (@MeghnaSN) April 3, 2019
#6
This is A grreeeeeat news, Irrfan!!

So happy to know that you are back to being healthy!!

Best wishes! 🙏🏻

— Srinivasan Bala (@srini_bala) April 3, 2019
#7
So good to hear you @irrfank Prayers , Love and Strength to you , waiting for your onscreen presence 🙏🏻 A fighter in true sense 👍🏻 A miracle which had to happen Wow Good Luck !!

— BeDPriorityInYourLife (@Nalini64493977) April 3, 2019
#8
Welcome back and work with a fresh and renewed energy… You will be inspiration..

— Vinish Srivastava (@VinishSrivasta4) April 3, 2019
#9
Welcome back sir. Must say u r a fighter & hats off to ur strong will & determination. Happy to see u back. Can't wait to see you on big screen again. Stay blessed👍

— Anirban Atarthy (@AAtarthy) April 3, 2019
#10
So glad! You are healthy now, can't wait to see your next work

— Sandy (@Sandy94170181) April 3, 2019
He will start working on the sequel of his hit movie "Hindi Medium" and we just can't wait to see him again on the big screen.
Welcome Back Irrfan!
Share Your Views In Comments Below