News
Itna Sanitizer Bhi Germs Ko Nahi Marta, Says Twitter On Divyanshi Jain Who Got 100% In CBSE 12 Exam
The board results are out and while some have achieved good marks, few others are not happy with what they have scored. But Divyanshi Jain who is from Lucknow has broken all the limits and secured 100 percent marks in her class 12 CBSE examinations.
The 18 years old girl studies in Navyug Radiance Senior Secondary School, Lucknow, and has scored 100 marks in all the six subjects because of which her total is 600 out of 600. She was not able to give the examination of one subject Geography because it got cancelled due to the coronavirus pandemic. Divyanshi says that she has achieved success in her examinations because of her parents and teachers. She states that while her teachers have kept on guiding her all the year, her parents have ensured that she has no problem in following her systematic routine so that her studies are not affected in any manner.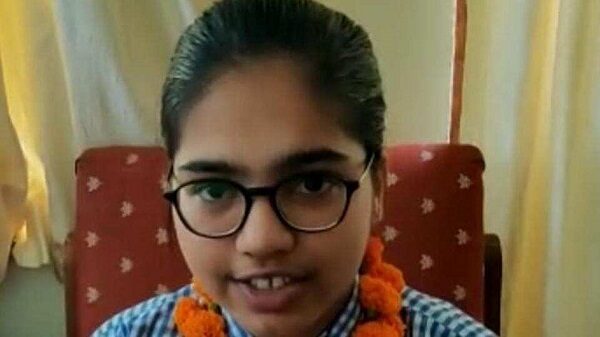 As per Divyanshi, these two factors helped her a lot in getting good marks as she was able to focus completely on her studies. She also emphasized on doing revision and attending mock tests which ultimately paid off in the final examinations. She also added that she followed a healthy lifestyle and ensured that she got proper sleep as well.
Divyanshi aspires to study History in the future and she has already applied for admission in BA (H) History at the Delhi University. Her school principal is also very happy at the achievement of her student; she states that they have been confident of Divyanshi being the topper but the marks that she has scored have definitely left them amazed.
Shweta Arora, the Regional Officer (RO) CBSE, stated that the Lucknow girl scored the highest marks in the Prayagraj region and out of 6, she appeared in 5 exams.
Twitterati soon got into action; while everyone congratulated her at the incredible success, they also expressed their sense of amazement through memes. Check out some of the selected reactions:
#1
Sala, yahan main apni khud ki answer sheet agar khud se check karun , to bhi itne na la paun ..!!
.
.
Hearty congratulations Divyanshi Jain , you are a true inspiration..!! #DivyanshiJain #100percent ..

— Sarthak Mohapatra (@sarthak_mohapat) July 13, 2020
#2
Situation of Divyanshi jain
Principal..#cbseresults2020#DivyanshiJain #CBSE #CBSEResults pic.twitter.com/smM0HeeQWN

— im_🅱️🐾 (@im_B1) July 13, 2020
#3
#DivyanshiJain gets 100% marks, scores 600 out of 600#cbseresults2020 pic.twitter.com/iW6dadUgqE

— Sudhanshu 🇮🇳 (@Sudhanshu_088) July 13, 2020
#4
#divyanshijain of #lucknow secured 600/600 marks in 12th #cbseresults2020 😱 https://t.co/9M26H1cjgf pic.twitter.com/jjrK13IxwQ

— Abhishek😎🕴️ (@abhishekoholic) July 13, 2020
#5
CBSE 12th Result 2020: Lucknow girl Divyanshi Jain gets 100% marks, scores 600 out of 600 pic.twitter.com/G2ag6Y4swq

— Warpaint Journal (@WarpaintJournal) July 13, 2020
#6
Meet #CBSEBoardExams2020's Topper #DivyanshiJain. She scored 600/600. Incredible! 😯
Conveying heartiest greetings to her & Parents.

Meanwhile Back Benchers, "इतने अंकों में तो 2-3 बैक बेंचर्स पास हो जाते" 😜😅

Wishing all Board Students for a bright future.#CBSEResults2020 pic.twitter.com/ZWAdEYwjkX

— Dipanshu Kabra (@ipskabra) July 13, 2020
#7
Pic 1 – Sharma ji & Agarwal/Agrawal/Agarwala/Aggrawal ji k bachey
Pic 2- Unkey Pitaji after #DivyanshiJain Scored 100%#cbseresults2020 pic.twitter.com/4taiSFCgzw

— Nitesh (@niteshcasm) July 13, 2020
#8
Divyanshi jain from Lucknow got 100% marks in 12th class.
Two minutes silence for her cousins and friends.#cbseresults2020

— R A T N I $ H (@LoyalSachinFan) July 13, 2020
#9
#DivyanshiJain small town girl from Lucknow proved that the gender and the equality both are totally different thing, she is ideal for other students, she got 600 out of 600 marks in #cbseresults2020 yar mtlb how itna to hamara sanitiser bhi jerms Ko nahin maarta 😳😅

✌🏻❣️😍 pic.twitter.com/rquWMxVFet

— Vicky Balbodh Jha (@BalbodhVicky) July 13, 2020
#10
Kuch bachee aise bhi💯👀hum to best four m bhi physical education ko count krte the 😂#cbseresults2020 #CBSEBoardExams2020 #divyanshiJain https://t.co/Nj3J19vAyc

— SardonicKid (@YasakshiD) July 13, 2020
#11
*Divyanshi Jain to her relatives after scoring 100% marks*#cbseresults2020 #CBSEResults pic.twitter.com/Ky29I5Qmr7

— Tweetera🐦 (@DoctorrSays) July 13, 2020
We wish Divyanshi all the best for her future endeavors!
Share Your Views In Comments Below