Brands
Jio Brings Storm In Telecom Market Once Again. Launches 3 GB/Day Plan For Rs 149
Jio has already captured the telecom market with its amazing plans. It has left behind Airtel, Vodafone and Idea in terms of tariffs and customer-friendliness.
From launching JioFi to launching contests for Miss India, Jio has tried every possible way. Once again, it is back with some new rocking plans for the month of June.
Jio's response to Airtel's plans
Well, Jio has come up with Double Dhamaka plans, in which it is offering double data to users for June month. Airtel had come up with some plans, but they were segmented i.e. only for limited users. While Airtel gave 1GB extra per day on recharge of Rs 149, Jio went a step ahead and offered 1.5GB. Moreover, Jio's plans are open to all & there are no terms and conditions as such. During launch, Jio said it will maintain "Everyday More Value"; by offering extra data as compared to Airtel at the same price, it is surely maintaining it.
Jio is offering 1.5 GB extra on all the existing plans. However, this is limited till 30th June 2018 online.
Here are the packages;
1. 1.5GB/day data pack users – Rs 149, 349, 399, 449 will now get 3GB/day
2. 2GB/day data pack users – Rs 198, 398, 448, 498 will now get 3.5GB/day
3. 3GB/day data pack users – Rs 299 will now get 4.5GB/day
4. 4GB/day data pack users – Rs 509 will now get 5.5GB/day
5. 5GB/day data pack users – Rs 799 will now get 6.5GB/day
These new plans by Jio are a direct response to Airtel's newly released packages in which it offers 1.5GB per day on recharge of Rs 149 per month.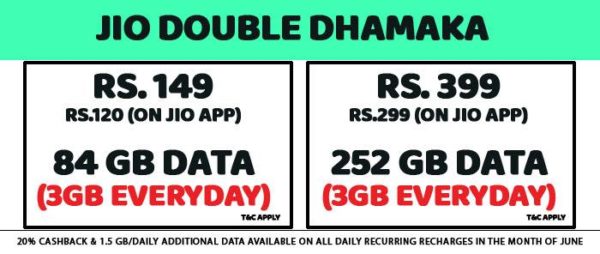 Discounts are offered too!
Jio is offering a discount of Rs 300 and above, thereby adding to the user friendliness. If your recharge is below Rs 300, you will get 20 percent discount through PhonePe and MyJio. So if you are planning to recharge for Rs 149, it will cost you Rs 120. If you are recharging for Rs 399, you will get it only for Rs 299.
With this, Jio has proved that no other telecom provider can beat it in terms of plans.
Share Your Views In Comments Below