Humour
Journalist's Reporting In Rap Style Over Ukraine Row Makes Her A Meme Material
The job of a journalist or a news reporter is to bring the reality of any situation in front of public and there was a time when journalists used to do their work with utmost honesty but the situation has changed to a great extent in the present times. Nowadays, the main focus is not on news but on sensationalizing the news and presenting it in a manner which is different from other news channels and news anchors.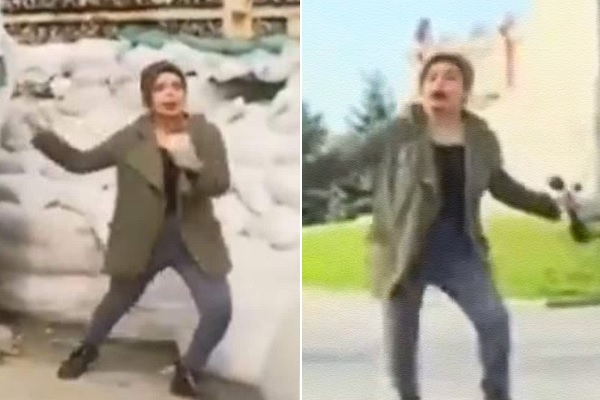 Republic TV is known for anchors who present the news in a loud, noisy and weird manner and recently a Twitter user posted a video of a Republic Bharat reporter in which she is reporting on the Russia-Ukraine war but the way she is moving and modulating her voice while speaking, it gives an impression as if she is shooting for a rap song. If this was not enough, graphics of the helicopter are added in the visuals in order to give feel of a war situation.
First of all, watch the video:
बहुत दिन पहले टीवी देखना छोड़ दिया था। लगता है फिर शुरू करना पड़ेगा। लाइफ में इतना रोमांच और कहाँ मिलेगा 🙄 pic.twitter.com/vU5L9FUdDv

— Arun Bothra 🇮🇳 (@arunbothra) April 18, 2022
Click here to watch this video directly on Twitter
The Twitter user shared the video with the caption, "बहुत दिन पहले टीवी देखना छोड़ दिया था। लगता है फिर शुरू करना पड़ेगा। लाइफ में इतना रोमांच और कहाँ मिलेगा" (Stopped watching TV long time back but it feels I need to start watching it again, from where would I get so much of thrill other than this).
Twitterati also went crazy after watching the video clip as it was certainly one of its kind news reporting which did not appear to be sensible at all. Check out some of the selected Twitter reactions:
#1
@Shaziya_N
Aap reporting karne gayi ho yaa rapping 👻😹❣️#Republicbharat#tuesdaymotivations pic.twitter.com/d6YO8rr9hp

— 𝑀𝒶𝒶𝓃 𝒯𝒾𝓌𝒶𝓇𝒾 🔥🔥 (@ITcellvhp) April 19, 2022
#2
Actually it's exercise practice cum news reporting.. https://t.co/2bYfShcqaT

— Er. shahrukh khan (@9096shahrukh) April 20, 2022
#3
Illegal Weapon 2.0 feat. Republic Bharat.😉 pic.twitter.com/TiYGpDGsMM

— Desi Batman (@I_Em_Vengeance) April 18, 2022
#4
People telling me not to overreact on seeing my crush.
Meanwhile me: https://t.co/MAyAWnGtOk

— Harshita Gupta (@guptaharshita13) April 20, 2022
#5
Republic Bharat
"Bohot Hard" 🔥🔥

🤣🤣 https://t.co/Tmws010L9L pic.twitter.com/i7DZOUFgS2

— Dilawar Hossain (@IamHossainn) April 18, 2022
#6
फिक्स्ड इट 😂 pic.twitter.com/r6sSbVtKHT

— Chad Infi 𓄿 (@chad_infi) April 19, 2022
#7
Same Energy pic.twitter.com/VxN7cSUMvK

— शुद्ध गरीब 🏹 (@ShuddhGarib) April 18, 2022
#8
Didi high on journalism https://t.co/920HhdOukw

— Ayushi Gurjar 🇮🇳 (@ayushigurjarr) April 19, 2022
#9
Original video ये हैं : pic.twitter.com/IMyOvR3q8p

— arifuddin ahmed (@arifuddinahme12) April 18, 2022
#10
This would've been the right profession for her : pic.twitter.com/HNnfJSzylk

— THE SKIN DOCTOR (@theskindoctor13) April 19, 2022
#11
I think they have employed her only because of her comedy skills. https://t.co/N2nxu18Nyn

— Dhruv Agarwal (@Dhruv46251497) April 19, 2022
The news journalist should focus on reporting the truth rather than making news or creating sensation because in all this process, the truth doesn't reach people in a proper manner.
What are your views in regard to the whole matter? Share with us.
Share Your Views In Comments Below