Humour
Journo Asks Bihar Man If 'Vikas' Reached His Village, His Innocent Reply Sparks Meme Fest
Vikas (development) is a very important topic nowadays in the elections in India as the Prime Minister Narendra Modi has always emphasized on it and it was the backbone of his election campaign. The elections in the Indian state of Bihar will take place pretty soon and all the political parties are trying their best to woo the voters. However this time, they also need to keep in mind that they follow the safety guidelines as COVID-19 is still spreading at a fast rate.
The news channels have become active now and their reporters are visiting each part of the state in order to find out about the public's mood. A reporter of Bihar Tak, a local news channel of Bihar, visited a village in Lakhisarai and talked to people there. But the main attraction of this video is the old man who gave a very funny reply though unintentionally when he was asked about Vikas (development) by the reporter.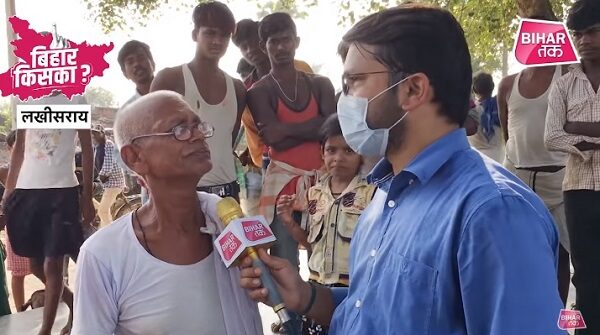 The reporter asks the old man whether Vikas has come to his village and in reply, the old man says that he doesn't know because he was sick so he went to the doctor.
Here is the video:
Innocence overload alert!
Easily the cutest thing on internet 🥺❤️ https://t.co/TxEPJMGNr8

— Prati911 (@Prati911) October 16, 2020
Click to watch this video directly on Twitter
The online users rolled on floor laughing after they watched the clip and many of them got awestruck with the innocence of the old man. However, there were some who used this chance to mock the government and a meme-fest started on the micro-blogging site Twitter. Check out some of the selected reactions:
#1
विकास है ही इतना दुर्लभ कि कब आ कर चला जाए, सब को पता भी नहीं चल पाता।😄

— Sajjad Hassan (@Sajjad7274) October 16, 2020
#2
This is epic 😂😂😂

Kaun vikas ? Aur kaunsa Vikas ? @AshwinIyer3 pic.twitter.com/vDh0N4RKmt

— A.I. (@ranandiyer1) October 16, 2020
#3
बाबा जी को लगा विकास दुबे को पूछ रहा है इसलिए बचते हुए नजर आये कि कहीं मुझे पुलिस न उठा ले इस बुढ़ापे मे।

— Vipin Pandey (@VIPAARY) October 17, 2020
#4
Vikas ki koi khabar ? pic.twitter.com/pLGsvEx7da

— A.I. (@ranandiyer1) October 16, 2020
#5
Epic👌🤣🤣

Simplicity में कहा गया एक तीखा व्यंग्य है Governance और System पर. Too good.

— Neeraj Bhaskar (@BhaskarNeeraj) October 16, 2020
#6
Vikas is giving only special appearance in Bihar. That's why few people could not see it because they were outside 🤣

— Ajay Singh (@ajoykummar24) October 16, 2020
#7
Dekha jaye to dada ji jawab sahi hi diya… Vikas bimar hi to hai kai saalo s.. unko lga hospital hi hoga to dekhne chale gye😂😂😂

— Sandeep Yadav (@sndyadav44) October 16, 2020
#8
That's the most savage, hilarious , on point , stiff , ruthless and sarcastic reply I've come across ever with a very straight face.

That's the hardest hit ever on the system and the government. https://t.co/jRbBpacdXJ

— Ranjan Arin (@ranjan_arin) October 16, 2020
#9
How to be apolitical 101 https://t.co/NfM60bmTsK

— Vikas Solanki (@VikasSolanki_18) October 16, 2020
#10
Thank you baba…. For providing me a reason to ROFL in this grim situation !! Had a heartfelt laugh ! Bless you ! https://t.co/bjofpUhmIs

— Dr. Reetu Sharma (@drreetusharma) October 16, 2020
#11
जैसे को तैसा इसको ही कहते है pic.twitter.com/6iUNAigX74

— ॐ प्रकाश (@NamdeoOm) October 16, 2020
The reporter also talked to other people and enquired about the work done in the village but there was no one so innocent as this old man.
The video is truly meme-worthy and can be watched on the repeat mode. Chacha sahi khel gaye 😉
Share Your Views In Comments Below