News
Kerala Locals Making Way For An Ambulance In A Busy Street Are Winning Hearts All Over.
We are quite busy now a days, in our fast paced life, thinking about our super fast delivery for food. Even other inessential items, that wouldn't even matter if it reaches late, bother us all day. Companies assured their foodie customers that the pizza will be there within fifteen minutes but we never saw any organization promising an ambulance during emergencies, to be their within minutes.
This is where basic humanity is gradually getting depleted. We know stories how ambulance got stuck in traffic jams or crowded areas, as it was difficult for them to pass. Now just imagine how wonderful it will be, if an ambulance gets its own way, amidst a narrow crowded street, full of festive crowds dancing to loud music.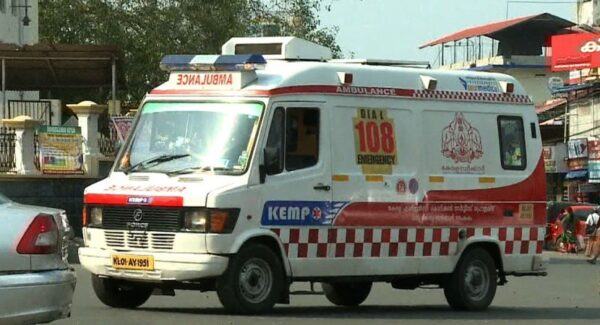 Surreal? isn't it? Yes, this is exactly what happened in the southern Indian state of Kerala. This is an example how humans should actually behave, to call themselves that. In a scenario, where it seemed to be impossible for the ambulance to pass, people on the street with right coordination and gesture, made way for the ambulance to reach on time.
This minute long video, shows how a festive crowd parted ways quickly, that too this seamlessly that an ambulance got its own very smooth way to pass. This video was taken during Kerala's Mannarkkad Pooram festival, one of the oldest in the state.
People all over are showering praises on the Keralities for being not only literate, but getting the most amount of basic education from studies and believing in them. Amidst those loud noise and festivity, they showed the true colour with which we all should get ourselves painted with.
Imagine a huge crowd making way for an Ambulance in a perfect manner!!!

This video of a massive festival crowd in Palakkad (Kerala) making way for an Ambulance is viral in Whatsapp

The ease at which the people make way for that Ambulance. pic.twitter.com/Fm38KpEaX3

— Advaid (@Advaidism) March 23, 2019
You cannot miss how people are reacting to this. For many of us, this is a sight to behold.
#1
We in the Northern states need to learn lots from our friends in the South. Fabulous!

— Indian Warrior (@amulkapoor) March 23, 2019
#2
I dream for a day when an ambulance passes with similar speed through Delhi traffic. India will achieve true greatness.

— jaydeep desai (@jm_desai) March 23, 2019
#3
Wow… respect… Keraliites…

— CASANOVAA (@imm253) March 23, 2019
#4
That's how civilized society act like, Silver lining.😍😍 It matters!

— Wasil Anwar (@wasilanwar77) March 23, 2019
#5
only Kerala can do it.!! and thats being educated not mere literate.. thats valuing life, not just outraging.. actions matter! thank you for sharing, shows we are capable of being better.. if we chose to be

— Apple Akka (@mana_apple) March 23, 2019
#6
Hats off to the discipline of Keralites. All of us, from other parts of India must learn from them.

— Krishna Battula (@battulakrishna9) March 23, 2019
#7
Woah… Thats amazing, unreal.

— Aaron🌪️ (@ROALY) March 23, 2019
#8
That gives smiles and hopes..That made my mng, Good way to start a day..

— ഉയർന്ന ചിന്താഗതിയും മൂഞ്ചിയ ജീവിതവും.. (@mt_shaf) March 23, 2019
#9
This is the best thing i have seen in internet today. 💓💓 https://t.co/0BmNeKRHZs

— Kumar Padmanabhan (@kp0999) March 23, 2019
#10
Splendid . This is why Kerala is referred to as God's own country.

— Amit Ghosh (@amitghoshspeaks) March 23, 2019
#11
Humility still exists.

— Rajesh Paharia Jain (@JainPaharia) March 23, 2019
#12
When crowd behaves this good, we want it crowded in India 🙏

— Chowkidaar AnanthN6000 🇮🇳 🕉️ (@UgraKesari) March 23, 2019
What is your message for the crowd in Kerala?
Share Your Views In Comments Below