News
Kerala Man Lost His Job In Oman For Making Insensitive & Derogatory Comments On Kerala Floods
The Indian state of Kerala has been affected by severe floods and it won't be wrong to call it the worst flood experienced by the state ever. Hundreds have left the world while lakhs of people have been forced to leave their houses to save their lives. People from all over the globe are coming forward to help people in distress and the government and relief agencies along with Indian army are working hard to help the victims.
In these times, poking fun at the people in Kerala is not expected from any sensible person and when a person from Kerala who is working in Oman made some insensitive and irresponsible comments about the flood victims, it resulted in him losing his job.
As per Khaleej Times, Rahul Cheru Palayattu who worked for Lulu Group International made fun of flood victims and their sanitary needs on social media site Facebook. On a post that requested for sanitary napkins to be supplied at various relief camps, he asked whether people required c0nd0ms too?
When his employer came to know about this disgusting act, they immediately terminated his services.
This is the termination letter sent to him by his HR Manager,
"This is to inform you that we have terminated you from services with immediate effect because of your highly insensitive and derogatory comments on social media with regard to current Flood situations in Kerala, India.
You are hereby instructed to handover all your official responsibilities to your reporting Manager immediately and to contact the Accounts Department for your final settlement."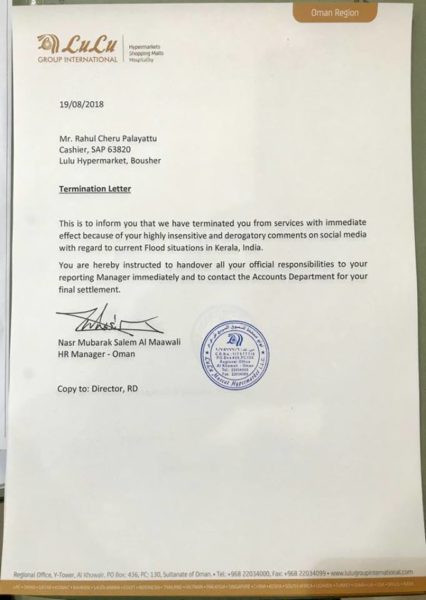 Here's the Facebook post:
Rahul was also slammed on Facebook and he apologised after losing his job through a video message, saying that he was in an intoxicated state when he made those comments and now he realised that it was a very big mistake.
On the other hand, V. Nandakumar, CCO of LuLu Group, told Khaleej Times that a clear message has been sent to the society that the organisation will not tolerate such type of behavior and we stand for humanitarian and ethical values.
The founder and MD of Lulu Group Yousuf Ali is also from Kerala and till now, he has donated around Rs 17.5 crore (9.23 million dirhams) for relief work in the state. Even the UAE government came forward to help and formed a committee on Saturday to provide help to the state and its people.
As per the CM Pinarayi Vijayan, the state has suffered a loss of around Rs. 19,512 crore in these floods. We also request everyone to help the people of Kerala as per their capability.
Share Your Views In Comments Below