Do you like Khichdi? Well, many have it and it's kind of staple food in their homes. Some are so crazy behind khichdi that they can't even skip it for a day. What if we tell you that Khichdi has been approved to be the "National Food of India"? Yes, this is actually true.
Yesterday, the Center announced that Khichdi will be made the "National Food of India" on 4th of November, at World Food India event (New Delhi). Be it infants or be it old people, everyone relishes Khichdi. In fact, it is prepared in different ways in various parts of the country.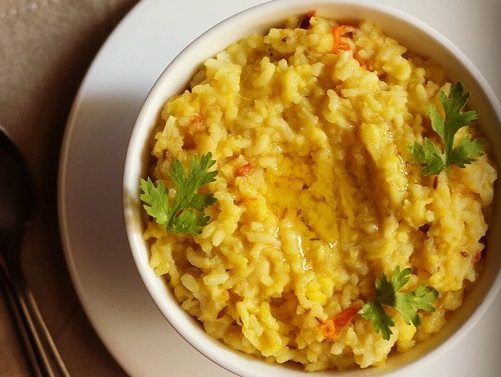 This announcement was made by Union Minister of Food Processing Harsimrat Kaur Badal. According to her, Khichdi is the symbol of India's great culture and also reflects the country's "Unity in Diversity" in the best possible way.
However, as soon as Twitter came to know about this, mixed reactions poured in. Many couldn't digest that Khichdi has now got the National status. Check out some hilarious reactions;
Omar Abdullah reacts!
Do we have to stand every time we see it being eaten? Is it compulsory to eat before a movie? Is it anti-national to not like the stuff? https://t.co/MkgWEBNQlH

— Omar Abdullah (@OmarAbdullah) November 1, 2017
Ghar ghar ki kahani!
Khichdi is declared as our national dish, now my mom got another reason to cook it for lunch/dinner.

— Aditya Tare (@adityaatare) November 1, 2017
What about Butter Chicken?
If #khichdi is the national Dish, then what about Butter Chicken.

— That guy (@varunkhurrana) November 1, 2017
Unfair!
Unfair to have a national dish in a country with a mind boggling variety of cuisines and tastebuds.#khichdi

— Ray Stings (@Purba_Ray) November 1, 2017
Constipation!
Khichdi to be designated as India's national food as the nation is perpetually constipated.

— Chaitanya (@Chaitanya_13) November 1, 2017
I protest on behalf of Pulao!
On behalf of pulao, I protest. https://t.co/wQ0ssKrth1

— Kiran Manral (@KiranManral) November 1, 2017
Patriotism to be questioned!
And if you don't like #Khichdi or don't eat it, I have the right to question your patriotism. Maybe, beat you if you don't eat & praise it. https://t.co/nnozUD4MsU

— Nakuul Mehta (@NakuulMehta) November 1, 2017
What do you think about this? Share your views…