News
Kiki Challenge Went A Level Up. This Female Pilot Jumped Out Of Plane To Do Kiki Challenge
If you are thinking that Kiki challenge is a thing of past, you are absolutely wrong because people are still taking it up and the latest one to join the bandwagon is a pilot.
A video of pilot Alejandra Manriquez doing Kiki challenge is going viral on the Internet. In this video, Alejandra can be seen pushing a lever before she goes out of the aircraft and then she starts dancing on "In my feelings" song by Drake.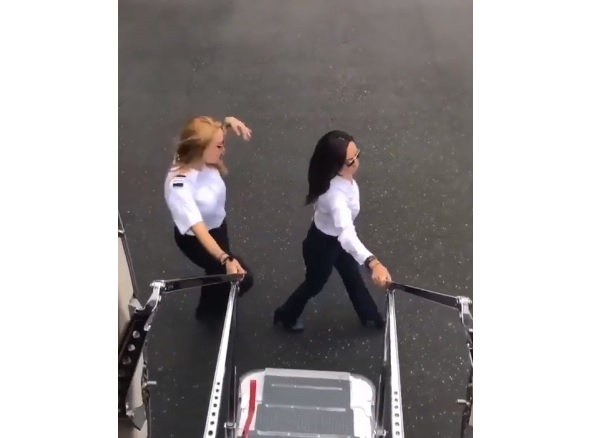 One more woman is seen dancing with Alejandra in the video and she is being considered as a flight attendant while the aircraft is moving. The video has received more than 65K views till now on the micro-blogging site Twitter.
Till now, you must have seen people performing Kiki challenge by jumping out of cars, autos or other four-wheelers and dancing but you won't get to see it being performed by jumping out of the aircraft easily.
Here is the video:
#kiki dance in pilots way 💃😅 pic.twitter.com/62zKlz58fx

— Aviationdaily✈️الطيران يوميآ (@Aviationdailyy) August 28, 2018
Click here to watch this video directly on Twitter
As per Daily Mail, Alejandra started her career as a flight attendant but by the age of 22, she moved to the flight school. Now she flies private jets and has flown to more than 40 countries so far.
While talking about her profession, she says that aviation is beautiful but a very demanding career and a person needs to be passionate for it if he/she wants to be successful. She also says that the problems that she faced during her career have not only made her a better pilot but a better person as well.
Have you performed the Kiki challenge? How did you find Alejandra's version of Kiki? Let us know.
Share Your Views In Comments Below