Bollywood & TV
Lawyer Praised Rishi For His Performance In Mulk. Rishi Got Angry At His Grammar & Trolled Him
Veteran actor Rishi Kapoor never fails to make headlines and if not for his movies, he is in news for his activities on social media sites.
If you are an active Internet user, you must be aware of his antics in the virtual world, especially on the micro-blogging site Twitter where he keeps on sharing just whatever he wants and often gets trolled for his posts and tweets. In other words, it won't be wrong to say that he is a favourite target of trollers who leave simply no chance to mock him.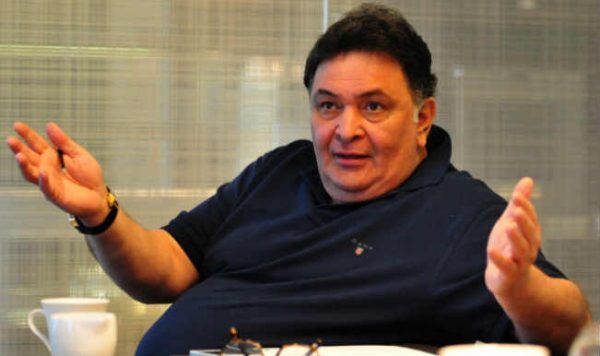 There's no denying the fact that Rishi Kapoor never minces his words or should we say that he never hesitates in speaking his heart out.
Once again a similar thing happened when a lawyer who also happens to be a fan of the actor watched his movie "Mulk" and took to Twitter to appreciate Rishi.
The lawyer wrote,
"Sir, I have seen ur muvi Mulk the way u represent as lawyer and as a victim of situation hand off you sir.. being a lawyer i really congratulate you to bring forward such kind of social issues Good Luck."
If you have proper knowledge of English language, you must have got that the lawyer made some grammatical and spelling errors while congratulating Rishi. The actor too noticed the mistakes and making the Tweeple realise it, he wrote,
"Thank you Sir. But being a lawyer yourself, your English language, grammar and spellings are so poor? I cannot understand what you tried saying! Must brush up!!"
Although these tweets have been deleted now, here we present you screenshot of the conversation: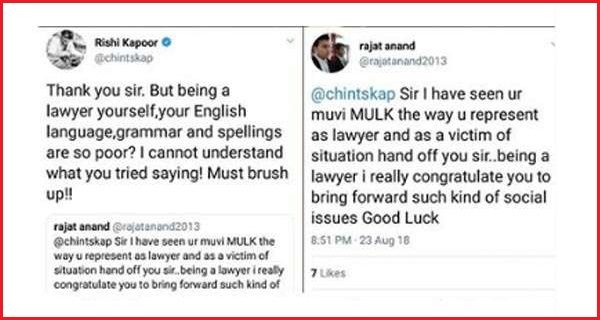 Do you think that Rishi insulted the lawyer with his rude reply? Let us know your opinion.