Sports
Lionel Messi's Remarkable Win In Copa America Final After 28-Yr Long Wait Sets Twitter On Fire
Yesterday (10 July 2021) was a very big day for fans of football, especially for the Argentinean football fans as their team won the Copa America Cup after defeating Brazil by 1-0 in the finals which was played at Maracanã Stadium, Rio de Janeiro, Brazil.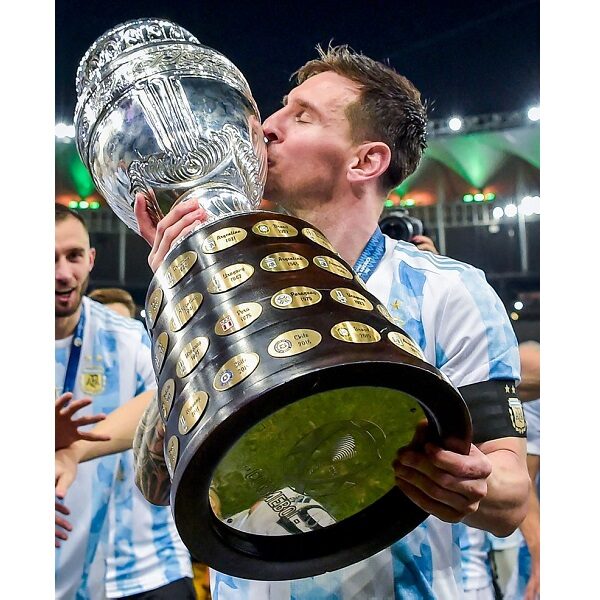 What makes this victory more special is the fact that it is after 28 years that Argentina has won any major international trophy as it was 1993 when last time Argentina won the Copa America after defeating Mexico by 2-1 in the finals.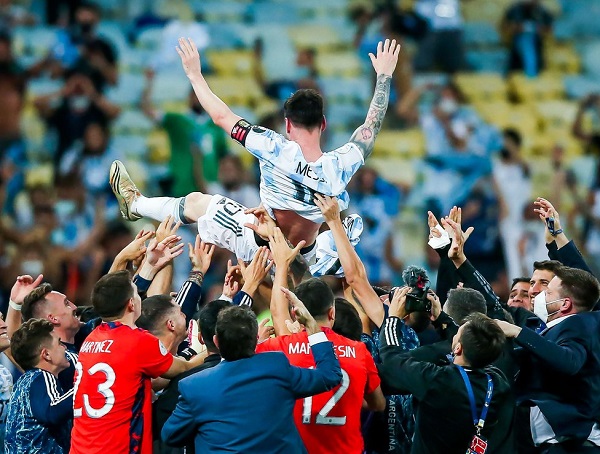 The fans are also very happy for their favourite footballer, Lionel Messi who has been an integral part of the Argentinean team since 2009. The 34 years old footballer who also plays for Barcelona Club and is a six-time Ballon d'Or winner has lost four big finals- three Copa America finals (2007, 2015, 2016) and the 2014 World Cup final before he got lucky enough to hold the trophy of Copa America in his hands.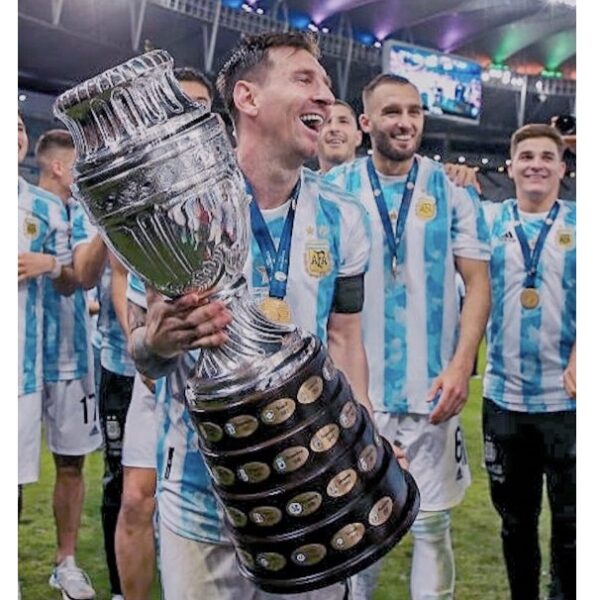 For some football fans, the debate of who the GOAT (greatest of all times) is between Lionel Messi and Cristiano Ronaldo has also come to an end with this win of Argentina as for them, Lionel Messi is the GOAT now. There is no doubt that it is the biggest victory of Lionel Messi's career and it is also true that his contribution towards Argentinean football has been immense.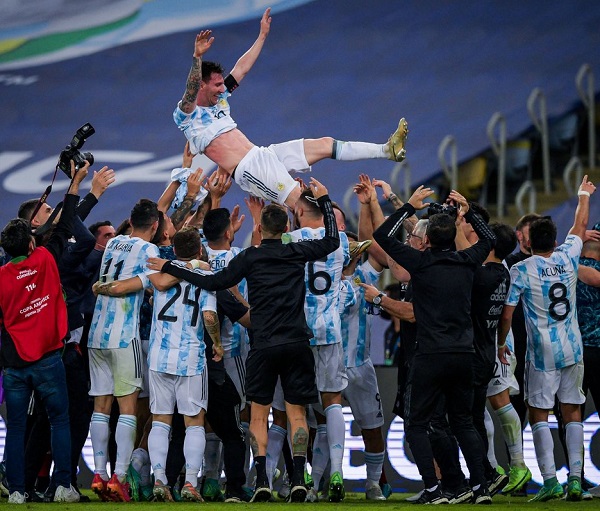 There was one more moment which brought tears in eyes of football fans. Neymar Junior, the Brazilian footballer who is a good friend of Messi, came to him while the whole Argentinean team was celebrating their victory. On one hand, Neymar congratulated Messi on winning Copa America and on the other, Messi hugged him tight to console him.
Here is that emotional moment which has been captured in this video clip:
This moment 🥺💛💙

A minute long hug between @neymarjr and #Messi 😍 https://t.co/0C4SoOKuIV pic.twitter.com/MYPKuSjCNk

— KHUSHI♡ (@KhushiiForever) July 11, 2021
Check out some tweets in which fans have expressed their happiness over Argentina's win in Copa America:
#1
🙌 Hypnotic 🙌 pic.twitter.com/X6xoHNrX9s

— FC Barcelona (@FCBarcelona) July 11, 2021
#2
You've given us brilliance, I hope this moment gives you happiness. Gracias #Messi #CopaAmericaFINAL pic.twitter.com/O6YjifLJYY

— Jamie Watson (@jamiewatson77) July 11, 2021
#3
The whole football world wanted it for him… for what he has given to the game and still giving !!!! #Messi pic.twitter.com/QHuyeujtjE

— Uche Jombo Rodriguez (@uchejombo) July 11, 2021
#4
BTW… India celebrate @argentina winning Copa America. pic.twitter.com/NZoe9jg1xl

— Juan Arango (@JuanG_Arango) July 11, 2021
#5
The wait is finally over!!!
Congratulations to Messi & Argentina!! What a match this is! ❤️#CopaAmericaFinal pic.twitter.com/9upa7mp6CM

— Nivin Pauly (@NivinOfficial) July 11, 2021
#6
The 28-year drought comes to an end.
অভিনন্দন Argentina! 👏#CopaAmericaFINAL pic.twitter.com/EI9oouhx5F

— KolkataKnightRiders (@KKRiders) July 11, 2021
#7
Never ever get tired of pursuing your dream !#Messi ♥️ pic.twitter.com/A0zQWzY9gM

— Kavin (@Kavin_m_0431) July 11, 2021
#8
Messi has won 4 international player of the tournament awards, Ronaldo has nada, receive sense andchoose your goat wisely, #CopaAmericaFINAL pic.twitter.com/ZJVAnkXwP2

— prodigy_zehi 🇳🇬🇦🇷 (@ProdigyZehi) July 11, 2021
#9
Rodrigo De Paul after getting the MOTM : "We did it for Messi"

"Messi has carried the burden of Argentina for 16 years, it was time we carried him" : Otamendi after FT#CopaAmericaFINAL #Messi pic.twitter.com/fJtoNCYjqY

— Tomiwa Adefolarin (@Tommyskizy) July 11, 2021
#10
Greatest Ever 🐐
This man carried the team for a long time
Finally gets what he deserves#CopaAmericaFINAL#GOAT Messi pic.twitter.com/gVY9ufZsW8

— Manii (@Mr_Logan_007) July 11, 2021
#11
Im convince now if DI MARIA had to play in WWC 2014 FINAL, ARGENTINA would've been champions.. These two deserve this alot.. #CopaAmericaFINAL pic.twitter.com/FbEU2AxqHD

— |.. be🖕N!c32u2BUT🤡 (@Rudion18) July 11, 2021
#12
We wanted UCL trophies, you delivered. We wanted La Liga trophies, you delivered. We wanted Balon Dor's, you gave us six!. We wanted an international trophy, and you just delivered that one too beautifully. GOAT forever🐐. I Love You Messi😭💙❤️ #CopaAmericaFINAL #Argentina pic.twitter.com/Vbts4asowV

— Mr Enyan🇬🇭 (@mr_enyan) July 11, 2021
#13
The way neymar sneaked into argentina players celebration area just to congratulate his dear friend Messi melted my heart❣️❣️

I will rate this as my second fav moment of today's match 🤩❤️#Messi #CopaAmerica #Argentina pic.twitter.com/D6I2cy9CGk

— Phoenix🌠 (@blacktea_luv) July 11, 2021
#14
Absolutely beautiful from #Neymar and #Messi 😄

🤝#Neymar congratulating #Messi for winning the #CopaAmericaFINAL 16 years after debuting for #Argentina and ending the 28-year trophy drought for #Argentina is CLASSY 🏆#CopaAmerica2021 pic.twitter.com/JYwaNsVzAz

— सिंह साहब (@mrsinghsahab194) July 11, 2021
#15
Trust the process ! Football has finally repaid the debt.#GOAT #CopaAmericaFINAL #Messi pic.twitter.com/ajNA9EIphm

— Nilesh (@nileshch0709) July 11, 2021
We also wish the Argentineans and Lionel Messi on this big achievement! Congratulations!
Share Your Views In Comments Below