Brands
Luxury Brand Is Selling Bathroom Chappals For Rs 9,000 After 54% Discount, Twitter Goes WTF
We all love to wear those clothes and footwear which make us feel comfortable and bathroom slippers (chappal) is the best option to wear when we are at home. It won't be wrong to say that these chappals have become an integral part of our household and family over the years and the best thing is that they don't cost much either.
These chappals can be purchased at the price of Rs. 150-300 based on a person's preferences but you will be shocked to know that a luxury fashion brand is selling such chappals at the whopping price of Rs. 8,990. The name of luxury fashion brand is Hugo Boss and we have to admit that the brand is very generous as it's giving a bumper discount of 54 percent because the original price is Rs. 19,500.
Take a look: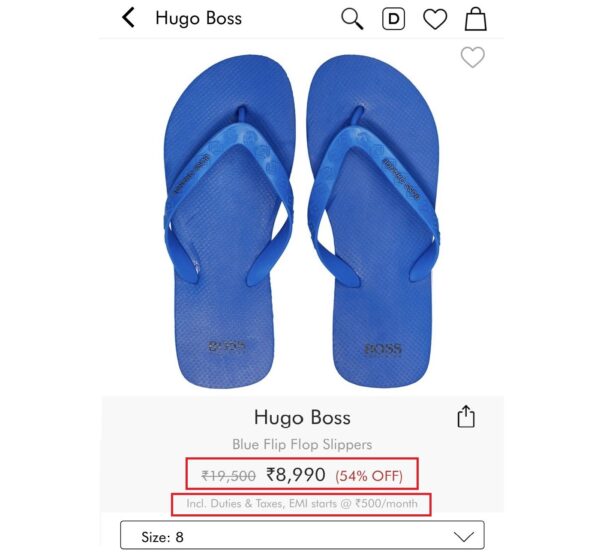 A Twitter used posted the screenshot on the micro-blogging site Twitter:
what the actual fuck pic.twitter.com/mvOvNBmCme

— Dew (@itmedew) October 16, 2022
The tweet soon went viral and people went WTF! While some said that it must be capable of walking on its own, others talked about the brand's kindness of offering 54% discount. There were some who mentioned that they can get it for Rs 100-200, few noticed that the EMI for the product is Rs 500 per month. Here are some selected reactions:
#1
Yahi chappal pehenke hum gusalkhana jaate hein . Market me 100 ki hai

— Arpan Chakrabarty (@Arpan_c7) October 17, 2022
#2
even if i become a millionaire, i won't buy a chappal for this much amount

— Anushka:) (@xxanushkaaxx) October 17, 2022
#3
My whole life i thought i am poor 🤯

— Akshit Baidmutha (@AkshitBaidmutha) October 17, 2022
#4
Bathroom wali Chappal, no wonders the name Hugo Boss.

— wowshoebwow (@shoeb97688) October 17, 2022
#5
Company must be looking for such buyers only….. pic.twitter.com/0mPzIUuokc

— Patel 🏹 (@Patelshyd) October 18, 2022
#6
And it's on sale. 54% off.
As someone once said, every moment a sucker is born somewhere!

— menimusings (@menimusings) October 18, 2022
#7
Chappal ke saath Goa ka 2 nights 3 days tour free

— Tejwinder Singh (@Tejwind15367165) October 18, 2022
#8
— vani (@paneerchillli) October 17, 2022
#9
Better Than this Shit😬 pic.twitter.com/WxqIk42WNP

— AJAY (@ajay71845) October 17, 2022
#10
I got them in 2017 for 250 pic.twitter.com/gStN3k5OmD

— Not Tanya (@viralbiryani) October 16, 2022
#11
These slippers will walk for you without you even wearing them

— Shubham (@atishub) October 17, 2022
#12
Better be signed by akshay kumar pic.twitter.com/uijPzJCin6

— Chitrarth (@Chitrarth6) October 17, 2022
#13
Is chappal se maar khake Bura bhi nhi lagega!

— Mansi Mishra (@mansi_mishra__) October 17, 2022
#14
Imagine buying slippers for 500 pm EMI😭

— Khushi (@notthatkhush) October 16, 2022
#15
yeah 54% OFF, it's a steal.

— Mustang (@rmustang_) October 17, 2022
This is not the first time that we are seeing a luxury fashion brand charging exorbitant amount for something very ordinary. Earlier a brand came up with torn-up shoes, another brand launched trousers made of material which is used to making jute bags, a fashion brand introduced stained jeans and overalls, while another came up with necklaces made with telephone cords. The examples are many and such products prove that people are crazy enough to actually buy those stuffs otherwise why a company would launch just anything in the name of brand; of course because it gets sold!
We are not at all surprised with Hugo Boss selling chappals for Rs. 8,990 because these fashion brands have become habitual of launching such products at regular intervals which are of no use and are priced very high.
What is your take in this regard? Wanna buy them?
Share Your Views In Comments Below