Extras
This Man Defeated Bill Gates On His Birthday. Became The Richest Man On The Earth
It's Bill Gates' birthday today; on this special day, someone has surpassed him to become the richest person in the world. Well, we all know that Bill Gates had held this position for 4 consecutive years but now, the CEO of Amazon Jeff Bezos has surpassed him.
Yesterday, Jeff Bezos was pushed on the top spot in Bloomberg Billionaires Index to become the richest person. He surpassed Bill Gates for the first time.
Since shares of Amazon witnessed a 13 percent rise, $10.4 billion was added to the net worth of Bezos. The profits were immense and they even surpassed the estimates of analysts.
When US Markets closed on Friday, the net worth of Jeff Bezos was $93.8 billion, while that of Bill Gates was $88.7 billion. Yes, Jeff Bezos's worth is $5.1 billion ahead of Bill Gates now.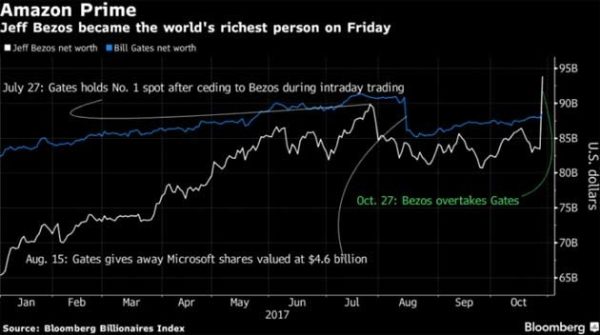 Well, Bezos is doing pretty good as he has added $28.5 billion to his net worth this year.
On the other hand, the net-worth of Bill Gates has been up by $6.3 billion this year, but he also donated $4.6 billion.
Let's see who wins the race again! Will Jeff Bezos continue to be on the top or will Bill Gates again occupy his position?
Share Your Views In Comments Below