Videos
Man Passes His Scooter Under A Truck To Escape Traffic Jam, Video Goes Viral
It is certainly true that nobody likes to wait, especially in the traffic jams on the road and we Indians are known for finding out new methods for getting out of the traffic. It has been seen that people are so impatient that they don't want to wait even for few minutes at the railway crossings and try to cross it even when they are with two-wheelers.
A video is going viral in which a person is seen walking from under the truck with his vehicle. A truck was parked on the road causing problem for the passers-by and pedestrians started walking from under the truck in order to save them from the unnecessary wait.
When this two-wheeler rider saw pedestrians walking from under the truck, he also decided to pull the stunt. The rider got down from his vehicle, kneeled down a little in order to adjust himself as per the height of the truck and went to the other side with his two-wheeler. After watching him, many other two-wheeler riders were also seen waiting to repeat the act and get away from there.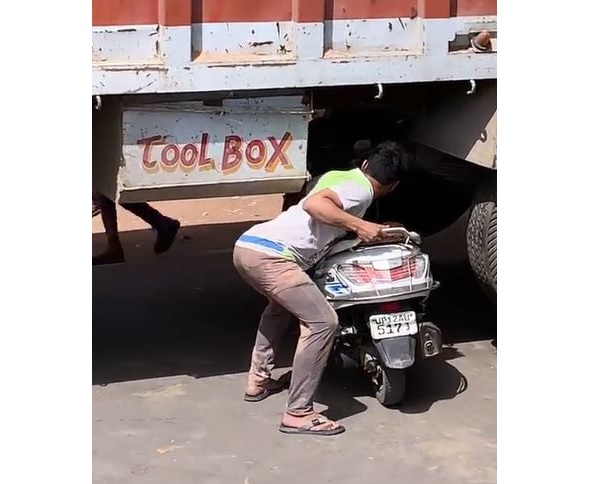 Here is the video:
Click to watch this video directly on Instagram
There is no denying the fact that road congestions are nothing new in our country but we will request our readers not to do such things as they can be very risky as well.
What do you think of this act?