News
Man Tried To Spit Pan From Moving Car, Crashed His Jaguar On Noida Expressway
Despite the fact that the Indian government is endorsing Clean India Campaign (Swachh Bharat Abhiyan) rigorously, people can still be seen spitting gutkha or pan masala on roads out of a moving vehicle by opening the door or bringing down the window pane. Be it UP, Bihar or Delhi-NCR, it's a pretty common sight. There is no denying the fact that it is a very bad habit and people should stop doing it as it not only makes the place dirty but can also be life-threatening.
In an unfortunate incident that took place on Thursday night on Noida expressway, spitting something through the window cost a man his life.
The name of the deceased is Prashant Kasana and he originally hailed from Greater Noida's Chitehra village. He was a property dealer by profession who used to operate from Sector Alpha 1. It was nearly after 24 hours of the accident that he succumbed to his injuries. The fateful happening took place in Greater Noida at zero point on Noida expressway.
As per cops, he was coming back in a Jaguar from Jewar and it was about 6:30PM that he met an accident. A guard named Mahaveer claims to have seen the accident and according to him, the man was driving the car very speedily when it reached the zero point on Noida expressway.
He said that the driver brought down the window pain when he reached close to the turn and made an attempt of spitting something; however meanwhile, the car got out of control as his attention got diverted from the road and the vehicle crashed into the grille that was located close to the zero point, a point from where vehicles are required to drive in a loop to get on the Noida Expressway.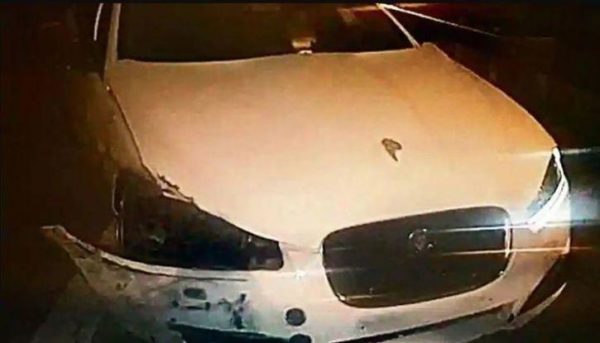 According to Knowledge Park police station's SHO Arvind Pathak, Prashant Kasana got serious head injurious and Mahaveer hurriedly took him to Kailash Hospital; however, they referred him to Apollo Hospital in New Delhi's Sarita Vihar. However, he succumbed to his injuries on Friday evening.
According to Kailash Hospital's spokesperson, Prashant Kasana got an arm fracture and severe head injury due to which he was put on ventilator but later in night, he got shifted to Apollo Hospital where he was hospitalised in a critical condition and couldn't be saved in spite of making the best efforts.
People should take a lesson from this incident and stop doing such things that can prove to be a threat for them as well as for the lives of other people.
RIP!
Share Your Views In Comments Below