Entertainment
Marvel Drops New Trailer For Captain Marvel, You Simply Cannot Miss It
This is it, you guys. The new Captain Marvel trailer is out, and it has already broken the internet.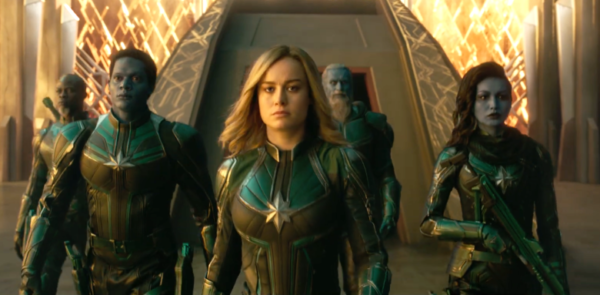 Without much ado, check out the trailer here:

For More Videos, Subscribe Us Now
Marvel Studios shared the link for the trailer on their official Twitter handle and people went nuts over it. Why shouldn't they? Brie Larsons is just amazing as Captain Marvel and by the end of the trailer we were left wanting for more.
Everything begins with a hero. Watch the brand-new trailer for Marvel Studios' #CaptainMarvel. In theaters March 8, 2019. pic.twitter.com/o1zqgcg90t

— Marvel Studios (@MarvelStudios) December 4, 2018
In the trailer, we get a glimpse into the mind of Captain Marvel who is seized by an innate desire to know more about where she came from. She begins t question her origin as she gradually starts remembering her time on Earth.
The trailer also has Jude Law as Mar-Vell and we see Samuel Johnson in the trailer as well, although he looks much younger. The film is to be directed by Anna Boden.
For those of you who don't know, Captain Marvel is about Carol Danvers, an air force pilot whose genes become fused with that of an alien in a mishap.
That's it, no more spoilers for you! But check out some of the comments the trailer has received:
We agree!
— 𝕄𝕠𝕖_𝟜𝟞 (@Moedi_) December 4, 2018
Probably!
This 👇 is Thanos after watching #CaptainMarvel powers 🤣🤣🤣🤣 pic.twitter.com/A9U2bUkpfX

— Vikrant Aarav (@aarav_vikrant) December 4, 2018
So we're not the only ones!
That moment she went Super Saiyan?

I felt it. pic.twitter.com/ToKx5DpaZQ

— Ken Xyro | ᕕ( ᐛ )ᕗ🐝 (@KenXyro) December 4, 2018
We totally did the same!
Me running out to tell everyone about #CaptainMarvelTrailer pic.twitter.com/jXzI4UbdEc

— Dorito (@NeoDorito) December 4, 2018
Totally relatable!
Me after watching the trailer #CaptainMarvel pic.twitter.com/e0UKWcM89y

— Edward Sanchez (@edwardistheman) December 4, 2018
We can't wait, can you?
Share Your Views In Comments Below