Entertainment
Marvel Used "Kisi Ke Haath Na Ayegi Yeh Ladki" Caption To Share Black Widow's Poster, Got Trolled
Hollywood movies are pretty popular in India, especially the superhero and action genre movies because the Hollywood industry is certainly far ahead than the Indian Cinema when it comes to making action sequences more exciting and thrilling using special effects and VFX. However, the Indian film industry is also slowly catching up and they are getting advanced in terms of technology and special effects.
Recently the posters of Marvel phase 4 movies – "The Falcon", "Winter Soldier", "Black Widow" and "Wanda Vision" were released by Disney and it won't be wrong to say that Black Widow is one of the most awaited flicks of the year for the Indian audiences. Black Widow aka Natasha Romanoff got pretty famous with the Indian movie buffs after the "Avengers" series and now the film lovers will love to know more about this beautiful but lethal woman. The lead role is being played by the actress Scarlett Johansson and in the flick, Natasha will be seen fighting with a force that is hell-bent on taking her life. Moreover, whatever is happening with her will have a connection with her past.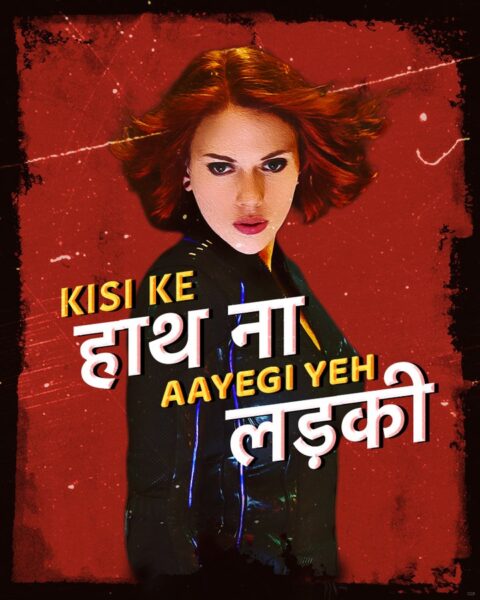 A new poster of "Black Widow" was released by the official Twitter account of Marvel India in which it used a Hindi caption, 'Kisi Ke Haath Na Aayegi Yeh Ladki'. This phrase is taken from a song of 1989 movie "Chaalbaaz" in which late Sridevi played double roles and shared the screen with Rajinikanth and Sunny Deol.
This must be an attempt on the part of Marvel India to gain the viewer base in India but it didn't go well with many Twitter users and they slammed it for using such cheesy line. Marvel India tweeted the poster with the caption, "This one's gonna stop at nothing to wipe the red in her ledger. #BlackWidow"
Here is the tweet by Marvel India:
This one's gonna stop at nothing to wipe the red in her ledger.#BlackWidow pic.twitter.com/tdkb34SfHd

— Marvel India (@Marvel_India) February 18, 2020
Here are some selected reactions:
#1
This is why your hindi dubbed movie sucks…find some good and relevant translator.

— Abhishek Sharma (@abhi00star) February 19, 2020
#2
— حمزہ شیخ 🔥🇮🇳 (@daku_daddyy) February 20, 2020
#3
So cringing, Come On, You can do better than that…

— Arshal Nuna Soren🇮🇳 (@arshalsoren) February 20, 2020
#4
What? Are you kidding me!?

— Ruchir Adnaik (@AdnaikRuchir) February 21, 2020
#5
Seriously? This is your level innovative marketing?

— sunny (@sunny72468355) February 21, 2020
#6
Who ever made this poster needs to quit marvel, before they destroy it even further. You are not worthy.

— Sreejit Parkkalam (@29sparkk) February 21, 2020
#7
— Kandid Reviews (@kandidreviews) February 21, 2020
#8
🤣 🤣 🤣…. Kyu kr rhe ho tmlog aisa…

— Shashank kumar (@Theshashank01) February 20, 2020
#9
Why though? Why is it that we have to screw up everything??

— [email protected] (@Skull1347) February 20, 2020
#10
— Abhijeet Bhinge (@BhingeAbhijeet) February 21, 2020
#11
Noooooooooo!!!!! 😡😡😡 pic.twitter.com/w0gR7UAtn0

— AMIYA KRISHNA SINGHA (@AmiyaKrishna22) February 21, 2020
The movie is slated to release on 24th April 2020 in India. What is your take on this poster of "Black Widow"? Let us know.
Share Your Views In Comments Below