Entertainment
MET Gala 2019: Kim Kardashian's Trainer Snap Backs At Trolls For Calling Kim's Waist Fake
Reality television star Kim Kardashian walked at the Met Gala 2019 with her husband Kanye West. Kim made the grand entry to the biggest fashion fundraiser event wearing a skin-tight nude dress.

Thierry Mugler's body-hugging dress made her waist almost invisible, dripping beads and sequins.

Kim Kardashian was brutally trolled by the netizens for her dress and as soon the pictures of Met went online people attacked Kim with trolls and were calling her Fake waist, 'Photoshop fail' or badly photoshopped'.
Kim Kardashian sets the MOST unreal body image, she is such a negative influence on women. rant over.

— Sara (@SaraaHaydenn) May 7, 2019

According to Vogue, Kim practised breathing in her corset so that she could flaunt her incredible figure in a Thierry Mugler latex dress at the Met Gala 2019 on Monday night.

Kim Kardashian's personal fitness trainer Melissa Alcantara was quick enough to defend the reality star in an Instagram story which was later deleted.

Melissa posted Kim is 'dedicated' and 'works her a** off' six days per week' to achieve and maintain her famous physique. She also said to clear the air that the dress is corseted, she wakes up early af and is extremely dedicated.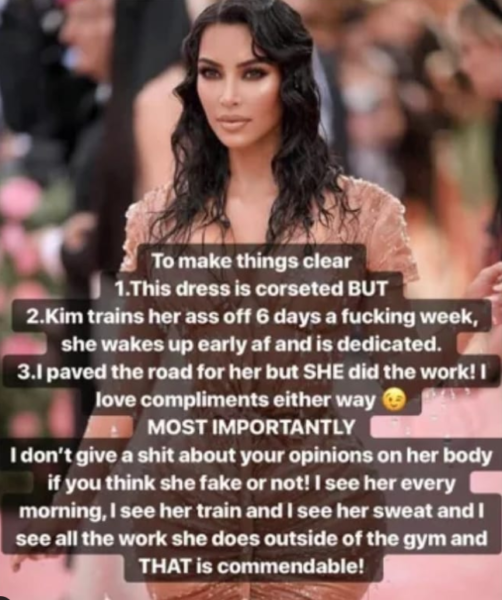 Also, she paved the road for her but Kim did the work and said she doesn't give a sh** about anyone's opinion if Kim's body is fake or not!
Kim Kardashian earlier revealed that her nude Thierry Mugler gown included a Mr Pearl proper corset and it took eight months to create.
Share Your Views In Comments Below