Politics
Modi & Rahul Gandhi's Stare Went Viral. Twitter Came Up With Hilarious Captions
PM Modi and Rahul Gandhi are always on opposite ends. We don't think they'll ever be able to think alike. Time and again, we have seen how the duo takes a jibe at each other and how social media enjoys the jokes thoroughly.
On 31st October, they faced each other at the Parliament during the event of Sardar Vallabhbhai Patel's birth anniversary. A pic of Modi & Gandhi staring each other went super-viral on the internet.
Yes, photographer Anil Sharma perfectly captured this eye-to-eye contact and uploaded the same on Twitter. As soon as he uploaded the pic, Twitter came up with some mind-blowing captions.
Some linked the stare to Rahul Gandhi's dog "Pidi" while some of them related it to the anger. Have a look at the pic that went viral;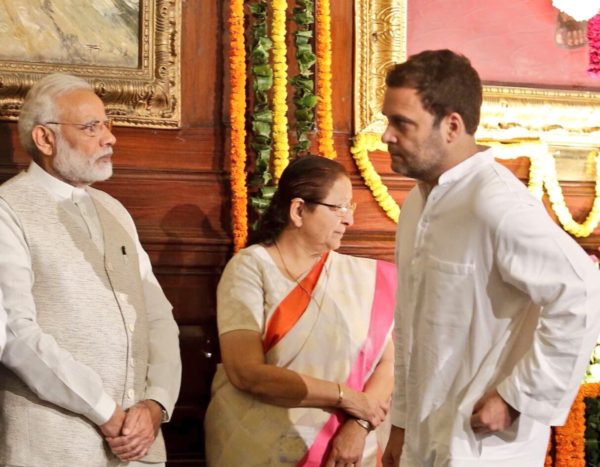 And since then, captions started overflowing;
Chocolate stolen?
Looks like a kid whose chocolate was stolen and comes to fight with his Dad coz he thinks Daddy pranked him.

— ★★★IAF Aspirant★★★ (@VeerSanatani) October 31, 2017
Bulau Pidi ko?
Pidi Ko bulayun? Bol na? pic.twitter.com/nVkJdmlzh2

— anuj sharma🚩 (@akssharma3) October 31, 2017
Chalao na nainon se baan!
Chalao na naino se baan re
Jaan le lo na jaan re….. 🎼 pic.twitter.com/Ln9NkcvBRs

— PhD in Bakchodi (@Atheist_Krishna) October 31, 2017
Paise chhupa raha hai!
That moment when you are hiding money from your parents which you got from relatives. pic.twitter.com/3HwbavPoGd

— RoAdSiDe BaBa (@Roadside_Monk) October 31, 2017
That stare!
Manmohan Singh PM hote ab tak mere pairo me pade gaye hote pic.twitter.com/IvQl4zoZGX

— trollpool (@niralsoni) October 31, 2017
Body language!
Modii is stunned by Rahul Gandhi's body language.

— Rahul Singh (@aziz14_chd) October 31, 2017
Question and answer!
आज तो आप को मेरे जवाब का सवाल देना ही पड़ेगा!!! रुको.. अभी जवाब निकालता हूँ पॉकेट से.. pic.twitter.com/bG92W7Rbb0

— Keh Ke Peheno (@coolfunnytshirt) October 31, 2017
Wait let me remove my speech!
मोदीजी से वार्तालाप करने के लिए अपनी जेब से स्पीच निकलते हुए गाँधी pic.twitter.com/iWMorffrEq

— ग़ालिब (@why_100_serious) October 31, 2017
How did you find the captions? Hilarious, weren't they?
Share Your Views In Comments Below