Politics
Modi Waves At Empty Dal Lake In Srinagar, People Say He Is Waving at 'Imaginary Friends'.
Recently, our Prime Minister Narendra Modi visited the state of Jammu and Kashmir, to inspect some government's developing projects. He was there for his official tour.
There was tight security everywhere. Mobile connections were temporarily out of service even internet connections were snapped too. Security was so tight that no people was allowed anywhere near him.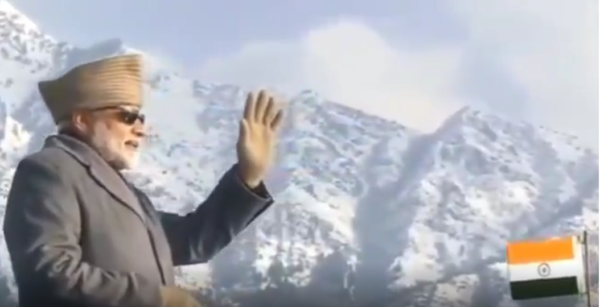 Now, when this video was uploaded, people went hilariously commenting that how he is trying to create Modi wave on Dal Lake. There was no people and it was surprising how he was waving to no one.
Here check the video that BJP posted on their official twitter account.
PM Shri @narendramodi takes boat ride to inspect Dal lake in Srinagar. #NaMoInJK pic.twitter.com/YkW4ogtCOR

— BJP (@BJP4India) February 3, 2019
Here are the hilarious reactions. Check them out. People are saying that he is either waving to the fishes or trying to create a Modi wave.
#1
Funny thing is, he's waving his hand in a way to potray there are people, when, as a matter of fact, dal lake is enormously huge, and you cannot see who's on the banks. Secondly, people weren't allowed to go there, roads were sealed. Thirdly, there was only security & none. 🤦‍♂️.

— Mashooq Usuf (@RuralPsycho) February 3, 2019
#2
Is he waving to the fishes in the lake…🙄

— 👨‍💻 (@iamsidqatar) February 3, 2019
#3
Hours before Modi's visit, internet were suspended and curfew were on in the valley. No one turns up near the lake.
Who's he waving at?
Probably to his guards. Poor Publicity Hungry Modi

— Thangboi Mate (@mate_thangboi) February 4, 2019
#4
Waving to the camera person only I guess 😂😂😂😂

— D  Ripper™ (@fizzDripper) February 4, 2019
#5
The wave is hilarious..no wonder why modiji being trolled😂..waving at mysterious crowd

— ManikantaSaiChandu (@manikantaAGrico) February 4, 2019
#6
is he waving to the fishes????

— Umar Farooq (@HeyitsUmar) February 4, 2019
#7
He is trying to Create MODI WAVE 🌊🌊🌊🌊 for a non-existent crowd…

— Sardar G سردار جی (@sarcasticsardar) February 5, 2019
#8
What is there to inspect in the Dal lake? Who is he waving to anyway? Just another photo op.. No work and all play.. At the taxpayers expense.

— sunil madan (@sunil1024) February 3, 2019
#9
Can anyone say to whom PM of India is waving? No one in site for long distances.

— TAHA (@SMTarif) February 3, 2019
#10
Aaaa….I see it….."Modi Wave".

— Umar Farooq (@HeyitsUmar) February 4, 2019
#11
Who is he waving at?
Isn't this strange?

— Tejal R. Bhoi (@TejalBhoi) February 4, 2019
#12
How Sad – he waves at 🐋Fishes too…

— [email protected] (@vivek6ft) February 4, 2019
#13
no one was there…so why he is waving his hand..I think he knows my followers r fool..😜😜

— Asif Shah (@PeerAsifamin) February 3, 2019
#14
He's just saying bye to the prime minister seat

— CoolBoy (@TremorStand) February 5, 2019
#15
Whom is he waving to 😂😂 Dal lake is so big, nobody will spot him from so far, maybe the boats with Camera crew (without which he can't live) asked him to do this 😂😂

— saidarshan (@saidarshan) February 4, 2019
#16
For the those who are asking , the 👋 is for BJPs countless imaginary 'friends' in Kashmir. https://t.co/l0YPq2oiVy

— Mehbooba Mufti (@MehboobaMufti) February 4, 2019
#17
Modi's photoshoot in Dal Lake Kashmir today;

But who is he waving at? Watch till end…. 😉 pic.twitter.com/1O0WPXCYi3

— Salman Nizami (@SalmanNizami_) February 3, 2019
So, what is your reaction to this Modi wave?
Share Your Views In Comments Below