News
Most Valuable Nation Brand 2018 List Out. This Country Topped The List
One of the best ways to check any country's progress is the rating given to it by leading brand and strategy consultancies. Brand Finance is one of the leading consultancies and as per its report "Nation Brands 2018", India is at the ninth spot in the list of top 50 valuable national brands.
India slipped to the 9th position this year while it was at the 8th spot last time despite the fact that its brand value in 2016 was $2,046 billion and this year, it has increased to $2,159 billion. However, the good part is that its brand rating of AA has not changed.
Italy is now on the eighth spot in the list while the top spot has been secured by USA whose brand value has risen by 23% (from $21,055 billion to $25,899 billion) followed by China.
Here's the list of top 10 valuable national brands: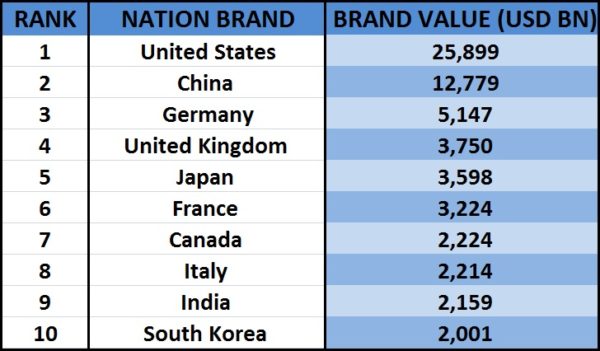 The MD of Brand Finance Asia Pacific, Samir Dixit stated that the rating of a particular country is not only dependent on what it is doing but also takes in view the performances of other countries. He also said that it is a good indication that the rating of India has not gone down and it is still AA.
Brand Finance used the methodology that is based on royalty relief mechanism and the indicators used by this methodology are royalty rates, national brand rate ratings, brand valuation, etc.
India didn't figure in the list of "Top 10 Best Performing Nation Brands" in which Cyprus was at the top spot followed by the Democratic Republic of the Congo.
Share Your Views In Comments Below