Entertainment
Mouni Roy Looks Stunning At The Star Screen Awards, Check Out How People Reacted To It
The Star Screen Awards were held yesterday night, and we were eagerly waiting to see what our favourite actors and actresses would be wearing.
Mouni Roy, the actress whose claim to fame was Naagin, won an award for her Bollywood debut in Gold opposite Akshay Kumar. The actress looked stunning in a shimmery gold gown, which came with a plunging neckline.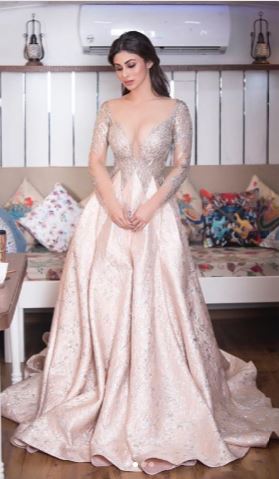 Mouni paired it with the right accessories, and her hairstyle looked chic as well. She posted a picture on her Instagram profile, with her award in her hands.
And people went gaga over her dress. She really did look stunning. Check out some of the comments she received.
1.
— Sagar (@Sagar41198013) December 17, 2018
2.
OMG….YESSSSS….MOUNI ROY is WINNING AWARD on STAR SCREEN AWARDS 2018…Congratulation MOUNI ROY…MOUNI ROY is so DESERVED…my guess, this Award for BEST DEBUT FEMALE…All The BEST for MOUNI ROY…Love MOUNI ROY..

— yunita agnes dalia (@agnes_korea22) December 16, 2018
3.
Congratulations Mouna….Proud of you…Many more to come….looking drop dead Gorgeous as always🔥😍…..keep slaying……love you.😘❤️

— Roopa_Kajol (@roopa_14sh) December 16, 2018
4.
Mam,You look soooooòooooo Gorgeous girl….😘😘😘
I tried many combinations of words to praise you right, each time I ended up unsatisfied.
Love you sooooo much mam.😍😍

— Harsh Shrivastava (@HarshSh97973798) December 16, 2018
5.
Adorable pari…👰 My dream girl♥️🌷🔥
You deserve more n more success ahead…🛩️

— Shakil Ahmed N (@smartyshaki) December 16, 2018
6.
Moni Roy is a beauty queen😘😘😍

— ❤mitu❤ (@AliaBha66354939) December 17, 2018
7.
It's a deserving recognition.Congrats.We are sure,this is just the beginning

— Asit Pal (@pal33799013) December 17, 2018
What did you think of her look yesterday night?
Share Your Views In Comments Below