Videos
Odisha Woman's Video Of Riding A Horse Wearing A Saree Is Going Viral, Twitter Showers Praises
Women are no longer the weaker gender as they are breaking the stereotypes and doing things which nobody would have ever thought that women will be able to do. It is a common perception that Indian traditional dress saree should not be worn while riding a bike, riding a horse, etc. but a married woman from Odisha is proving all these perceptions wrong as she has posted videos of herself on YouTube in which she is seen riding a horse, driving tractor, Volvo buses, trucks, etc. while wearing a saree.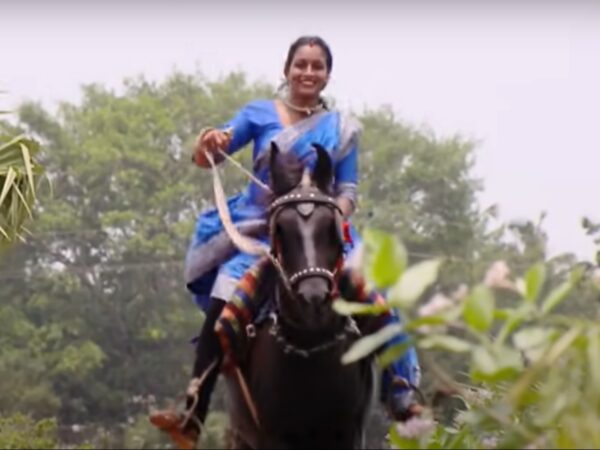 The name of the woman is Monalisa Bhadra and she is from the Jahal village of Jajpur district. Monalisa is a YouTuber who is being followed by 2.28 subscribers and as per the reports, she earns around Rs. 1.5 lakh per month by posting her videos. For her success on YouTube, Monalisa gives all the credit to her husband Badri Narayan Bhadra who is a creative director and a social worker as well.
Monalisa's latest video in which she is seen riding a horse is already going viral and you must watch it to see how the women of today are breaking all the barriers and proving their worth.
For More Videos, Subscribe Us Now
Click here to watch this video directly on YouTube
Twitterati also reacted in this regard and while some praised Monalisa, few were doubtful about the safety aspect while doing such activities wearing a saree. Here are some selected reactions:
#1
If she is comfortable in a Saree……she can do anything. If women can carry ltrs of water on head with a small baby with one hand and a bag with other, this must have been smooth. So proud of Women !!

— Shalini 🇮🇳 (@Shalshandle) June 3, 2021
#2
Indeed she's a Great Inspiration!

Here's More To the Exemplary Lady and her Equally Ideal Husband @BadriBhadra!@drkhuntia21 @jyotsnadevi33 @singingamatya @Chakradhar2311 @iammanasrhttps://t.co/E8jI5Ct7hG

— 🇮🇳 Apratim Sai Rajesh (@apratimsai9) June 1, 2021
#3
Our older generation feels comfortable in saree.. but younger generation made is an occassional wear.. women in saree can do agricultural activities, can bring water from KMs.. let us regard their hard work which is being ignored as Housewife..

— 🇮🇳Rang De Kesariya🇮🇳 (@TweetIndia5) June 1, 2021
#4
A courage , worthy of salutes !!🙏🙏

— AshaSharma (@AshaSharma75446) June 1, 2021
#5
Women can do anything.. proud to be a women 💖
Love & respect 🙌

— Manita Singh (@singh_manita) June 1, 2021
#6
यह जज्बा और हुनर भारत की ही महिलाओं मैं देखने मिलता है 🤗🤗❤️❤️

— Prerna Sahu (@PrernaSahu20) June 1, 2021
#7
Women's are the symbol of Courage & Sacrifice but they are full of energy and positivity which gives them to do any work. And it sets the example of be limitless …

— shashikant shukla (@shashikantshuk1) June 1, 2021
#8
I appreciate this women 👏
Every day is a great day to celebrate the amazing women in life of us.
Acknowledges the personality of women who excelled in their fields. Certainly,women have contributed significantly to the welfare of society and the country.Modern

— KulDeep (@Thakur_KulDeep_) June 1, 2021
#9
And we are busy in praising First Lady VP from another country! Look around in our country and you'll find many inspirational women who are empowered in their own! Inspirational 🙏🏻🙏🏻🙏🏻

— Jigar Raval (@Jiggarraval) June 1, 2021
#10
Woman are becoming better IASIPS officers than Man, wearing saree and driving is a cup of cake for them hats off🙏🙏.

— Yadu Saxena (@SaxenaYadu) June 1, 2021
#11
She is far far better woman than people like Alka Lamba, jinki zubaan me zeher bhara rhta hai. I would say loud and clear.. "Give our women complete freedom and they will lead us in the world"
My role model is @kiranshaw 🙏

— Chopra Archer 🧢 (@banterstanding) June 1, 2021
Monalisa is an animal lover who not only feeds the stray animals but she also feeds monkeys daily and videos regarding it can be seen on her YouTube channel.
For More Videos, Subscribe Us Now
For More Videos, Subscribe Us Now
For More Videos, Subscribe Us Now
What do you think of Monalisa and her videos?
Share Your Views In Comments Below