Entertainment
Only These Indian Heroes Can Defeat Thanos Now. Do You Agree?
So, as we saw, Thanos emerged victorious in the Infinity War with all the Infinity Stones in his grip. Despite the most valiant efforts of Earth's mightiest heroes, Thanos managed to make his vision come true. Many believe that the currently untitled Avengers 4 will again see the Avengers regrouping and trying to bring the mad titan, but the real question here is..can they do it? No offense to Avengers, they gave their best shot, their efforts were commendable, but they ended up losing anyway. So now what? Are we going to let Thanos destroy everything? Is there no else on the planet capable of defeating the mad titan?
The answer is INDIANS! Yeah, I am not kidding, only the Indians can save the planet now. Indian heroes will do what famous superheroes like Iron Man, Spider-Man, Captain America failed to do. These heroes might not be as famous and popular as these DC and Marvel Superheroes, but they do have the courage, skills to face any challenge.
So Let's Take A Look At Some Indian Heroes Who Are Earth's Best Chance To Defeat Thanos
1. Shaktimaan! The greatest Indian superhero of all time. He is the defender of truth and justice, he is the savior of the universe. If there's one superhero who has the best chance of defeating Thanos, then it's him.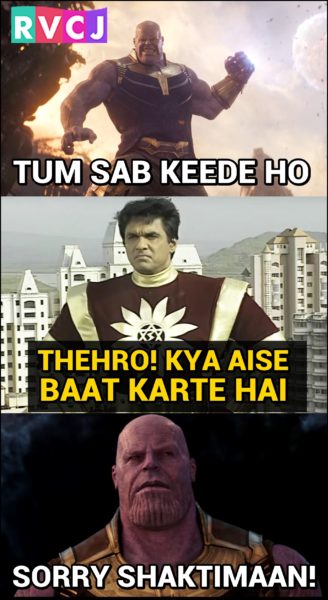 Now infinity stones are the primary aspects of our universe which are forged into ingots. And these primary aspects of elements are mind, power, time, reality, soul, and space. Now here's a fun fact, Shaktimaan is an embodiment of these elements. The Maharishis through Yagya gave Shaktimaan the power of these primary elements.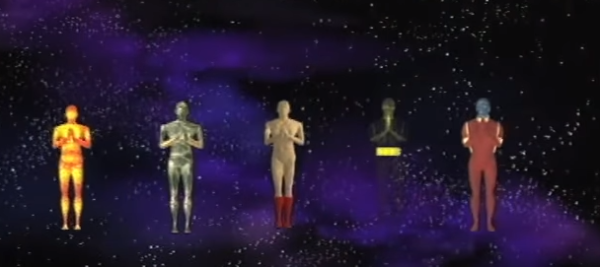 2. It is a known fact that Chacha Chaudhary's brain works faster than a computer. So Doctor Strange had to use the Time Stone to see all the possible outcomes of the Infinity War. But Chacha doesn't need any time stone, he knows already how Thanos can be defeated. He even devised a strategy to accomplish the task, known as 'FORMULA NO 420' which is known only to him and Sabu.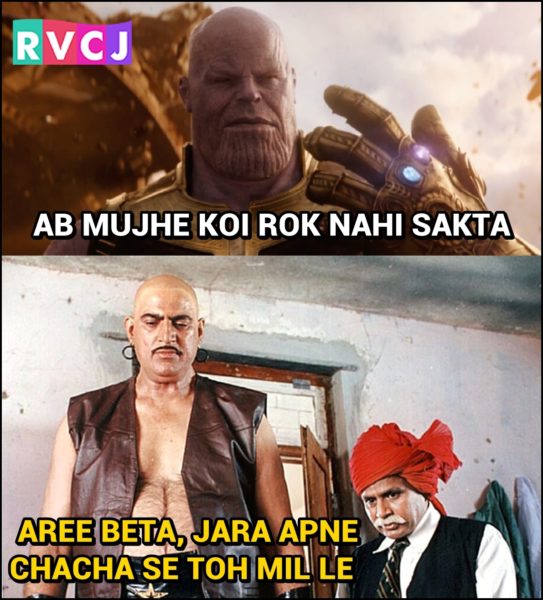 3. Many people aren't aware of this fact, but the Scientist Rohit Mehra is a part of the global anti-terrorism agency known as 'S.H.I.E.L.D'. SHIELD deals with the Supernatural and metahuman threats. So after the Avengers failed to stop Thanos, Col. Nick Fury alarmed Rohit of the incoming threat. Rohit has activated the special protocol 'JADU'.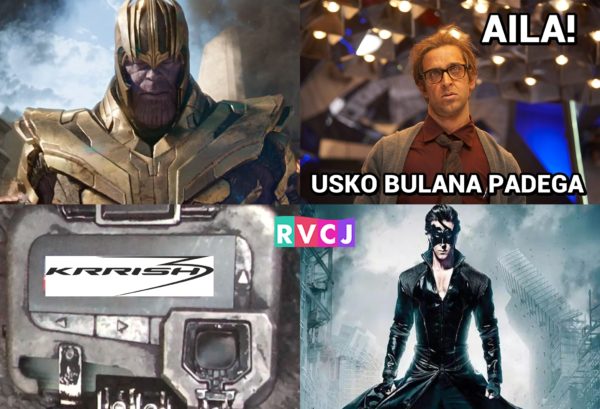 4. Guardians of the Galaxy, the supposedly protectors of the Universe also failed to stop the mad titan. Finding themselves in grave danger, they asked the World Space Government for help. And their request was answered, the Ulka Crew led by Captain Vyom is on its way to save the Guardians and fight Thanos.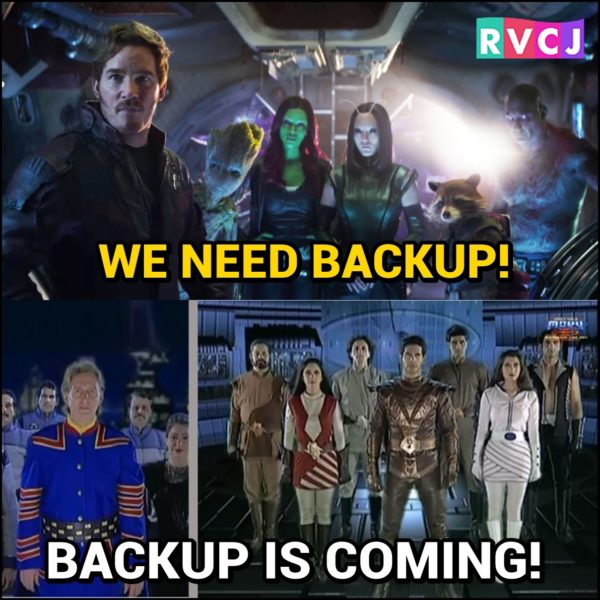 5. Manav, Meher, Ballu AKA Baal Veer will join forces with other Superheroes to bring down Thanos. They have the divine powers of 'PARILOK' which can match the power of infinity gauntlet.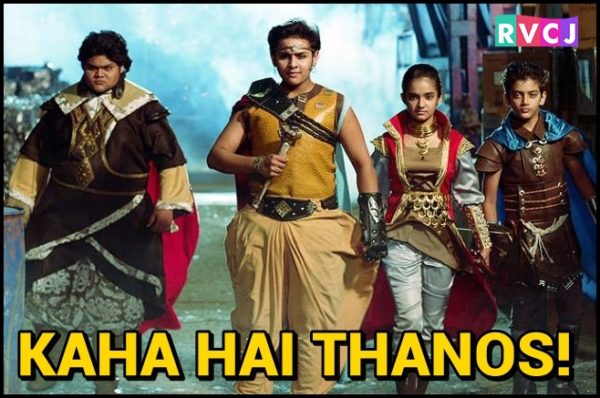 6. Hatim and Hobo are known for their daring, courageous adventures. They believe in spreading the message of peace and unity. Hatim has solved the tricky seven riddles! While most of the avengers failed to find the answer on how to defeat Thanos, only Hatim can find the answer.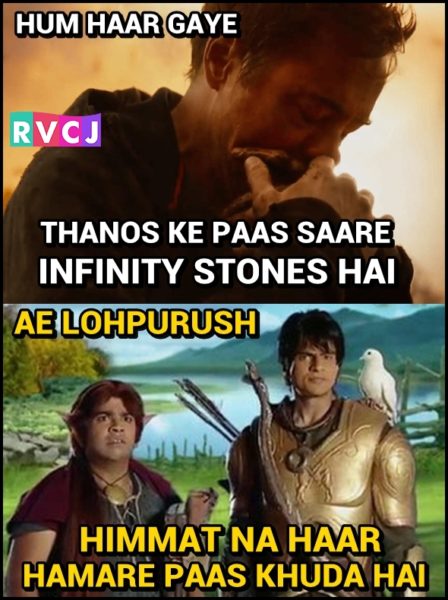 7. After Thanos got all the infinity Stones, he wiped out half the population on Earth. As a result, the mahila mandal, Tapu Sena, and param pujeye Bapuji have vanished! Now the Gokhuldham gang has faced the toughest, the meanest, and they are willing to go any extent to get back their loved ones. Jetha and party will fight Thanos through their sheer will and wit. Bapuji aur Babita Ji ko wapis lane Jetha Paar Kar Jayega Har Hadh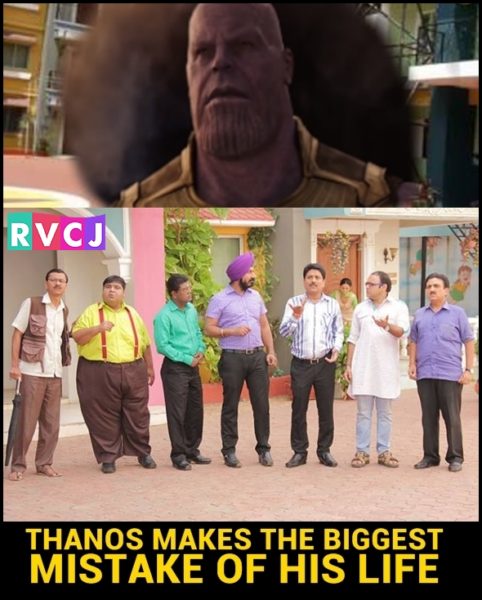 Jetha Ji, I don't feel too good! I don't want to go.

8. G.One has the potential to defeat Thanos!
9. Chitti! We all know how smart, intelligent, and powerful Chitti is. So with his robo army, he surely can take on Thanos!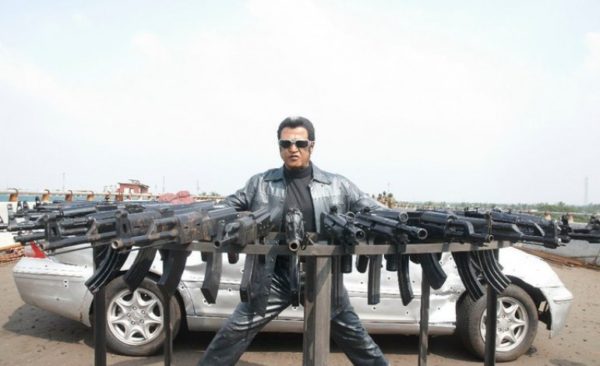 So guys, don't you agree with this list? Don't you think these superheroes will defeat Thanos?
Share Your Views In Comments Below