Humour
Oscar Winner Daniel Kaluuya Says "My Parents Had S*X & I'm Here", His Mom's Reaction Goes Viral
Winning an Oscar is certainly a dream of many actors and artistes associated with film-making but the reality is that only very few lucky ones actually get one. The ceremony of the 93rd Annual Academy Awards took place a couple of days ago in the Los Angeles Union Station and other than the awards, what attracted everybody's attention was the speech given by Daniel Kaluuya.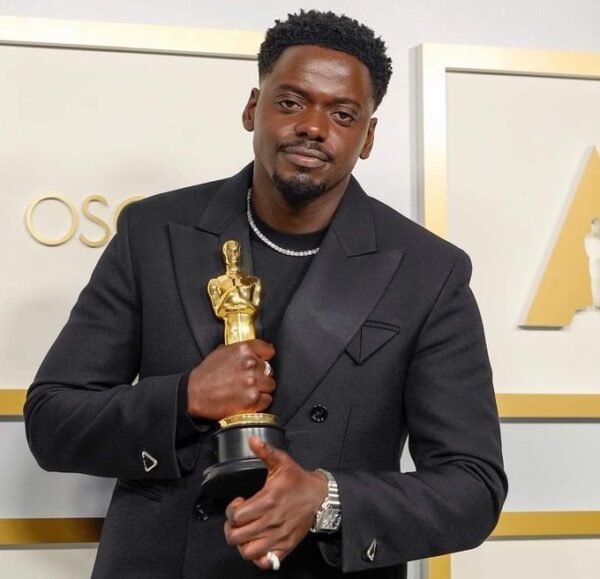 Daniel won the Oscar for the Best Supporting Actor for the role that he played in the movie "Judas and the Black Messiah" and like every other winner, he also gave an acceptance speech but during that, he said something which embarrassed his mother and sister who were watching the event from London and left everyone else in splits. Daniel said that he wanted to thank his mom as she gave him everything and he went on to say that his mother and father had s*x and it is amazing. He tried to convey people what he meant as he is here now and he is happy to be alive which he is going to celebrate that night.
This is the excerpts from the speech given by Daniel, "I'd like to thank my mom. Thank you so much for pouring into me. You gave me everything. You gave me your factory settings, so I could stand at my fullest height."
He also said, "It's incredible. My mom met my dad, they had s*x, it's amazing. Do you know what I'm saying? I'm here, do you know what I mean? I'm so happy to be alive, so I'm going to celebrate that tonight."
Watch The Video:
Daniel Kaluuya's mom and sister react to a hilarious moment from his #Oscars acceptance speech.

— Pop Crave (@PopCrave) April 26, 2021
Click here to watch this video directly on Twitter
The reactions of Daniel's mother and sister were visible on the camera and while his sister was embarrassed, his mother was perplexed and said, "What's he going on about?"
sorry but I have not moved on from this yet. the way Daniel's mom is going to let him HEAR IT lolol I will be laughing about this for the rest of the show #Oscars pic.twitter.com/eBl8xEEHSq

— Kathleen Newman-Bremang (@KathleenNB) April 26, 2021
During the press conference when he was asked about the weird statement that he made, he said that it's kind of obvious that all the parents have s*x, adding that it just came out of his mouth. He further said that his mother would certainly text him something.
Best supporting actor winner Daniel Kaluuya addresses his #Oscars speech: "I think that's pretty obvious that all our parents had sex" https://t.co/X0fcOATS5G pic.twitter.com/EI9TO3V0HI

— Variety (@Variety) April 26, 2021
His fans also started reacting to his statement and the reactions of his mother and sister have become meme material now.
Daniel Kaluuya's mother and sister should win an Oscar for their reaction to his reference to his mum and dad having sex. #Oscars #DanielKaluuya #Oscar2021 pic.twitter.com/EitEI5IJc0

— Mark A. Thomson (@MarkAlanThomson) April 26, 2021
Check out some of the selected tweets in this regard:
#1
"Have kids,"they said, "it'll be fun," they said.😂😂 https://t.co/mbNluHDBHd

— Julianne C. Mundle (@cjuliannewrite) April 26, 2021
#2
At my wedding, my mother thanked my dad (they were divorced) for participating in the circumstances that led to my creation. So I'm used to embarrassing speeches like this. #oscars #DanielKaluuya

— Tamara Robbins Griffith (she/her) (@Tamara_Robbins) April 26, 2021
#3
Daniel Kaluuya getting a call from his mom after that speech #Oscars pic.twitter.com/NJ5jsKc9Um

— Arthur Read (@arthur_read8) April 26, 2021
#4
His mother is going to kill him 😂 #DanielKaluuya #Oscars

— Ian Howley (@IanHowley) April 26, 2021
#5
Imagine winning an Oscar then going home to get beats by your mum for chatting her business to the world. Daniel Kaluuya is gonna go bed without food tonight. Bet she'll make him go in the garden and pick a stick that he'll get beats with. https://t.co/1FXSzfwvu5

— Zeus (@ZeusApolloX) April 26, 2021
#6
Wait somebody was talking about their mom's sex life? Why? pic.twitter.com/0rlSx0kGNp

— Kristel I will meet my true King in the future (@BadGyrl_310) April 26, 2021
#7
Daniel Kaluuya's mom and sister for next year's Best Supporting Actress award.

— Lon Harris (@Lons) April 26, 2021
#8
If every acceptance speech tonight doesnt end with my mom and dad had sex then I dont want to hear it 🤷🏽‍♀️😂#Oscars #DanielKaluuya

— DarkPhoenix 🔥 (@JayDoll) April 26, 2021
Have you watched "Judas and the Black Messiah"?
Share Your Views In Comments Below