News
Passengers Danced In Celebration When Their Train Which Got Delayed By 9 Hrs Finally Arrived
The Indian Railways is the fourth largest national railway system of the world and it is also the eighth largest employer of the world which runs more than 13K passenger trains daily along with more than 8K trains in freight segment. Trains getting late in India is not a new thing but we have to admit that things have changed considerably in the past few years. Nevertheless in monsoons and winters, the problem of trains getting late is experienced more by passengers in comparison to summers.
In fact, every year Indian railways cancels some trains during winters which travel in those areas where it is very foggy during the night in order to prevent accidents.
Recently, a video went viral showing a group of men who started dancing in celebration after their train arrived on the station and the reason behind their joy was that they were tired of waiting for the train as it was 9 hrs late.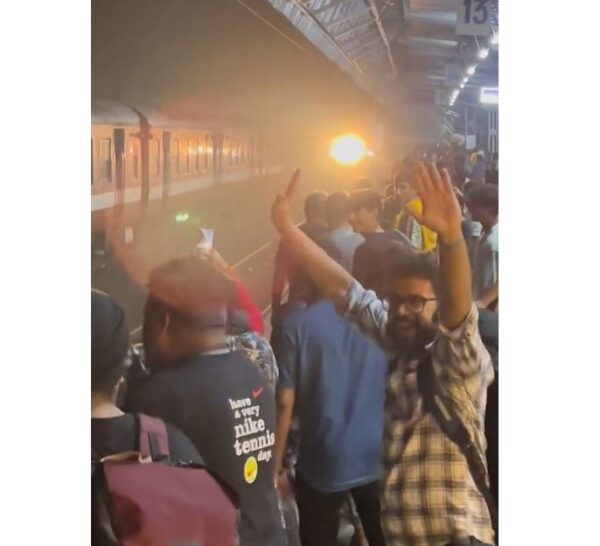 A Twitter user posted the video with the caption, "Our train got late by 9 hours. This is how people reacted when it arrived."
Watch The Video:
Our train got late by 9 hours. This is how people reacted when it arrived. pic.twitter.com/8jteVaA3iX

— Hardik Bonthu (@bonthu_hardik) November 27, 2022
Click here to watch this video directly on Twitter
These passengers were waiting at Thivim station for train number 11000 which travels from Madgaon to Lokmanya Tilak Terminus, Mumbai. Here's how social media users reacted to the video:
#1
yehi toh khoobsurti hai iss desh ki

— Chirag Barjatya (@chiragbarjatyaa) November 28, 2022
#2
Yehi toh kal meri train ka scene tha 🤣🤣😂😂 #highlyrelatable

— ∞jayadobriyal11∞ (@Dobriyal_jaya) November 28, 2022
#3
Earlier we used to have such delays every day. Now the situation is improved and better. Still 9 hours is too much.

— SatS (@SATSS_SS) November 29, 2022
#4
It's so fun and funny at the same time. At least they were jovial

— Ipsha Ipsy (@rapperliftsbars) November 27, 2022
#5
India mein chahe jo problem ho log meme hi bana dete hai😂

— Nikita Karande (@KARANDENIKITA) November 27, 2022
#6
Bole to…ulta karneka…Bapu ne bola hai…#munnabhaiKaFunda #Gandhigiri

— Pusparag (@PusparagSubudhi) November 29, 2022
#7
I loved the Josh

— manoj kumar (@manojku79257109) November 29, 2022
#8
So rare this days that train is late this much hours, you have lot of patience 😁

— Suraj Kumar Talreja ☀️ (@suritalreja) November 28, 2022
#9
We were part of the traveller's…it's time airport concept is bought to railways…wherein late departures are compensated to travelers in terms of stay, food etc…will keep railways on toes

— sandsfre (@sandsfre) November 29, 2022
#10
@IRCTCofficial at its best. Think about those people who has connected/following journey from another stop. I faced this problem in past.

— Sanjay 🇮🇳 (@PandaSanj) November 29, 2022
#11
Seriously do u think they r rejoicing just a bunch of them ..clearly seen doing this just for the video

— saurabh gupta (@saurabh56928806) November 30, 2022
Have you also experienced such delay while travelling in a train? Share your experience with us.