Brands
Paytm CEO Paid 10k For Kerala Floods & Posted It On Twitter. Trollers Started Slamming Him
Kerala is in a really bad state now and everyone is trying their best to help the state deal with the havoc. Many celebs, sportspersons and NGOs are sending across whatever they can, so that the situation eases out a bit.
Social media is indeed a powerful tool and we are seeing loads of campaigns going on for the same. Huge sums of money are being collected and sent, so as to provide relief to the residents.
Amidst this, even the founder of Paytm Vijay Shekhar Sharma contributed his share. He took to Twitter to share the screenshot of Rs 10,000 that he had sent towards the funds.
Here's the tweet screenshot;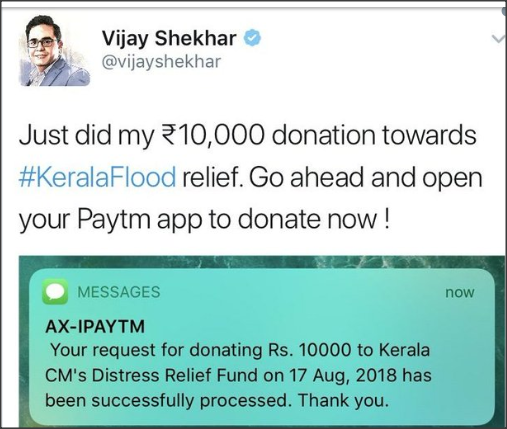 However, he got slammed for the same on Twitter and he was forced to delete the tweet. People said that he's showing off his contribution. Some said that it's a small amount.
Shame!
Shame ,did u donate only 10000? The screenshot is getting viral on whatsapp n ur credibility at stake …

— NriDoctor (@atheist_bihar) August 18, 2018
Self promotion?
Paytm founder @vijayshekhar Sharma, The youngest Indian billionaire with net worth of $1.7 billion did a self promotion by posting a screenshot of him donating a huge amount Rs.10000 via his @Paytm app towards #KeralaFloods. Deleted it later. pic.twitter.com/ML7GHh1Y8i

— Unofficial Sususwamy (@swamv39) August 18, 2018
Cheap!
So, billionaire Vijay Shekhar makes a 10 grand donation, then posts a screenshot to promote Paytm & himself. Vile & height of being cheap. pic.twitter.com/O9w9kJBZeE

— Brown Sahiba (@Rajyasree) August 18, 2018
Haha!
I don't blame Paytm's Vijay Shekhar Rs. 10000 donation for Kerala flood victims. Maybe he didn't have his KYC completed.

— Aashu (@itsaashuu) August 18, 2018
What's he up to?
That petty Paytm cheapo Vijay Shekhar was painting town red with his donation of Rs 10,000 and pushing his business on the back of a disaster 😡 https://t.co/eIPKFSJIth

— TheAgeOfBananas (@iScrew) August 18, 2018
However, did he deserve being trolled? On Paytm's blog, they had written that they will match total collections up to 1 crore that is collected through their Kerala flood relief donation campaign.

Paytm said that till now, they have collected 10 crores for the same. Check this out;
We are extremely proud to announce that we have received contributions of INR 10 Crore+ in less than 48 hours from more than 4 lakh Paytm users across India for #KeralaFloodRelief 🙏#IndiaForKerala 🇮🇳

— Paytm (@Paytm) August 18, 2018
So since they have crossed 10 crores, paytm will pay 1 crore from its pocket. So, instead of criticizing him for paying just 10k, people should look at the bigger picture and contribute more towards the floods.
Share Your Views In Comments Below