Sports
Pujara Saved The Drinks Break Time By Getting A Bottle In Pocket. People Loved It
Balling side in cricket often faces problems due to the drink breaks taken by the batsmen. This leads to delay in the matches and quite an inconvenience.
During the 1st test match between India and West Indies recently, Cheteshwar Pujara gave a great show of sportsmanship.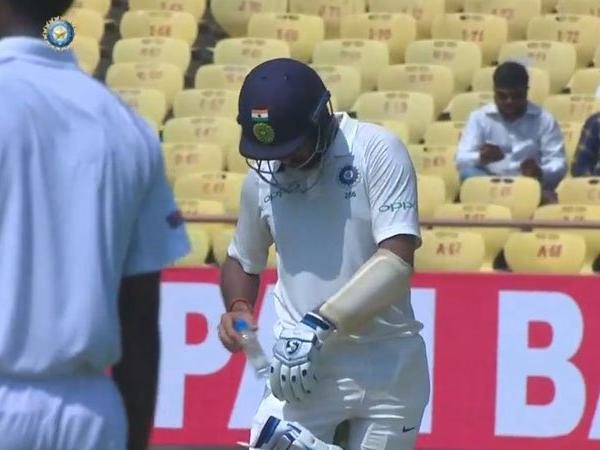 As the man arrived on the field, he had a water bottle carried along in his pocket. This was a never seen before sight in the cricket and Pujara impressed everyone as he took the bottle out and started drinking it without wasting time for the break.
Watch the video-
Beating Rajkot's heat, Pujara's way 🆒😎#INDvWI @cheteshwar1 pic.twitter.com/v86gceoEw2

— BCCI (@BCCI) October 4, 2018
Click Here to watch the video directly on Twitter.
This little but very impactful gesture by Pujara won many hearts. Have a look how people reacted-
#1
Pujara. Probably the first person to score a test fifty while carrying a water bottle in pocket on the field. pic.twitter.com/GTRm0gSHuc

— Pяανєєη (@iamjpk) October 4, 2018
#2
The moment of the day for me after Shaw's century was Pujara taking out the water bottle from his pocket. Never saw that coming. 😂😂

— SANATH (@Dude_Cricket) October 4, 2018
#3
I think Pujara has set a trend here by batting with a water bottle in his pocket.#IndvWI

— Abhishek Mukherjee (@ovshake42) October 4, 2018
#4
#Pujara it's not advisable to keep plastic water bottle in your pocket, sometime Ultrasound picks up bottle cracking sound and umpire might give you out even though there wasn't edge!!!

— Deena (@csdeena) October 4, 2018
#5
Prithvi Shaw – Why do you keep a water bottle in your pocket?

Pujara – Wo Ravi Shastri kabhi bhi maang leta hai mix karne ke liye.#INDvWI

— kapil mandloi (@thuglifebc_) October 4, 2018
#6
That's the first 50 for Pujara with a water bottle in his pocket – Sanjay Manjrekar pic.twitter.com/3O58dGSEZD

— Alagappan V (@IndianMourinho) October 4, 2018
#7
I told you remaining non playing players will go home Hence Pujara brought water for himself 😂😂 @_being_dutta @parinsangoi007 pic.twitter.com/MJDrRIM541

— Tushar Rathi (@gtusharrr) October 4, 2018
Pujara along with Prithvi Shaw also maintained the match very well after KL Rahul lost the wicket in first over. Both of them had a great partnership and brought the team out of danger zone.
Isn't that so amazing?