News
Rajasthan Police Shows Their Creative Side. Their Latest Meme Is About DeepVeer And It's Hilarious
DeepVeer's wedding is the current big trend of the country right now and everything directly or indirectly related to it is revolving around the trend only.
Since last couple of days, fans are going crazy to get a look of DeepVeer as an officially married couple. A lot of memes are doing rounds on the social media about their wedding and this has become the only source of entertainment for fans right now.
Rajasthan Police has joined the bandwagon as they made a really creative meme about DeepVeer's wedding which also encourages locals to use their right to vote.
Rajasthan Police took to Twitter and posted a meme. The meme shows Deepika Padukone's Om Shanti Om character on right side and vote symbol on left.
A text on the pic says, "Ek chutki sindoor aur vote dono ki keemat jaante hain ham (We understand the meaning of one pinch of sindoor and vote both")
Along with the meme they wrote an interesting caption which said that our voters know the value of one vote how much difference it can make. They also requested everyone to use their right to vote on 7th Dec. Have a look at the meme below-
याद है #OmShantiOm का वो एक चुटकी वाला dialogue?

एक चुटकी सिन्दूर की कीमत रमेश बाबू जाने या न जाने पर हमारे voters जानते हैं की#Democracy की शान होता है 1 वोट#Voters का अधिकार होता है 1 वोट #7दिसंबर मतदान अवश्य करें#RajasthanElection2018 #MeraVoteMeriSarkar@SpokespersonECI pic.twitter.com/kjxqs1t29W

— Rajasthan Police (@PoliceRajasthan) November 15, 2018
You can also check the picture below-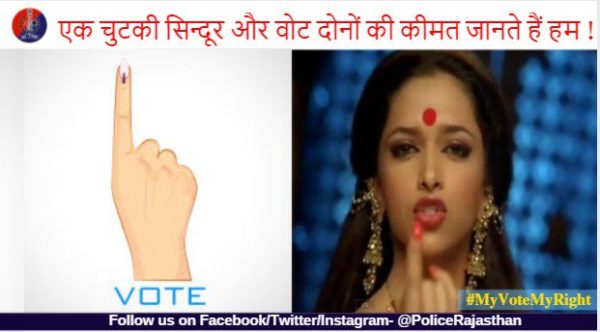 Here's how people reacted to the meme-
#1
पूरे फिल्मी अंदाज में!!!!!
गुड़ इस अंदाज मे लोगो को ज़्यादा समझा अएगा @VasundharaBJP

— gajender bhandari (@gbhandari1977) November 15, 2018
#2
Nice 😄👌

— Tanmay D D (@luvutanmay) November 15, 2018
#3
👍

— Satya Prakash Sisodiya (@SP_Sisodiya) November 15, 2018
#4
Nice

— AkshayYadav (@symukeshyadav) November 15, 2018
Isn't that amazing?
Share Your Views In Comments Below