Sports
Ravindra Jadeja And Ishant Sharma Argued On Field, What They Said To Each Other Is Now Revealed
On Day 4 of the test series versus Australia, players Ishant Sharma and Ravindra Jadeja got into an ugly spat in the middle of the field, for the entire world to see.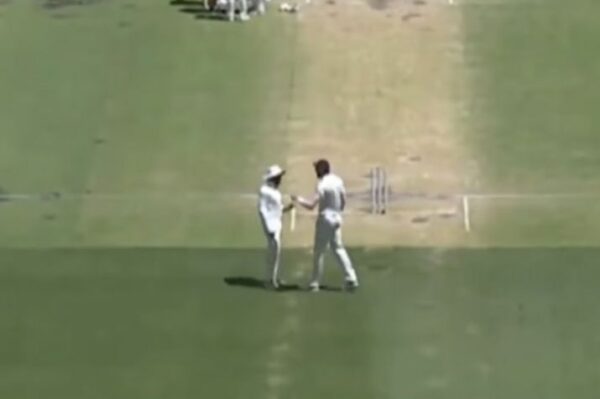 If you remember, the match had to be stopped, because Nathan Lyon had been injured and the game was paused for a brief while. It was during this time that the two Indian players started arguing, which soon turned ugly.
It was quite an animated dialogue, as can be seen in the video below:
PerthTest: Ishant Sharma and Jadeja fight with each. #TuesdayThoughts #IPL2019Auction #IPLAuction #INDvsAUS #Kohli #AUSvIND #AusvIndia #AusvIndia #aliejaz #ranilaxmibai #ManikarnikaTrailer #ARRahmanAtUrbana #KanganaRanaut #jhansikirani #ManikarnikaTrailerLaunch @BBCUrdu pic.twitter.com/5a1MID0gLm

— khabar (@JoPohanchyApTak) December 18, 2018
You can see the two of them having a heated debate about something and their conversation was picked up on a mic, which was later not broadcasted.
Their conversation was in Hindi and it went down like this:
Ishant– Don't wave at me, okay? If you need something…
Ishant– He is telling me from behind to go fast.
Ravindra– Even I don't like it. I am also a part of the team. Why are you talking so much?
Ishant– Don't wave at me. Don't show me your anger. I will take your anger and shove it up your a***.
Ravindra– You keep yours to yourself.
Ishant– I will shove your anger up your a***.
Ravindra– Don't give me this b******t.
Ishant– You also don't talk to me.
Phew. That was quite a fight. In fact, Shami and Kuldeep Yadav had to break up the two to prevent it from escalating further.
Share Your Views In Comments Below