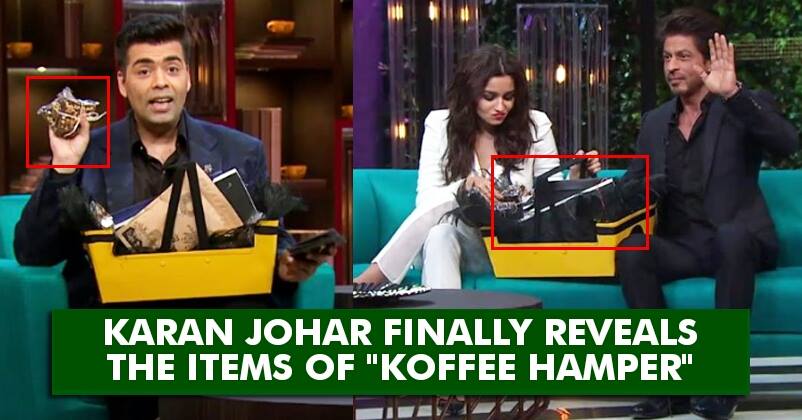 Finally, Koffee with Karan season 5 ended 2 weeks back! As always, this time too, there was lot of fun on the sets. The celebrity list was quite impressive and we hope you had a great time watching it. Last week, the "Koffee Awards" were hosted and this week, Karan was asked to share the best and his favorite moments from Season 5. After talking about the things that impressed him the most, Karan revealed a secret too!
Well, we all have been eager to know the contents of the Koffee hamper, right? This hamper is damn attractive and celebrities have to fight hard to win it; they are supposed to participate in the rapid fire round in order to bag one.
Yes, in the rapid fire round, Karan Johar asks many controversial and awkward questions and whoever has the best responses, gets the packaged gift.
Karan has finally respected our curiosity and revealed the contents of that hamper; want to know what all it has? Check out the list and you'll surely feel like bringing one home.
Here's the list;
1) Brownies
2) Koffee mug, which has Goury's health bars
3) Merlin Levitating Orbital Speakers
4) Personalized roasted coffee
5) Coffee French Press
6) Nordic Candy
7) Forest Essentials – Cleansing Paste
8) Kohler voucher worth Rs 5 lakh
9) Health Jars by Nilofer Qureshi
10) More Chocolates
11) Bottle of Champagne
12) Cookies
13) Cheese Platter from The Label Life
Wow, this sounds exciting! I am tempted too…Lucky celebrities who at least get a chance to win such a yummy hamper.
RVCJ Video Of The Day
Share Your Views In Comments Below