Bollywood & TV
Shamita Shetty Gives A Fitting Reply To The Trollers Who Trolled Her For Father's Day Post
Social media has brought celebrities and fans closer which is nothing less than a blessing for the movie industry. But there's a big side effect that every celeb suffers from and it's trolling.
Almost every day, a Bollywood celebrity is trolled and it makes news headlines. Now recently Bollywood actress and Shilpa Shetty's sister Shamita Shetty was trolled and too for sharing a beautiful Father's day post.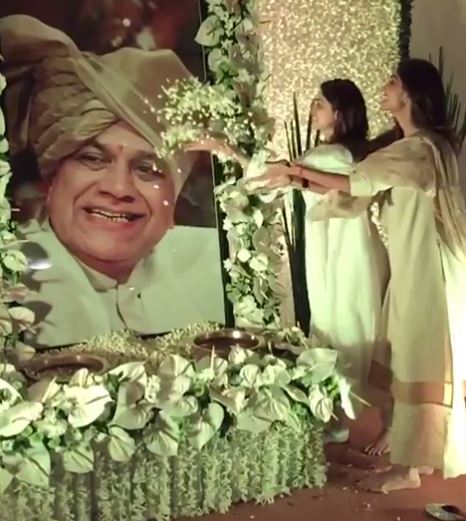 Have a look-
Click Here to watch the video directly on Instagram.
Trollers have a tendency to find negativity in everything and that's what they did there. Even a positive post by Shamita Shetty was used by haters to spread negativity. But Shamita didn't calm herself here and gave a stunning reply to the troller.
#1

#2

#3

#4

Shamita Shetty gave a fitting reply to the trollers. Have a look what she wrote-
I normally ignore silly / negative comments but Ul have chosen the wrong day to type this sort of crap about a daughter who worshipped her father ! So to all you ppl who ve written such nasty comments I will say only this .. I'm ashamed to have you as my followers/ fans .. pl unfollow me immediately as I do not wish to have you negative ppl with such small/ petty disgusting thinking following me ! Grow up guys n start using ur time doing better things rather than just judging ! Strive to make this world a better place by spreading some positivity .. as there's enough negativity in the world ! This is my account I will choose what I wanto post , when I wanto ! No one has forced ul to follow me . Thankyou n godbless!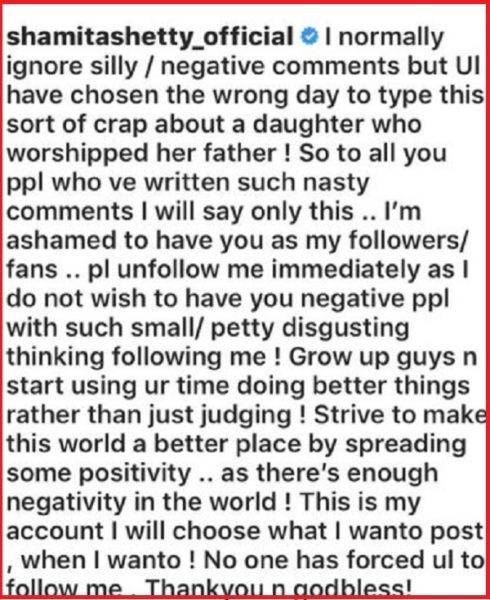 Now that's what we call a stunning reply.
Share Your Views In Comments Below