Humour
Shashi Tharoor Shares Matrimonial Ad Of Bride Seeking Fully Vaccinated Groom, Gets Trolled
The coronavirus pandemic has brought many changes in our lives such as wearing mask, maintaining social distancing, not hugging or shaking hands with even our close friends, etc. and we all need to follow them whether we like it or not. There is no denying the fact that India handled the first wave of COVID-19 in a far better manner than some of the developed nations of the world but it is also true that the second wave has hit the Indians pretty hard. While many people have lost their jobs or have got pay cuts, businesses have also been shut down and many lives were lost as well.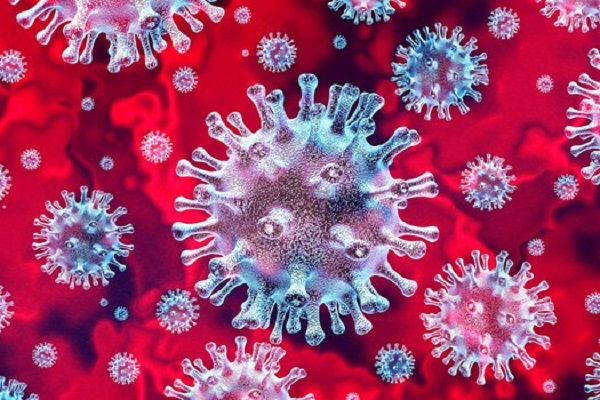 Other than following the safety guidelines, everyone should get vaccinated as they get chance because it is the only way people can remain safe from this virus. There are many people who are not ready to get vaccinated due to some misunderstanding that they have about the vaccine but the intelligent people are not only getting themselves vaccinated but they are also making vaccination a part of their marriage criteria.
Well if you are a little confused, let us tell you in a little detail – in a matrimonial ad which was given in a newspaper for a groom, the bride is being described as a post graduate in Maths, self-employed and Covishield vaccinated (both doses). While writing about the eligibility criteria for the groom, along with other requisites, Covishield vaccinated is also a criteria and this is something which we may have seen for the first time but it may become a regular feature of matrimonial ads in the near future.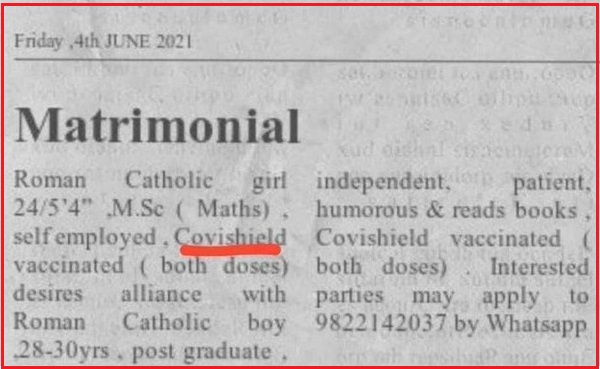 The ad was shared by Shashi Tharoor, the Congress MP from Thiruvananthapuram, Kerala, with the caption, "Vaccinated bride seeks vaccinated groom! No doubt the preferred marriage gift will be a booster shot!? Is this going to be our New Normal?"
Vaccinated bride seeks vaccinated groom! No doubt the preferred marriage gift will be a booster shot!? Is this going to be our New Normal? pic.twitter.com/AJXFaSAbYs

— Shashi Tharoor (@ShashiTharoor) June 8, 2021
Twitterati soon expressed their opinion on this matter; there were some who mocked Shashi Tharoor as to why he was reading matrimonial ads and questioned whether he is thinking of getting married again. Few Twitter users also claimed that the newspaper cutting of the matrimonial ad was fake and it was made using an app.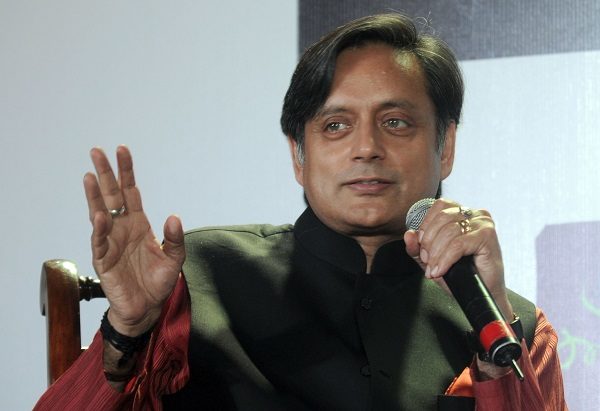 Check out some of the selected reactions:
#1
U still searching matrimonial pages 😂

— Netturaan Stephen (@NetturaanS) June 8, 2021
#2
Why are you looking at matrimonial columns?

Third time lucky ??

— Pallavi (@pallavict) June 8, 2021
#3
This is a Fake image. So clear when you look at it.

Also alarming is you are looking for another spouse.

— Arun 🇮🇳 (@arunpudur) June 8, 2021
#4
OMG.. THIS IS UNBELIEVABLE.. @ShashiTharoor gave his own matrimonial ad in the same newspaper on the same day.. pic.twitter.com/iKZQmKEzCe

— BHK🇮🇳 (@Kalburgism) June 8, 2021
#5
Why are you seeing Matrimonal ads??
1. Your age is barred
2. Where is Sunanda??

— Sanatani Thakur 🇮🇳 (@SanggitaT) June 8, 2021
#6
बुढापा आ गया परंतु matrimonial देखना अब तक नही भूले ,गजबे हो थरुर जी
🤣🤣🤣😝

— रायसिंह राजपूत ગરવો ગુજરાતી (@raysinh_rajput) June 8, 2021
#7
Sir you missed this pic.twitter.com/9Fkc4iLfTG

— Lt Cdr Gokul (R) (@gokulchan) June 8, 2021
#8
Same newspaper, page 6. pic.twitter.com/Znc8z3SwNZ

— THE SKIN DOCTOR 🇮🇳 (@theskindoctor13) June 8, 2021
#9
Le single nibbas : pic.twitter.com/znuwLGGRwg

— ℳℴ𝓊𝓂𝒾𝓉𝒶 𝒯𝒽𝒶𝓀𝓊𝓇 🇮🇳 (@imoumitathakur) June 8, 2021
#10
😂🤣😂 pic.twitter.com/99hBL1u2RO

— Nandini Idnani🇮🇳 (@idnani_nandini) June 8, 2021
#11
Oh My God … Most challenging situation for you … If you take vaccine, you will lose Congress … If you do not take vaccine, you will lose potential bride !!! Now? What will you do?

— Vijay Dandiwala (@VDandiwala) June 8, 2021
Let us know what you think of this whole matter.
Share Your Views In Comments Below