Bollywood & TV
Singer Shweta Pandit Accuses Anu Malik Of Harassing Her At The Age Of 15
#MeToo movement in India has finally brought the dark truth of Bollywood in front of people, but it's just a start. The movement is gaining momentum with each passing day and more people are exposing more celebs who tried to se*ual harass them.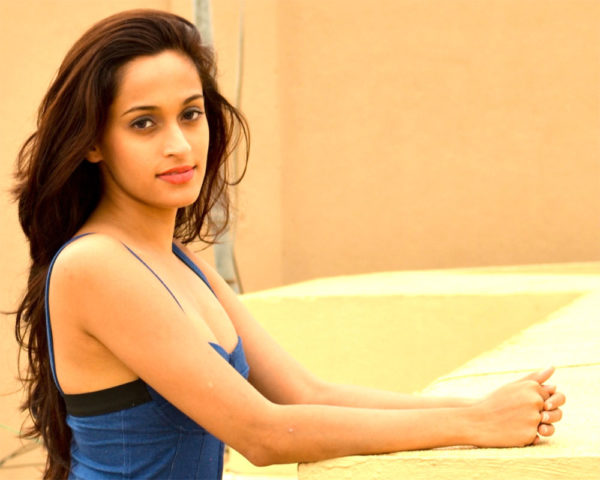 Bollywood singer Shweta Pandit has come ahead and has recounted the dark experience she had with Anu Malik when she gave her voice test at the age of 15. Shweta took to social media and wrote a note in which she accused Anu Malik of asking a kiss from her.
Sharing the details of the event and the mental trauma she faced due to it, she wrote-
It has taken a lot in me to open up this wound again and speak up against this paedophile and sexual predator. It was the year 2000 when I was launched as a lead singer with 'Mohabbatein' (was the youngest singer back then in the Indian music industry) and was trying to get other good songs to follow up with the success of that soundtrack and the outstanding welcome it gave me in the music industry. I got a call from Anu Malik's then manager (Mustafa) to come to Empire Studio in Andheri sometime in mid-2001. I was thrilled like any singer would be. I used to admire his music and practice his songs for hours and look up to him back then! He was recording a group song with Sunidhi and Shaan for the film 'Awara Pagal Deewana' when my mother and I walked in the monitor room. He told me to wait in the small cabin inside where singers sang at Empire studio. It was just him and me there."
She continues to share her ordeal-
"He asked me to sing something without any music as he wanted to hear my voice. I remember I sang the title song of 'Har Dil Jo Pyar Karega' as a voice test for this man. I sang it well so he said, "I'll give you this song with Sunidhi and Shaan but first give me a kiss now." He then smiled, what I'd recall as the most evil grin I've seen. I went numb and pale in the face. I was only 15 years old then, still in school. Can anyone even imagine what it felt like at that moment? It felt like someone had just stabbed me in my stomach. I referred to this man as 'Anu uncle', he knew my entire family for decades and knew us as a respected gharana of musicians for generations who have given our entire lives dedicated to music for 4 generations."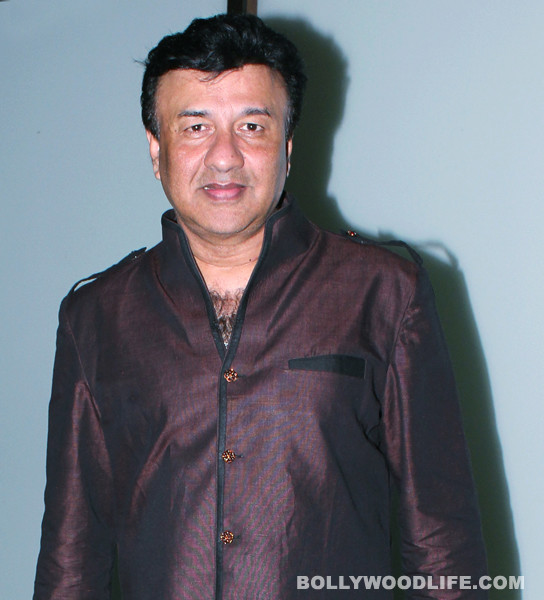 She further tells-
He addressed my father as 'Mandheer bhai'. And he does this to his bhai's daughter? He has 2 young daughters of his own and that's how he treated a 15-year-old minor girl. It was the worst experience of my life and I could never speak about it even to my parents. I could never ask any help to heal but was depressed for months. I cried endlessly after this incident and it affected my psyche as a young girl, so much that I could have left the industry but I re-thought and fought with my will-power that why should I leave my greatest passion for a paedophile like him but I still kept struggling for years to bury this inside me. I am sure many singers have been exploited by him as he is a known name for doing this to singers. I'd urge those singers/women to share their stories too."
Have a look at her post-
Had to go back to my worst memory as a teenage girl today to write this and speak up – its now or never. This is my #MeToo and have to warn young girls about #AnuMalik & let you know your #TimesUp @IndiaMeToo
Thank you @sonamohapatra for speaking up about him & supporting this pic.twitter.com/e261pGQyEq

— Shweta Pandit (@ShwetaPandit7) October 17, 2018
You can also check the notes below-
#1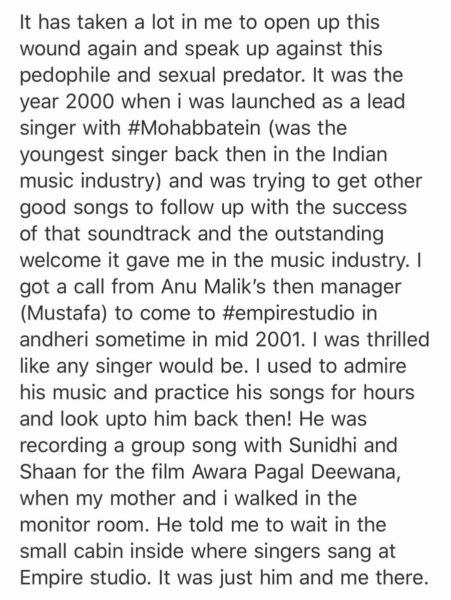 #2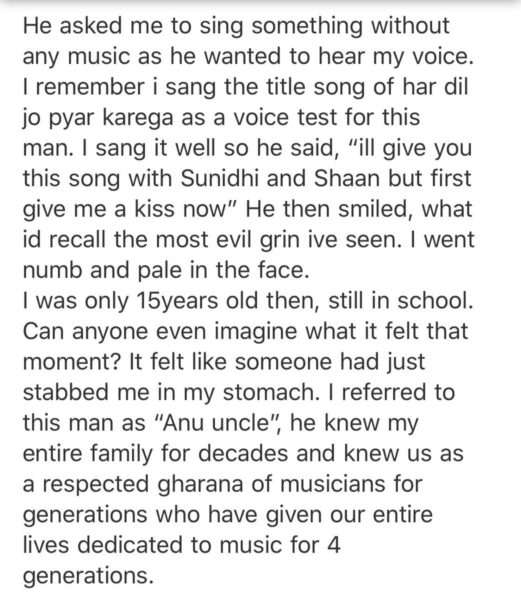 #3
Well, we wonder what Anu Malik has to say on this.
Share Your Views In Comments Below