Food
Someone Adds Onion, Dahi, Papdi & Sev In Jalebi & Makes Jalebi Chaat, Foodies React With Memes
We have seen many experiments related to food dishes and some of them have been so bizarre that many of us really feel like locking these so-called food enthusiasts in prison for eternity. One such person is the one who invented jalebi chaat! Yes you read it right! Jalebi and chaat are two different items and they both have their own fan following but their fusion is something that we can't imagine even in the worst dream.
Jalebi is one of the most eaten sweet dishes of India and it is loved by almost every Indian irrespective of the region from where he belongs. While some of us eat jalebi without adding anything else, there are some who like to have it with milk or rabri. However, netizens got the biggest shock of their lifetime as someone carried out a weird experiment by blending jalebi with chaat and came up with something very bizarre.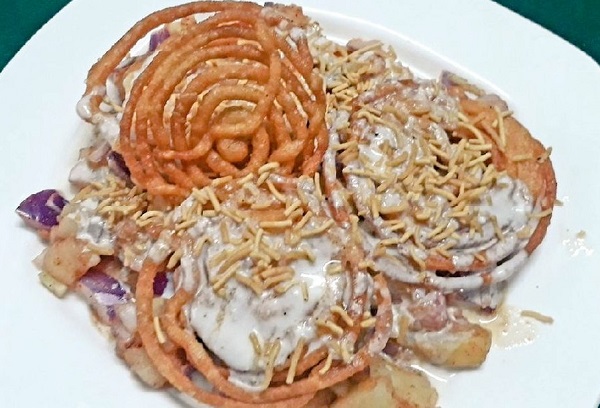 Recently a Twitter user Mayur Sejpal shared a tweet in which he posted a pic of jalebi chaat with the caption, "Aaj Friday ki khushi me sabko mere taraf se Jalebi Chaat…" (On the happy occasion of today being Friday, here is a treat of jalebi chaat from my side to everyone).
Aaj Friday ki khushi me sabko mere taraf se Jalebi Chaat… 😹 pic.twitter.com/MwNWHTiTBW

— Mayur Sejpal 🇮🇳 (@mayursejpal) December 17, 2021
The image showed jalebi with onion, papdi, curd and was garnished with sev puri and honestly, mere thought of jalebi with onion makes us feel nauseous. Soon the micro-blogging site got exploded with reactions in which people questioned the logic behind such an experiment and also asked him not to repeat such fusions. While there were some who demanded punishment for him, few others requested Twitter to block his account.
Here are some of the selected tweets:
#1
Jalebi par sev kaun dalta hai bhai

— Deepesh Agarwal 🇮🇳🇮🇳 (@DAgarwal14) December 17, 2021
#2
inko koi kamre main haanth baandh ke band karo😭😭😭🤢🤢

— Ruchi (@isay_norita) December 17, 2021
#3
Meanwhile Rabdi pic.twitter.com/6EJLbYuEwE

— હર્મેશ જાદવ 🇮🇳 (@BeingHarmesh09) December 17, 2021
#4
Jalebi b like pic.twitter.com/ZzpUIK93Nr

— jeegar jain (@jigs_jain) December 17, 2021
#5
Jalebi ke sath pyaj🤧🤧 pic.twitter.com/IT4CwTfGws

— Lil संघी (@namishsingh1) December 17, 2021
#6
जलेबी चाट… 😂 pic.twitter.com/eI6bfzcuBQ

— Shruti Sagarika (@Shruti1806) December 17, 2021
#7
Why why why bhagwaan mai ne kyaa paap kiyaa bhagwaan…😭😭😭😭

— JinnaPutraTontiChorYadav Formerly lavnasur Kejru (@lavnasura) December 17, 2021
#8
— Manish Sharma (@ManishS_SG) December 17, 2021
If this was not enough, there was another user who shared an image in which jalebi is served with cooked red, yellow and green capsicum:
— Prashant Mathur (@prashant4021) December 17, 2021
If you remember, there have not been many days when we told you about momo parantha which is being sold at a price of Rs.100 and other strange food items such as Oreo pakori, ice-cream dosa, Maggi cooked in Fanta and there is no denying the fact that such fusions give us an impression that the end of the world seems to be very near.
Will you ever dare to taste jalebi chaat? If you ask me, I will never suggest so as jalebi is something I can crave for at any time of the day and jalebi chaat will make me want to never have it.
Share Your Views In Comments Below