Bollywood & TV
Sonam Kapoor Trolled For Posting Non-Veg Dish On Insta. People Called Her Hypocrite
Just a little time back, Shilpa Shetty was trolled by the netizens for her hypocrisy. Despite being honoured by PETA, Shilpa Shetty indulged in fishing during her vacations which was taken strongly by people. However, Shilpa Shetty later confirmed that she's a non-vegetarian.
Now Sonam Kapoor has been criticised by her Instagram followers for the same reason. Sonam Kapoor who calls herself a vegan and claims to avoid even dairy products was seen appreciating a non-veg dish on Instagram recently.
People were quick to catch her hypocrisy and made her remind it. This is what Sonam Kapoor had posted-
I'm so proud of you @samyuktanair first a Michelin for @jamavarlondon and now the best of taste prize first runner up @tasteoflondon for my favourite restaurant in london @bombaybustle ! @chefsurendermohan you're amazing!! Thanks for promoting Indian food the correct way and with authenticity!
You can also check the picture below-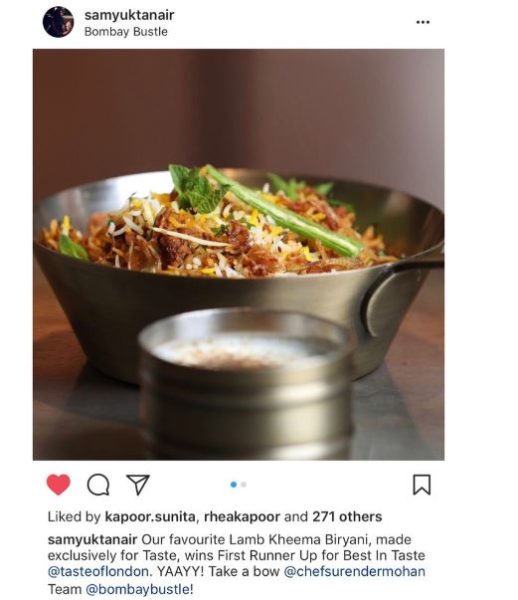 She happily appreciated someone's efforts and achievement for making a delicious Lamb Keema Biryani but it was hard to digest it coming from her because she had once said in an interview-
"I've been vegetarian for many years, but I became vegan this year. I believe in making compassionate choices. So much so, I am having soya milk coffee now, I don't even have dairy."
She also said-
"I don't buy fur. It's all faux fur, but I do buy leather. If someone gives me an exotic leather product, I use it, but I won't buy it. I just purchase normal leather."
As she showed this hypocrisy, here's how people reacted-
#1

#2

#3

#4

#5

#6

Do you think she deserved trolling?
Share Your Views In Comments Below