Bollywood & TV
Sunny Leone's Cryptic Tweet Over "JCB Ki Khudai" Leaves Twitter Guessing
Sunny Leone is one of the most famous actresses of Bollywood despite the fact that she has not given many hit movies or hasn't even appeared in important roles in many Hindi flicks. However, she has garnered a huge fan following with her hot dancer numbers and by doing some bold roles in the films. It is also true that Sunny who earlier worked in adult industry is one of the most beautiful actresses that we have ever seen in B-Town and besides, she has always come out as a good human being.
Recently, the "Jism 2" actress took to her social media handles and made a post with a photo of herself dressed in all black standing on a JCB machine and smiling while posing.
First of all, take a look at the image: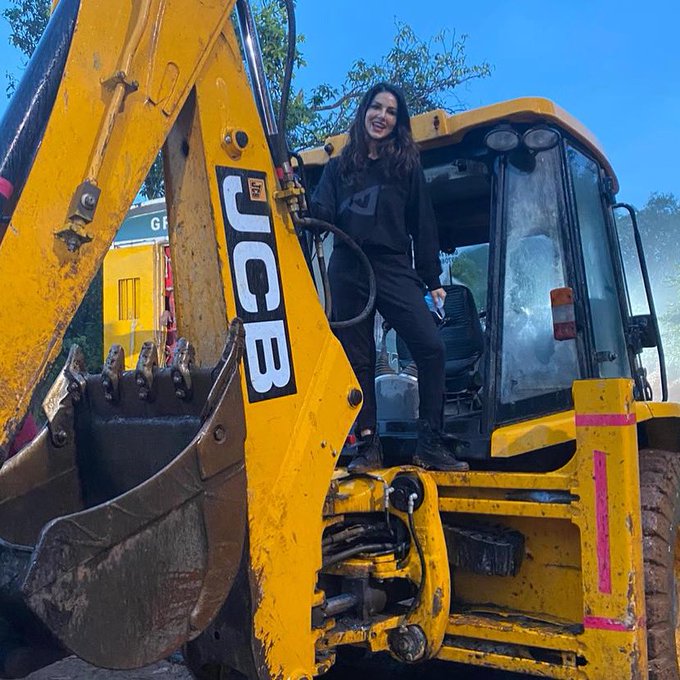 She captioned the image, "#JCBkiKhudai is back again?!!"
Here is her post:
#JCBkiKhudai is back again?!! pic.twitter.com/XjvWNexkVQ

— sunnyleone (@SunnyLeone) January 9, 2021
#JCBkiKhudai trended in 2019 when people talked about how people used to stand in crowds and see the functioning of JCB. In simple words, it is pretty common for people to surround JCB and see it working and wasting their time. Many memes and jokes were posted under this trend and Sunny Leone just brought back all the memories of the trend with her post. In 2019 also, the actress made a post regarding #JCBkiKhudai which went viral.
However, some netizens guessed that Sunny Leone is hinting at her return in the adult industry with her post and this is how Twitterati reacted:
#1
Is she hinting about her comeback in Porn industry?

— Istiak Viratian Rana 🇮🇳 (@istiak_rana18) January 9, 2021
#2
R u serious???
R u making a a comeback in industry?
And that khudai means something else right?

— 𝙆𝙃𝘼𝙉 𝙎𝘽. (@gabbarkhansb) January 9, 2021
#3
Khudai 😂😂 pic.twitter.com/HEpgvIN0p9

— 𝒃𝒆𝒊𝒏𝒈𝑽𝒊𝒔𝒉𝒂𝒍||🌍Sallu❤AshaNegi (@iambeingvishal) January 9, 2021
#4
*Johny bhaiya Rn* pic.twitter.com/oYKznT7RpD

— Abhishek Singh (@sarcastik_Abhi) January 9, 2021
#5
— Rahul khurmi (@iamrahulkhurmi) January 9, 2021
#6
#khudai #khudai hay kaisi ye #khudai pic.twitter.com/ebbIxqanYj

— world is amazing (@superior_world) January 9, 2021
#7
Johnny sins Right now pic.twitter.com/3MH2QwPHor

— 𝙵𝚊𝚗 𝙵𝚘𝚛𝚎𝚟𝚎𝚛 ㋛︎ 🦅 (@Prathmeshpahad1) January 9, 2021
#8
Throwback in 2019, Sunny Leone predicted biggest meme #JCBkiKhudai 😂👌🏼

— Harshjeet (@harshjeet98) January 9, 2021
#9
🤣🤣memers ke liye acha din aa gya phir

— DEBABRATA MISHRA 🇮🇳 (@Debabra21865889) January 9, 2021
On the work front, Sunny Leone started shooting for Vikram Bhatt's "Anamika" some time ago and she has also resumed the shooting of reality show Splitsvilla. For almost six months, she was in Los Angeles but she is in full working mode now.
Do you think there is some hint behind this post or is she just having some fun?
Share Your Views In Comments Below