Entertainment
THESE Are The Most Trusted Personalities Of India, Amitabh Bachchan Tops The List
TRA Research carried out a survey on 2315 consumers in 16 cities, to find out which personality is the most trusted by fans and followers. The 2019 report included 39 personalities from Cinema, Sports, Business, among others.
Survey results showed that Amitabh Bachchan who recently celebrated his golden jubilee in the film industry is the most trusted personality and he also leads the list of most trusted actors. Aamir Khan is the second and Salman Khan is the third most trusted actors. Akshay Kumar stands fourth and Shah Rukh Khan stands fifth in the list.
Among the south Indian actors, Rajinikanth is the most trusted, Vijay is second and Vikram is third trusted actors.
Bollywood diva Deepika Padukone is the most trusted actress followed by Katrina Kaif, Madhuri Dixit, and Alia Bhatt. Kajol stands fifth in the list.
N. Chandramouli, CEO, TRA Research said, "Personalities become household names and consumers relate to them in a very personal way. TRA's Most Trusted Personality 2019 Report unveils a list of stars who have not just enacted their script well but have built a strong trust-connect with the viewers through their communication."
Here is the whole list of most trusted personalities in India: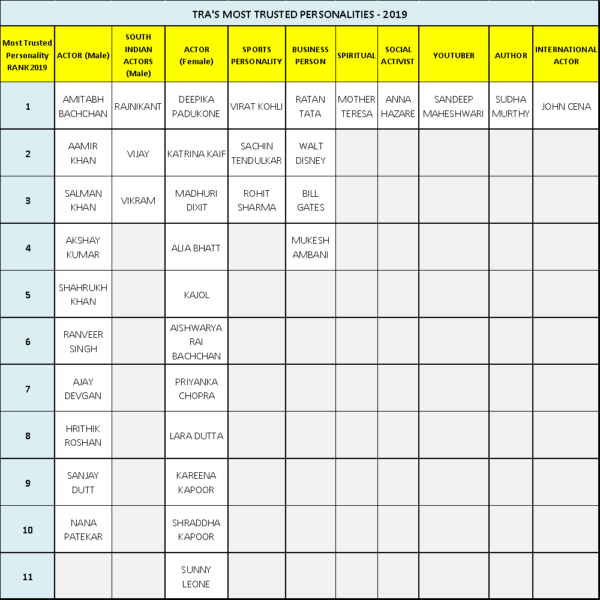 Share Your Views In Comments Below