News
This Controversial Song On Lord Ram Is Facing Wrath On Twitter
A Twitter user and journalist Prashant Kanojia shared a video song which is sung by Varun Bahar and is based on Jai Shree Ram chant. The song conveys a violent message that if a person denies chanting Jai Shree Ram he should be killed and sent to the graveyard.
Sharing the video Prashant wrote, "भारत एक मात्र देश है जहां आतंकवादी अपना म्यूजिक वीडियो बनाते हैं और यूट्यूब पर चलाता हैं। इस मामले में तालिबान और ISIS इस तकनीक तक नहीं पहुंच पाया है। डिजिटल इंडिया के साथ डिजिटल आतंकवाद." (India is the only country where terrorists make their music videos and upload it on YouTube. Even the Taliban and ISIS haven't reached this level. Digital terrorism with Digital India.)
भारत एक मात्र देश है जहां आतंकवादी अपना म्यूजिक वीडियो बनाते हैं और यूट्यूब पर चलाता हैं। इस मामले में तालिबान और ISIS इस तकनीक तक नहीं पहुंच पाया है। डिजिटल इंडिया के साथ डिजिटल आतंकवाद…#DigitalTerrorist pic.twitter.com/5uHDCnKR5M

— Prashant Kanojia (PK) (@PJkanojia) July 23, 2019
Since the video cam online it is facing the wrath and slamming on Twitter. A special community feels threatened by the lyrics and asked the police to take action against it.
A few days ago a TikTok user mr_faisu_07 uploaded a video which was offensive to a community as well as it was spreading violence in the name of revenge. He along with his friends made a video and uploaded it on TikTok. Referring to the mob lynching of Tabrez Ansari in Jharkhand, they said, "Innocent Tabrez was killed, but if Tabrez's son grows up and takes revenge then nobody should say that Muslims are terrorists." The video was also slammed and the team had to delete the video the next and issue an apology.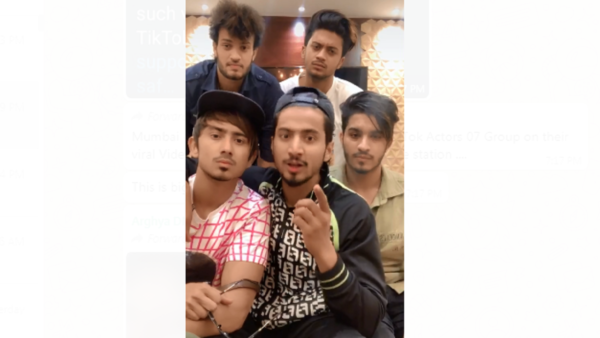 But no big journalist shared Faisu's video and accused it of spreading terrorism and hatred. This double standard in India in the name of religion has to stop.