News
This Kerala Coolie Cracks UPSC Exam & Becomes IAS Officer With Railway Wi-Fi & No Coaching
You may have come across some persons in life who leave no stone unturned in blaming others or their circumstances for their failures but there are few people in this world who never let their circumstances or conditions control their lives, instead they work hard with determination and script history.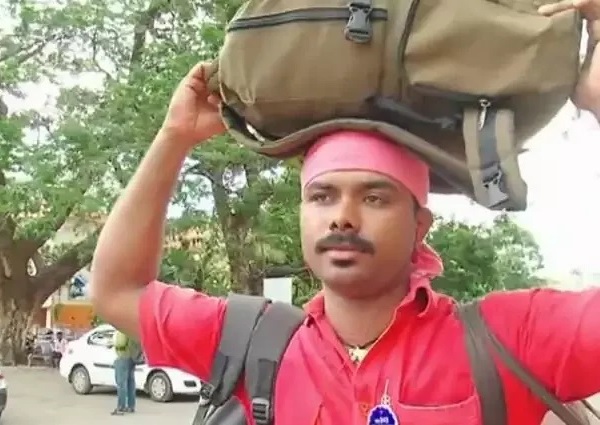 Sreenath K is an inspiration for all of us because this person used to work as a porter (coolie) at Ernakulam railway station, Kerala, and he not only fulfilled his responsibilities for his family but also made efforts to brighten his future. What made Sreenath different from other people is that he never cried over the lack of resources but always thought of converting problems into opportunities and this is why he managed to pass the toughest examination of the country and presently he is serving the nation as an IAS officer.
Many years thousands of students try their luck by giving the UPSC examination but very few are able to crack it. There are a huge number of coaching institutes in India which charge a whopping amount but Sreenath K cleared the examinations by just doing self-study without any coaching.
Sreenath K is basically from Ernakulam and he used to work at the railway station as a coolie but he wanted to do something big in life. At first he rejected the idea of UPSC examination because he felt that it would be impossible for him to clear it without coaching so he decided to appear for the Kerala Public Service Commission examinations. He used the free Wi-Fi facility of the Indian Railways on the station and started studying in his free time. Needless to say, his never give up attitude and dedication paved the way to triumph as he cleared the examinations.
Success in the KPSC examinations motivated Sreenath to try his luck in the UPSC examination and he began studying for it. As it is being said that hard work never goes in vain, Sreenath's hard work also paid off and he created history by clearing the UPSC examination with absolutely no coaching.
Take a bow, Sreenath K! You are really an inspiration for each and every person irrespective of the field they are in. Kudos!
Share Your Views In Comments Below