News
This Man Found A Used Bandaid In Food Ordered From Swiggy, This Is How Swiggy Responded To It
Swiggy has been in trouble more than once, and they seem to be doing nothing to improve the situation. This time, Swiggy seems to have crossed all limits and frankly, I'll think twice before ordering from them.
This man in Chennai named Balamurugan Deenadayalan ordered chicken schezwan chopsuey from a restaurant named Chops N Stix and everything went fine till he began eating his food.
Halfway into his meal, he noticed that there was a bloody, used bandaid in his food and was shocked and disgusted beyond imagination. He then tried to call the restaurant to inform them about his contaminated food.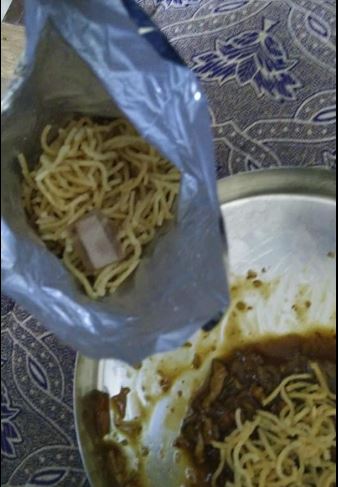 But they did not respond. When he tried to contact Swiggy and inform them about what happened, his chat messages went ignored. He could find an option to call them.
Eventually, the man was left with no option but to post on their Facebook page. He said that this was disgusting and that he wanted to sue both the restaurant and Swiggy.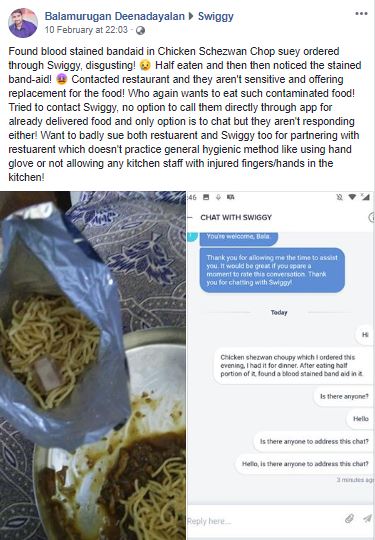 Although this technically wasn't Swiggy's fault, they should have carried out a thorough scrutiny before partnering up with restaurants, just to ensure that hygiene standards are followed.
You can read the post here:
Swiggy later responded to the complaint and apologized for the same. They have also stated that the restaurant has been notified, and Swiggy has suspended its services.
The man also said that he would have to get tested in order to ensure that he is not infected or has not contracted some disease. He later said that he was doing fine, as far as health is concerned.
Swiggy really needs to raise its standards when it comes to forming partnerships. Stay tuned for more updates.
Share Your Views In Comments Below